Coopersville, MI, – -(Ammoland.com)- The new White River Knife & Tool Firecraft 3.5 small utility survival knives are finally out for 2018.
Announced at this year's SHOT Show, this small, tough and ultra-handy survival knife has the same blade profile as White River's incredibly popular Firecraft series of full-size survival knives – and even has the same notch for striking the included ferro rod.
The 3.5 Firecraft series knives can be mounted in multiple configurations on Mollie gear, backpacks, belt worn or even neck lanyard worn in its specialized Kydex® sheath.
Two models are available: 3.5 Pro with black or orange G-10 handle or 3.5 with a paracord-wrapped handle. The pommel loop makes for easy removal of the knife from its sheath in any position using just one finger, even if gloved. A generous finger cutout allows a secure grip for hard cutting chores.
Combination Mounting: The 3.5 sheath is designed to be attached to the 7-inch Firecraft survival knife sheath with the screws from its own belt loop. This attachment creates a multi-knife piggy back kit; the 7-inch for hard and heavy cutting, the 3.5 for light and more delicate work.
The Factory will mount the 3.5 or 3.5 Pro on the 7-inch Firecraft survival knife sheath (Kydex sheath only) when purchased as a package. Those already owning the 7-inch Firecraft knives can order a 3.5 series knife and retro mount it to their existing Kydex sheath if they wish. And, of course it can be purchased separately for use as an excellent lightweight low profile stand-alone survival knife.
White River Knife & Tool Firecraft 3.5 Pro Specifications:
Blade length: 3.5 inches
Overall length: 7.75 inches
Handles: See below models
Weight: 3.8 ounces
Steel: CPM S35VN at 58-60 Rockwell C hardness
Blade info: Stone wash finish, sharpened and leather stropped.
Sheath: Kydex
Accessory: Included ferro rod and separate Kydex®holder
3.5 Series Models (sold separately):
Firecraft 3.5 Pro: Orange or black G-10 material handle, MSRP $135
Firecraft 3.5: Nylon cord wrapped handle, MSRP $110
When purchased with the 7-inch Firecraft survival knife as an assembled factory combination (no extra charge for factory mounting):
Firecraft FC-7 7-inch survival knife & 3.5 Pro combo set MSRP $455
Firecraft FC-7 7-inch survival knife & 3.5 combo set MSRP $430
White River products, materials and manufacturing are only all-American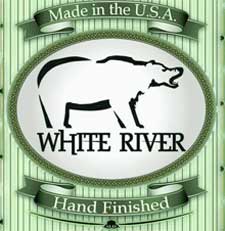 White River Knife & Tool
130 Mason Drive
Coopersville, MI
49404
616-997-0026
www.whiteriverknives.com