Berryville, Arkansas –-(Ammoland.com)- The Wilson Combat – Vickers Elite Package for Gen 5 GLOCK is built on GLOCK 19, GLOCK 17 9mm, and now, the new GLOCK Model 45 pistols and are thoroughly tested by our gunsmiths prior to shipment so your trigger pull, accuracy, and reliability are verified after customization.
Leading firearms expert, tactical trainer and Special Operations veteran Larry Vickers has strong ideas about tactical service pistols and believes the GLOCK is the finest choice for a polymer framed general-issue handgun. His experiences with the Gen 5 GLOCK 9mm platform has led him to believe that it is the best of the GLOCK breed but can be further improved with some subtle and practical customization. With his specific orders in hand, we built Vickers his ideal tactical or concealed carry GLOCK.
To improve traction and shooting comfort, Wilson Combat gunsmiths performed our attractive and functional laser stippling in the Vickers Elite pattern. A duty action tune using the TangoDown/Vickers Tactical flat-faced trigger pad gives you the ultimate tactical trigger for dynamic and precision shooting while the enhanced Vickers Tactical Gen 5 ambidextrous slide stop offers greater surface area and enables more positive speed reloads under stress. Forward slide cocking, and top serrations along with our outstanding Vickers Elite sights and functional Vickers Tactical design accessory parts complete this impressive limited production carry gun package.
Limited sight and finish options are available to add to these packages.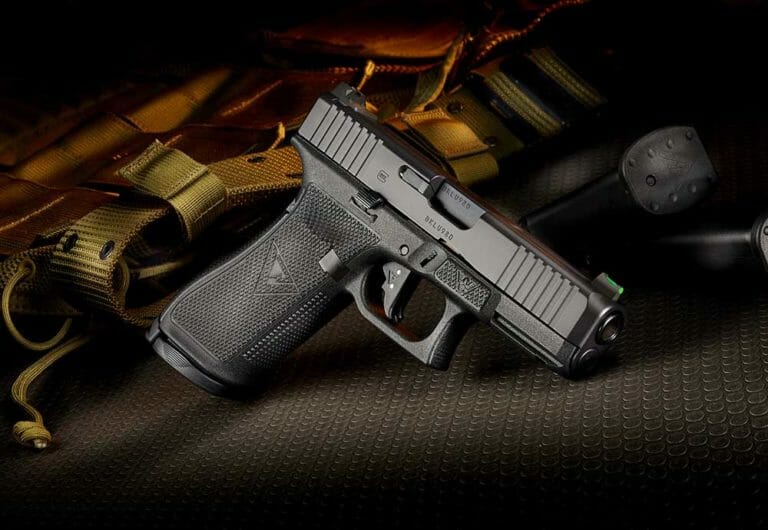 Specifications
Available Calibers: 9mm
Magazine Capacity: 17 rounds (GLOCK 17 & GLOCK 45), 15 rounds (GLOCK 19)
Features
Gen 5 GLOCK
Stippled Frame, Vickers Tactical Logo
Stippled Thumb Pads, Wilson Combat Logo
Duty Action Tune
TangoDown/Vickers Tactical Magazine Release
TangoDown/Vickers Tactical Grip Plug
TangoDown/Vickers Tactical Basepads on 3 Magazines
TangoDown/Vickers Tactical Trigger Pad
TangoDown/Vickers Tactical Slide Stop
Black Armor-Tuff Slide
Battlesight with Green Fiber Optic Front Sight
Wide Slide Top Serrations
Front Cocking Serrations
Vickers Elite Package for GLOCK 45 Model
---
About Wilson Combat

Since 1977 Wilson Combat has been the leading innovator in high-performance, custom 1911 handguns, tactical long guns, and accessories. A Wilson Combat product's unmatched level of exceptional reliability and peerless craftsmanship is only equaled by our legendary customer service. Learn more about us at https://www.wilsoncombat.com