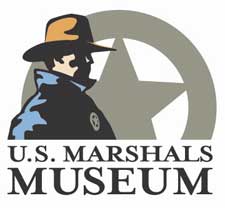 Fort Smith, AR -(AmmoLand.com)- Mark your calendars for the U.S. Marshals Museum's Descendants Day on July 25 in Fort Smith.
Co-hosted by the Fort Smith National Historic Site, this drop-in event will give community members an opportunity to share their artifacts, documents, photographs and stories with the future U.S. Marshal Museum.
"We hope to hear from descendants of U.S. Marshals, Deputy Marshals, posse and outlaws," said Jessica Hougen, curator of collections and exhibits for the U.S. Marshals Museum. "Join us to learn how to research your ancestors and help the museum share the story of our region's heritage with the U.S. Marshals Service."
Descendants Day will be held at Frisco Station at the foot of the Garrison Avenue Bridge on Saturday, July 25 from 10 a.m. to 4 p.m. Robert Ernest, author of Deadly Affrays: The Violent Deaths of the U.S. Marshals, will give a short talk at 1 p.m. The Cherokee Nation Office of History and Preservation, Chickasaw Nation Department of Culture and Humanities, Oklahoma Historical Society Research Division, University of Oklahoma Western History Collection and local genealogy groups will also be on hand to share resources with attendees about how to research their ancestors. Food will be available for purchase from local food trucks.
Admission is free. More information is available at usmarshalsmuseum.org/event/descendants-day-2015 and facebook.com/marshalsmuseum.
This will be the third Descendants Day held in Fort Smith. The previous events were held in 2004 and 2007.
About the U.S. Marshals Museum
The future U.S. Marshals Museum will be a national museum located on the riverfront in Fort Smith, Ark. Museum plans include three permanent exhibit galleries, a temporary exhibit gallery, the Samuel M. Sicard Hall of Honor and a National Learning Center. The museum will tell the more than 225 year story of the U.S. Marshals Service, the oldest law enforcement agency in the United States, and honor the sacrifice of marshals killed in the line of duty.
For more information, visit www.USMarshalsMuseum.org.
The post U.S. Marshals Museum Sets Descendants Day for July appeared first on AmmoLand.com.