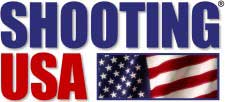 Nashville, TN – (AmmoLand.com) – It's wheel guns only in competition at the International Revolver Championship for the competitors who still choose the simplicity and reliability of the classic revolver.
Plus, the history of the Scout Rifle concept that actually began with the Germans in World War Two.
Then, the most accurate of the 10mm 1911s, the new Hunter 6-inch from Les Baer Custom.
And a final look back in honor of the late Michael Voigt. His Pro Tip on Multi-gun shooting from 2004.    More Info…
AIR TIMES FOR 2018
Wednesday 9:00 Eastern and Pacific, 8:00 Central
Shooting USA is listed as a one-hour show in your cable menu.
Podcasts
John has put up new audio and video conversations recorded at the Bianchi Cup, Hornady's Pandemic in the Heartland, and the Steel Challenge.  Find them on Podbean and iTunes at the link:http://www.shootingusa.com/LINKS/PODCASTS/podcasts.html
You'll also see video podcasts posted on the John Scoutten Shooting USA Facebook Page.
Get the Shooting USA Challenge Coin!
It's a limited edition collectible noting 25 years of the first and longest-running gun show to appear on network television. The offer is combined with a personalized and autographed photo of Jim Scoutten, America's best-known firearms industry and gun sports reporter.
Watch Shooting USA on YouTube as long as you can.
Subscribe to the Shooting USA YouTube Channel to catch up on Pro Shooter Profiles, Pro Tips, History's Guns, and more!
Jim
Defending the 2nd by Example in the 25th Year
The post This Wednesday on Shooting USA – The International Revolver Championship appeared first on AmmoLand.com.