U.S.A. –-(Ammoland.com)- Attention all FFL retailers, are you interested in learning what changes are coming for background check technology and how it will impact your over the counter firearm sales? Join Jill Montgomery, Senior Liaison Specialist, FBI NICS Division and executives from Orchid Advisors on Thursday, May 17 as part of the 2018 Firearms Industry Compliance Conference (FICC).
Over the last several years FFLs and their software vendors have used a variety of methods to efficiently conduct NICS background checks. Solutions vary widely from utilizing variances to create fully integrated Point of Sale and eNICS systems to systems that employ electronic "robots" to submit multiple eNICS applications directly through to the eNICS website. This session will address developments in NICS submission technology and what the future holds for FFLs.
Within this small group session, attendees will enjoy a personal learning experience where industry members can ask questions directly to FBI NICS leadership. Topics in this year's FBI NICS Technology session include:
Current Software Technology
Available Options for eNICS Integration
Integration Processes and Timelines
Future State of Over the Counter Sales
Are You a Manufacturer Interested in Laser Markings?
When it comes to applying Serial Numbers and other regulated markings, technology can play a significant role. In this hyper-focused session, learn how your FFL can maximize production efficiencies with a laser marking system including full integration with production orders, optically validated markings and automatic acquisition into your ERP and Bound Book.
Register Now
---
About the Firearms Industry Compliance Conference
Orchid Advisors and the National Shooting Sports Foundation bring you the 5th Annual Firearms Industry Compliance Conference. Discounted access is available for NSSF members. Due to the limited seating capacity, registration is on a first come, first serve basis. Register today!
Limited sponsorship levels are available. Please contact Chris Tatulli, NSSF Director, Exhibit and Sponsorship Sales, at ctatulli@nssf.org or (203) 426-1320 ext. 214 for more information.
Call for Speakers Now Open! If you or your organization has a program, process or system that you believe is 'best in class', then the industry wants to hear from you. Please contact Travis Glover, Executive Director, Orchid Advisors at tglover@orchidadvisors.com for more information.
---
About Orchid Advisors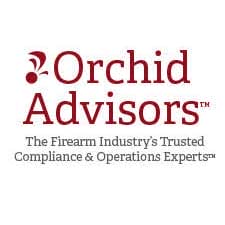 Orchid Advisors provides ATF and ITAR compliance services to manufacturing, distribution and retail FFLs. The firm offers FFL and Export licensing, deep record inspections, e4473 / NFA eForms and Electronic Bound Book software. In conjunction with NSSF, Orchid Advisors hosts the Firearm Industry Compliance Conference and operates the largest online ATF and ITAR compliance training platform available. Orchid Advisors' unique staff of former firearm industry attorneys, former ATF, compliance professionals, and software executives are passionate about eliminating FFL compliance risk. Visit orchidadvisors.com or the firm's software company, fflbizhub.com, today.
About NSSF
The National Shooting Sports Foundation is the trade association for the firearms, ammunition, hunting and shooting sports industry. Its mission is to promote, protect and preserve hunting and the shooting sports. Formed in 1961, NSSF has a membership of more than 10,000 manufacturers, distributors, firearms retailers, shooting ranges, sportsmen's organizations and publishers.