SEDALIA, MO – -(Ammoland.com)-Starline Brass continues to add to their growing line of high-quality rifle brass with the release of the 6.5 Grendel. Staying true to their reputation, Starline's new 6.5 Grendel rifle brass is produced at a match-grade level, without the match-grade cost.
To purchase Starline's new 6.5 Grendel cases, ask for them at your favorite retailer or order factory direct online at www.starlinebrass.com.
The 6.5 Grendel was designed for use in an AR-15 type rifle to offer ballistics similar to the .308 Winchester, but with less recoil. This flat shooting round utilizes the inherently accurate, high ballistic coefficient 6.5mm diameter bullet.
The 6.5 Grendel's short case length enables it to use longer, heavier match bullets, making it one of the best choices for long range shooting out of an AR. With proper bullet selection, the 6.5 Grendel is an excellent hunting round as well, suitable for deer-sized game and varmint hunting.
Conversion of an AR to 6.5 Grendel requires a new bolt, barrel and magazine to feed the larger diameter cartridge. Several companies offer completed AR uppers and firearms. Reloading dies are also readily available.
In addition, several manufacturers now produce bolt-action rifles in 6.5 Grendel, many of which are built on "mini" actions. This makes for a lightweight rifle with good range.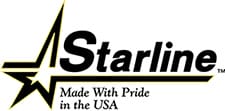 About Starline
Starline is a family owned business that prides itself on producing the highest quality brass cases available at the best possible price. For more than 40 years, Starline's unique manufacturing process and commitment from their team of employees has distinguished Starline from the competition. Starline manufactures a growing line of handgun and rifle cartridge brass cases, 100% made in America.
Stay up to date with Starline's new handgun and rifle case releases, exciting promotions and other great content. Follow Starline at:
www.starlinebrass.com
https://www.facebook.com/StarlineBrass/
www.youtube.com/user/StarlineBrass
www.twitter.com/starlinebrass
www.instagram.com/starlinebrass