U.S.A. –-(Ammoland.com)- Unless you have been living under a rock, it is unlikely that you have not seen the new compact pistol chambered in 380 ACP that Smith & Wesson is offering. The new M&P 380 Shield EZ has all but stormed social media and reviewers desks for the past month, AmmoLand writer Patrick Roberts has already run one review so far, here.
In my mind, the 380 ACP caliber really does not entice a very large portion of the typical shooting communities in the United States. You know the firearms groups: Elmer Fudd, tactical Tim, EDC Eric, and competition Carl's, all typically avoid 380ACP like a sort of plague.
Nevertheless, S&W went ahead and built this ultra-safetied, easy racking, easy loading 380.
So who is this pistol for exactly?
For starters, I want this pistol myself for two reasons. First, I believe this to be a better platform for new shooters to learn on than a .22 pistol or rifle. There may be some caveats here, for instance, .22 remains the cheapest and easiest caliber to teach gun safety and basic firearm manipulation, especially to young children. But what Smith & Wesson has provided with the M&P 380 Shield EZ is similar to the M&P 22 in the way that this pistol provides familiar controls, grip angle, and size as its larger caliber cousins.
The gained advantage with the 380 EZ over its .22 counterparts, is taking someone who is uncomfortable with 9mm and training them with this pistol. When/if they decide to move up to 9mm the difference will not be nearly as severe as the transition from a .22 pistol. Not only will their transition be more comfortable, but the 380 still serves as a proper defensive round. Although it may lack the penetration of a 9mm, the light recoil of the round combined with the smooth action of the M&P 380 Shield make it ideal for repeatable follow-up shots during defensive use. Regardless if that individual shoots once a week or only the one time they need to protect themselves, 380 ACP will more than likely see them through, and any recoil will be easy enough for anyone to handle.
Features on the 380 Shield also build good gun handling techniques. Regardless if you go with a thumb safety model or one without, the real gem and surprise is the grip safety.  During use, the grip safety is totally unnoticeable and the firearm feels very much like other Shield models with a similar grip angle and texture. More importantly, you do not need to grip the gun for dear life to engage the grip safety, you need to grip the gun normally, that's it. From the perspective of building a new shooters skill, the grip safety helps create the necessity for a good grip and creates a way of building muscle memory.
The second reason the 380 Shield is a keeper, and this may not be as flashy as your other reviewers, but here is my big takeaway, and do with it what you will. I enjoyed every round I shot with this pistol, of which I have an accurate count of 500 rounds without a single failure. Of those 500 rounds, 400 were shot in one day, using various types of ball ammunition. The 380 Shield EZ was a fun little gun to shoot, even if I was constantly reloading with only two 8-round magazines. This pistol ran all different types of typical 90-grain ball ammunition and even 50 rounds of 90 grain Federal Hydra-Shok .380 ACP. All ran flawlessly.
That may not be the most ground shaking reason, but I consider fun to be among the main reasons I shoot guns. If you aren't enjoying yourself at the shooting range then there is something wrong with you. You'll notice I can't shut my mouth in the video, that is my dumb shooting smile.
---
---
So here is where I think this pistol shines: non-typical shooters.
It's a little presumptuous to say things like this gun is great for women or old guys with arthritis that can't button their shirt but want to defend themselves. Some old guys carry a .45 because they always have and they still have that "tupperware" mentality about polymer pistols. It also goes without saying there are more than a few women who can easily outshoot me with all sorts of calibers. I think a more apt placement is as a firearm designed for self-defense that is concealable, still easy to manipulate, and easy to control recoil.
Pretty much everyone can use a firearm that falls into those categories: concealable, easy to manipulate, controllable recoil, and a decent-ish caliber for defensive situations. That is why Smith & Wesson's M&P Shield 380 EZ is a great pistol to arrive during a period when people are increasingly interested in concealed carry. I'm just saying there may even be a few school teachers looking for a pistol for the first time, after all we all have the right to defend ourselves.
Way to often do people equate what works for them as being the sole answer for the rest of the shooting community.
Especially when it comes to people new to firearms, recoil and muzzle blast are usually deterrents in their selection, while at the same time small usually desirable. Unlike other 380 pistols in the compact size, the S&W 380 Shield EZ has hardly any muzzle flip and is not snappy, instead it is very smooth and easy to control.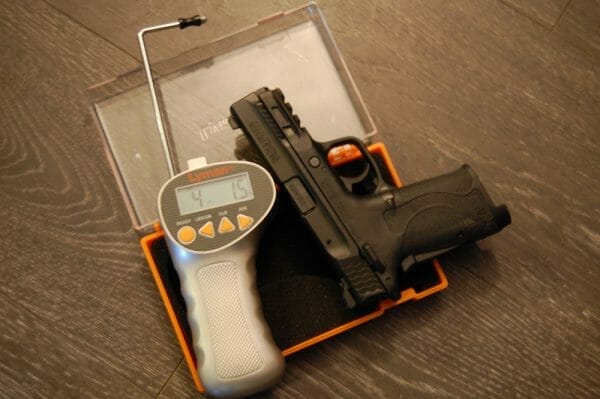 I said before it was presumptuous to say this gun was good for one group or another. Well, I admit I had a presumption that my girlfriend would be a fan of the EZ. Sure enough, when I put it in her hands she was in love with it. I gave her a 9mm pistol right after she shot 50 rounds through the EZ, she took one shot and said, "I like the other one better." The 380 Shield EZ has the right size, recoil, and manipulation that she needs to operate the gun on her own and feel confident while doing it. I'd say that is more important than the caliber size, especially when we are talking about someone who is not wholly indoctrinated into the firearms community like the rest of us.
Rather than go with the usual flow of designing guns for typical gun owners, Smith & Wesson targeted a unique entry-level shooter as well as anyone looking for an easy to shoot, concealable pistol with the M&P 380 Shield EZ.
---
FEATURES:
Easy to rack slide.
Crisp, light trigger with tactile and audible trigger reset.
Includes (2) Easy to Load 8-Round M&P380 Shield magazines.
Grip safety – grip pistol to fire.
Windage adjustable, white dot rear sight (tool included).
Can disassemble without pulling trigger.
Grip texture optimized to size and recoil.
Tactile loaded chamber indicator (TLCI) – can see and feel if there is a round in the chamber.
Available with or without ambidextrous, manual thumb safety.
Picatinny-style equipment rail for lights or lasers.
Perfect size for nightstand or carry, or a day at the range.
Reversible magazine release.
Thin and lightweight – can be comfortably carried all day.
Optimal 18-degree grip angle for natural point of aim.
Armornite durable corrosion resistant finish.
SPECIFICATIONS:
Model: M&P 380 SHIELD EZ
Caliber: .380 Auto
Capacity: 8+1
Barrel Length: 3.675″ / 9.3 cm
Overall Length: 6.7″
Front Sight: White Dot
Rear Sight: Adjustable White Dot
Action: Internal Hammer Fired
Grip: Polymer
Weight: 18.5 oz / 524.5g
Barrel Material: Stainless Steel – Armornite® Finish
Slide Material: Stainless Steel – Armornite® Finish
Frame Material: Polymer
Purpose: Concealed Carry, Home Protection, Personal Protection
---
About Duncan Johnson: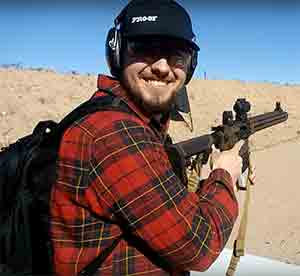 Duncan is a firm believer in the Second Amendment and that "shall not be infringed", means exactly that.  A life-long firearms enthusiast and a graduate of George Mason University, now competing regularly in 3 gun competitions, Duncan is always looking to improve his shooting skills. Duncan is a regular contributor to AmmoLand and assists in the everyday gun-news publishing as an assistant editor.