SPRINGFIELD, Mass., –-(Ammoland.com)- Smith & Wesson Corp. today announced that it has contributed $34,000 to the Pioneer Valley USO. For over a decade, proceeds from the company's annual Game Dinner have benefited the Pioneer Valley USO and its programs supporting American military personnel and their families.
Armed forces members and families access the USO for social, recreational, educational and entertainment programs and services.
David Mendoza, Pioneer Valley USO Board President said, "It is truly an honor for the Pioneer Valley USO to benefit from the annual Smith & Wesson Game Dinner. This event is a wonderful opportunity for us to raise awareness of our presence in the Pioneer Valley. We could not provide the needed level of support to our military men and women and their families in Western Massachusetts without this type of generosity."
The Smith & Wesson Game Dinner is a unique event that offers attendees a chance to dine on a variety of wild game prepared by a team of dedicated volunteers. One of the areas most attended events of its kind, the Game Dinner hosted nearly 500 guests and featured a menu of pheasant, elk, bear, boar, moose and venison. Led by Chef Norm Boucher from the Chicopee Comprehensive High School's culinary department, volunteers created dishes like Antelope Bourguignon, Southern-Style Pulled Boar, Pot Roast of Maine Black Bear, and French Style Moose Meat Pie. In addition to the food preparation team, Smith & Wesson employees and friends donated over 500 volunteer hours to make the event a success. All game served was donated by hunters affiliated with Smith & Wesson, Foggy Mountain Guide Service, and Linx Wildlife Management, among others. This year's event included a limited number of sponsorship's giving local businesses the opportunity to show their support. Big Game Sponsor, Thorn Industries of Ludlow MA, as well as other area businesses provided additional support for the USO.
Mark Smith, President of Smith & Wesson's Manufacturing Services Division, said, "We want to thank the dedicated volunteers and generous contributors who make this event a success each year. Whether in the form of donations or volunteering time, our community comes together to lend support for this event and the Pioneer Valley USO, which offers critical aid to American service personnel and their families."

Those interested in supporting next year's dinner should contact Elaine Stellato, Smith & Wesson Community Relations Manager at (413) 747-3371 or at estellato@aob.com.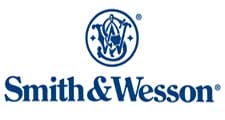 About Smith & Wesson
Smith & Wesson Corp. is a U.S.-based leader in firearm manufacturing and design, delivering a broad portfolio of quality firearms, related products, and training to the U.S. consumer and law enforcement markets, as well as global military and law enforcement customers. The company's firearm division brands include Smith & Wesson®, M&P®, Performance Center®, Thompson/Center Arms

, and Gemtech®. For more information on Smith & Wesson, call (800) 331-0852 or log on to www.smith-wesson.com.

About the Pioneer Valley USO
The USO strengthens America's military service members by keeping them connected to family, home and country throughout their service to our nation. ​Hours are Tuesday through Saturday, 10 a.m. to 5 p.m., Sunday 11 a.m. to 5 p.m. For more information about programming and services provided by the Pioneer Valley USO, please visit www.pioneervalleyuso.org or call 413-557-3290.