U.S.A. –-(Ammoland.com)- I have always had a fondness for the "oddball" handguns. Standard revolvers and semi-auto pistols are great, but I still preferred the ones that were like small rifles. The Remington XP-100, Thompson Center Contender, Savage Striker, Rossi Ranch Hand and old school AR pistols before they came out with the brace were the guns I always found myself searching out. It was not just for the power factor of these pistols, although that's what brought me to them, or them to me. No, it was the inherent accuracy in each of them. One pistol that falls into this category is the Ruger Charger.
In essence, it is a Ruger 10/22 action with a short barrel set in a pistol grip stock. There is no buttstock, so this is considered a pistol.
There are currently four versions being manufactured. The basic two configurations are either Wood with laminated furniture or blue with black synthetic furniture. Each of these can be had in a solid frame or a takedown variant. All come with threaded barrels, AR type pistol grips and a scope rail for optics.
When we first saw the Charger a few years ago, we thought it would be an excellent base for a "pocket rifle". Simply register it as an SBR, opt for a Butler Creek type side-folding pistol grip stock, add optics and a silencer and you would be pretty much done for wanting the ultimate bug-out/truck gun/squirrel popper.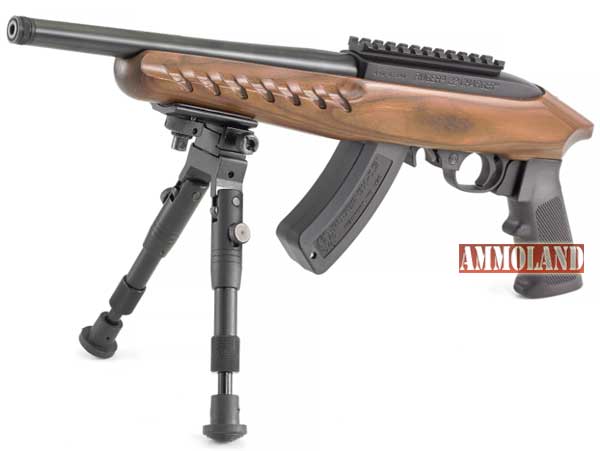 However, actually shooting the Ruger Charger had us leave it, pretty much as is. It turned out to be more than just a novelty or niche firearm.
Optics
None of the Charger variants are equipped with iron sights, but the rail and the versatile nature of this pistol allow the shooter to mount a wide variety of optics. Some more practical than other specialty handguns would allow.

It may seem like a no-brainer to install a red dot type sight, which we did initially with a Lucid Optics M7. If you want to run your Charger unsupported and two-handed this might be the way to go.
Another option that handgun hunters have been using for decades is an extended eye relief scope in low to medium magnification.
However, Ruger includes something else in this package that may change your mind: A bipod.
No, it is not an Atlas or even a Harris, but an economical version made by UTG. Granted, I would probably never use one of these on a rifle, but it works extremely well for a 22 caliber pistol. It also gives you the ability to use a standard eye relief rifle scope. In this case, we used a Simmons fixed 22 MAG 4X scope.
There was one problem, though. The rings included with this scope are the standard 22 tip-offs or groove mounted types, meaning they would not fit on the included Picatinny rail. Yes, the one gripe we had for years about 10/22 factory rails came back to bite us.
For years we complained that we never used tip-off rings or even typical rimfire scopes, we always mounted Weaver or Picatinny compatible rings and scopes on our 10/22s. Now we wanted to go with a rimfire scope and the included rail would not work.
As luck would have it, we had a few spare tip-off bases in our "box of stuff to never throw away". Because the 10/22 and Charger have a lot of crossovers, we pulled an old rail we had never used in order to mount the Tip-off rings. In case you do not have an extra one and wish to go this route we have seen them anywhere from $6.99 to $9.99. You may even have a friend who has one or two that they are not using who can pass one on to you.
With the bipod deployed you can shoot from a bench, across the hood of your car or any variety of field expedient platforms. You may not have the luxury and additional accuracy of using a buttstock, however, we found that you do not need it and our accuracy from this inexpensive scope was better than what we were able to do with the red dot or the fixed 2X Leupold pistol scope. Plus there is not a whole lot of recoil from the little Charger, so you should have no worries about getting "scope eye".
Threaded Barrel
When the Charger debuted a little over a decade ago in 2007, the barrels were plain Jane and not threaded. In 2011 or 2012, all Ruger Chargers began shipping with threaded barrels for use with a silencer.
We had a Ruger Silent Suppressor on hand and this can performed well on our Ruger 10/22 Takedown as well as a lot of other rimfire pistols. So we mounted it on the charger and headed out to measure the sound levels.
Unsuppressed with standard velocity CCIs the Ruger charger metered at about 140. With the suppressor mounted it came in at about 122 Db. Much of that noise comes from the cycling of the action.
Ease of Use
The Ruger 10/22 rifle is one of the more popular semi-auto rifles in North America. many new shooters started out on these and you would be hard-pressed to find any shooter who does not have one in his or her safe. The Charger is just about as easy to use.
some may feel it is a range toy or too big too be a handgun and too small to be a rifle. We find it to be an accurate and reliable pistol that fills a niche when you might want to reduce the local squirrel population without having to tote a full-sized rifle or carbine.
It made our personal "must buy list" and would make a nice lightweight short range varmint gun to stow in the truck, ATV, boat or even small aircraft.
Capacity: 15 (other magazine sizes available)
Material: Alloy Steel
Sights: Picatinny Rail Installed
Barrel Length10″
Finish: Matte Black
Stock: Black Polymer
Thread Pattern:1/2″-28
Grip: A2-Style
Overall Length19.25″
Weight: 50 oz.
Grooves: 6
Twist: 1:16″ RH
Suggested Retail: $309.00
---
About Mike Searson: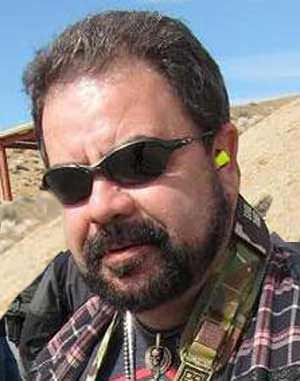 Mike Searson's career as a shooter began as a Marine Rifleman at age 17. He has worked in the firearms industry his entire adult life as a Gunsmith, Ballistician, Consultant, Salesman, Author and was first certified to teach firearms safety in 1989.
Mike has written over 2000 articles for a number of magazines, websites and newsletters including Blade, RECOIL, OFF-GRID, Tactical Officer, SWAT, Tactical World, Gun Digest, Examiner.com and the US Concealed Carry Association as well as AmmoLand Shooting Sports News.