Tom reviews the Puma Valencia IP Knife in Olive.
USA – -(Ammoland.com)-I've loved Puma knives since my college days when a rodeo buddy named Frank Noble introduced me to them.
At the time they owned the market on lock blade folders. They operated as smooth as glass. You could flip one open in a hot second. If I remember correctly the green handle one was their best.
I lost my first one on a fishing trip on the coast in Port Aransas, Texas. I then had a few more and in time lost them as well. After losing the third one I found a place in Washington (Coast) that carried Puma's and bought another one.
Later on, I found out that there was the old German line of Puma's knives but that there was also an American line made in China (Puma SGB). Then to get a little more complicated, now the German line also partners with some Spanish manufacturers and make a line of knives called the International Production of Puma or Puma IP. Here's the timeline on those developments. Puma was formed in 1769. So you can see, they have a rich history. Then in 2009 the American branch of Puma was formed and in 2010 it turned into the Puma SGB line (they are made out of German steel but manufactured in China).
A few years ago I noticed that there were two seperate Puma knife booths at the SHOT Show? After learning the above paragraph it was now clarified as to why. I stopped by the German booth a couple of years ago and then again this year. In talking to Hendrix, the guy running the booth I discovered that he had attended one of my Knife seminars at the SCI Conv. in Vegas in 2016 and wanted me to test one of his knives.
Due to having used Puma knives for the last 40 years I was excited to test some of his knives.
Puma Valencia IP Knife in Olive
The first one I received was his Puma Valencia IP Knife in Olive 820064. I had a hog hunt lined up with Bill Olson, the editor of Texas Outdoor Journal. I was sponsored on this hunt by Crosman and was going to hunt with the Benjamin Pioneer Airbow. This would be a good trip to take it on.
The knife is a stoutly built knife and the olive wood handle offsets the knife to make it a pretty knife. It comes with a dark brown leather sheath which is semi stoutly built and should last for years to come. It doesn't have a snap over top but the knife does set down deep and firmly in the sheath.
There are two other Puma IP knives that I like the design on a little better. That is their Puma IP Elk Oak Hunter Knife and their Catamount Olive Fixed Blade. So check them out as well to determine which one of the three you like best.
Here's my summary after hunting with the Puma Valencia IP Knife. If you like a stout-built knife with a thick full-sized blade, then you ought to love this one. Myself, I favor a thinner blade and one that is an inch longer. The other two options offer something closer to that.
The handle fills my hand so I can hold it firmly and the top of the spine has grooves so I can have a firm grip when I place my thumb on the spine but I wish the back, bottom end of the handle didn't slope forward. It would better fill your hand if it weren't designed like this, especially if your hand is slightly larger than mine.
As we close, here are the specs on the Puma Valencia IP Knife:
Product information "PUMA IP Valencia olive"
Blade length: 88 mm (3 3/8-inches)
Blade thickness: 3 mm ( 1/8-inch)
Steel / hardness: 1.4116 / 55-57 HRC
Total length: 198 mm (7 7/8-inch)
Knife weight: 138 g
Scales: olive wood
Sheath: leather, brown
---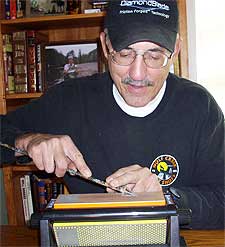 About Tom Claycomb
Tom Claycomb has been an avid hunter/fisherman throughout his life as well as an outdoors writer with outdoor columns in the magazine Hunt Alaska, Bass Pro Shops, Bowhunter.net and freelances for numerous magazines and newspapers. "To properly skin your animal you will need a sharp knife. I have an e-article on Amazon Kindle titled Knife Sharpening for $.99 if you're having trouble"