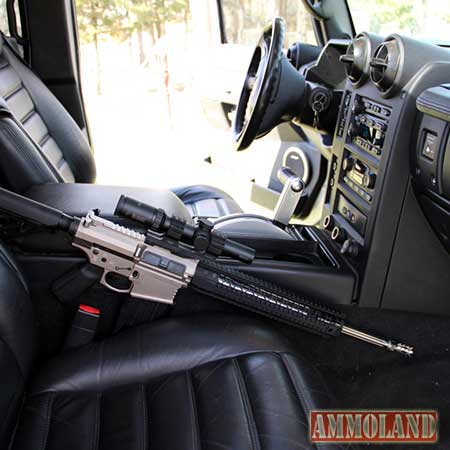 NEWTOWN, Conn. –-(Ammoland.com)- In response to the rising number of gun thefts from vehicles, the National Shooting Sports Foundation has produced a brochure designed to remind gun owners to take precautions if they must leave a firearm in their car or truck for any period of time.
The "Firearms Safety in Vehicles" brochure joins NSSF's lineup of educational materials reminding gun owners that it's their responsibility to keep their firearms out of the wrong hands.
The brochure emphasizes this key safety rule: "Your firearm must be under your control at all times; when it's not, it should be placed in locked storage and out of sight."
NSSF notes that vehicle door locks and trunk locks don't turn cars and trucks into gun safes. The same goes for glove boxes and console compartments.
"If you must temporarily store a gun in your car or truck, for your safety and that of our community, we encourage you to take steps to properly store them," reads the brochure. "Use a secure storage device, keep [the gun] out of sight, try not to be away from the vehicle for an extended length of time, and, when you arrive home, take the firearm inside with you to your secure home storage area."
The most practical device for storing a firearm temporarily in a vehicle is a lockable gun case or a lock box, which come in a range of sizes and prices. Some lock boxes can be secured to the vehicle with a steel cable, for example.
The new Firearms Safety in Vehicles brochure is available in print and downloadable pdf versions on the NSSF literature website. A discount is applied to volume orders of the print version.
NSSF Brochure| Firearms Safety Vehicles
---
About NSSF
The National Shooting Sports Foundation is the trade association for the firearms industry. Its mission is to promote, protect and preserve hunting and the shooting sports. Formed in 1961, NSSF has a membership of more than 11,000 manufacturers, distributors, firearms retailers, shooting ranges, sportsmen's organizations and publishers. For more information, visit nssf.org.