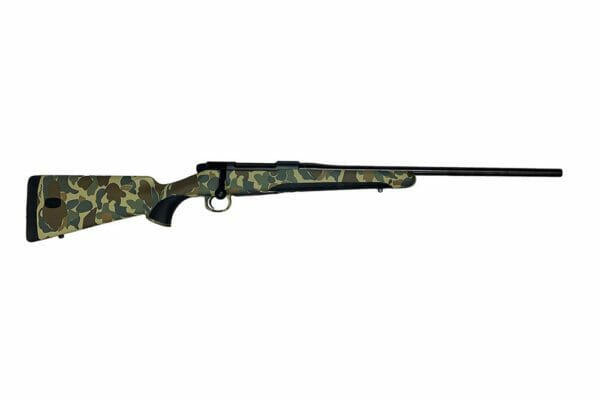 San Antonio, Texas – Mauser is pleased to announce Outdoor Life has named the Mauser M18 "Best Budget Hunting Rifle" of 2023. John Snow, Outdoor Life's Shooting Editor, went through years of data compiled during their annual tests of the year's best new rifles and through his reviews of individual long guns to pick the 11 most accurate long-range rifles he has shot.
The accuracy figures in Outdoor Life's "Best Long-Range Rifles of 2023" article were derived by taking the average of the 10 best five-shot groups the rifles delivered during the evaluation. According to Snow, "This is a much tougher accuracy standard than you'll find anywhere else. Not only are five-shot groups more telling than three-shot groups, but averaging it out over 10 groups raises the bar."
Here is what Snow had to say about the Mauser M18:
"The Mauser M18 won our admiration and our Great Buy award when it debuted in 2018. This three-lug bolt-action based on a Remington 700 pattern receiver is a screaming deal, especially in light of the excellent accuracy it demonstrated with factory ammo….Currently, it's the best long-range deer rifle for the money."

"We are honored to receive this recognition from Outdoor Life," said Jason Evans, CEO, Blaser Group. "The Mauser M18 was designed to deliver the benefits of German engineering and manufacturing – superior reliability, durability and accuracy in its class. The M18's immense popularity is testament to the fact that we achieved these goals and have produced a hunting rifle that delivers exceptional performance and value."
The Mauser M18 bolt-action rifle is available in Savanna tan, U.S. Marine Corps (USMC) Camo, and Fred Bear Old School Camo stock with grip inserts and a threaded barrel for the addition of a suppressor or muzzle brake. Known for its accuracy, reliability, and ruggedness, the M18 features a cold-hammer forged German steel barrel, three-position safety, and an adjustable trigger that allows you to set your own preferred pull weight from 2.25-4.25 lbs. The 60-degree oversized bolt with three locking lugs and two ejector pins allows for quick and smooth cycling of cartridges from the standard five-round magazine. Ten-round magazines are also available.
The M18 is backed by a sub-MOA performance guarantee and a 10-year factory warranty. It accepts Remington 700 LA-style mounts and is available with a ½ x 28 threaded barrel in .223 Rem, .243 Win, .270 Win, 6.5 Creedmoor, 6.5 PRC and 7mm Rem Mag chamberings and a 9/16 x 24 threaded barrel in .30-06, .300 Win Mag and .308 Win. For more information, visit: www.mauser.com.
---
About Blaser Group
The Blaser Group is the official U.S. importer for iconic German firearms brands Blaser, Mauser, and J.P. Sauer; English gunmaker John Rigby & Co.; and Minox optics. Established in 2006, the company which is based in San Antonio, Texas works with over 200 authorized Blaser Group dealers across all North American states, with this figure continually growing.
Today the Blaser Group's industry-leading product portfolio includes bolt-action, combination rifles, and over-and-under shotguns designed specifically for game hunters and competitive target shooters. Its custom shop offers exclusive engravings, design work, and custom finishing for bespoke guns. With recent innovations, Blaser Group has gone on to expand its product portfolio into cutting-edge optics and accessory lines. For more information about the company and product lines, visit: www.blaser-group.com.