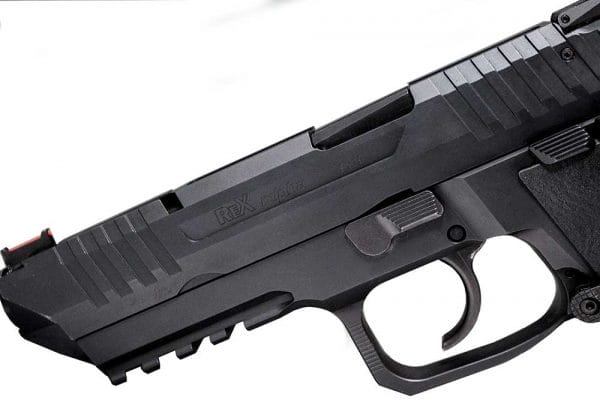 U.S.A. –-(Ammoland.com)-The REX alpha (REXALPHA9-01) is the next evolutionary step in the REX handgun family. It is a direct descendant of the REX zero 1 and has inherited its toughness and reliability.
Listening to the practical shooters, Arex designed and developed a pistol that excels in competitive practical shooting as well as in tactical scenarios. With the elusive and all-important "shootability" being Arex's primary goal, a steel frame was used in place of an aluminum one. A re-engineered grip results in shorter trigger reach and notably higher hand position. An undercut trigger guard and extended beavertail complete the ergonomic transformation. The long slide houses a five-inch barrel, providing a longer line of sight for faster and more accurate shots. The slide has been lightened significantly utilizing lightening cuts to accomplish faster cycling.
The REX alpha (REXALPHA9-01) is all about performance. The trigger mechanism is factory fine-tuned for each pistol to deliver a smooth double action pull and a short trigger reset in an out-of-the-box competition grade trigger. The full steel frame incorporates oversized ambidextrous manual safety levers, flared magazine well, aggressive checkering in front of the grip, extended magazine release, fiber optic front sight, and a fully adjustable black rear sight (windage/elevation).
The Rex alpha (REXALPHA9-01) is a 20-round, 5.0" barrel, 9x19mm, full steel frame competition pistol with several unique features:
Can be operated either "cocked & locked". External safety operates in either configuration.
Ambi- safety and magazine release.
Extended mag release button – switched to either side. Streamlined controls, decocker eliminated
Redesigned grip wraps around the rear and aggressive checkering on the front
Extended beavertail
Full steel frame and slide
Lightening cuts on the slide ensure faster cycling Oversized frame mounted safety – teardrop shape
Nitrocarburized steel slide made from solid bar stock.
1 piece cold hammer forged barrel made from solid bar stock and Nitrocarburized.
Forward cocking serrations and full length slide rails.
Picatinny accessory rail and Redesigned trigger guard.
Uses same mags as the Rex Zero 1
Red fiber optic front sight and fully adjustable black rear
sight (windage/elevation).
Skeletonized hammer
Reduced DA/SA trigger pull (8.8 lbs. /3.3 lbs.)
Flared magazine well for faster reloads
Competition ready out of the box
Full slide manipulation even when on safe
Rex Alpha Specifications
Caliber – 9mm Luger 9×19 (+P Approved)
Action – Semi-Auto
Manufacturer – Arex d.o.o.
Country of Origin – Slovenia
Importer – FIME Group LLC
Trigger System – Single and Double Action, Hammer Fired
Safety – Ambi External Manual Safety, Operates in DA/SA or SAO Mode
Barrel Length – 5.0 in / 127 mm
Overall Length – 8.9 / 226 mm
Sight Radius – 6.8 in / 173mm
Height – 6.1 in / 155mm
Weight w/o Magazine – 39 oz. / 1108 g
Capacity – 20 + 1
Frame – Steel
Grooves – 6 grooves, RH Twist
Twist Rate – 9.8 in / 250 mm
Trigger Pull SA – 3.3 lbs (+- 0.2 lbs.)
Trigger Pull DA – 8.8 lbs (+- 0.4 lbs.)
Trigger Travel DA – 0.4 in
Reset Travel SA – 0.07 in
Warranty – Lifetime to Original Purchaser
MSRP – $1099.00
ABOUT FIME GROUP, LLC
FIME Group, LLC is a manufacturer, importer, and exporter of the finest, high-quality firearms from around the world. Founded with the mission to manufacture the finest firearms and establish long-lasting business relationships with multiple manufacturers, FIME Group, LLC seeks to provide all of the customer favorites among rifles, handguns, and shotguns.
FIME Group, LLC.'s partnerships include:
Arex from Slovenia – the manufacturer of the Rex Zero 1 pistols, with a proven track record of over 20 years for manufacturing highly competitive products with premium quality and precision;
Molot from Russia – the manufacturer of the Vepr rifles and shotguns, one of the most rigid, toughest systems in the world;
Zastava Arms from Serbia – the manufacturer of the rifles based on the famous Mauser system.
FIME Group, LLC. is headquartered in Las Vegas, Nevada and may be found online.