Adams Arms, LLC. of Odessa, Florida is a top tier rifle manufacturer that was founded in 2007. Adams produces cutting-edge rifles based on patented gas piston systems for AR-15/M-16 type rifles. Their piston system provides enhancements in regards to reliability, accuracy, general maintenance, and overall longevity. They rolled out their latest rifle at SHOT Show 2018 in the form of a 24" barrelled 6.5 Creedmoor long-range shooting stick.
U.S.A. –-(Ammoland.com)- It's the P3+ 6.5 and is part of their "P" Series of rifles. This means it is a piston gun that uses the company's low profile adjustable gas block and piston system, but in this case, could also stand for Precision.
True to their history, Adams Arms did not skimp on any of the components. The basics are a Flat-Faced AR Gold Trigger, ergonomic pistol grip, an adjustable LUTH-AR Stock with Cheek Riser and the aforementioned Low Profile Gas Block. The safety, charging handle, and bolt release are all ambidextrous.
The upper and lower receivers are forged from 7075-T6 and feature a Type III Class II Hard-coat anodized finish. The magazine well is beveled with machined chevrons in the front strap.
A 1913 Picatinny rail crowns the flat top and has laser engraved T-markings so you can replace accessories and optics with ease.
The barrel is a 24" Carbon Wound Proof Research Barrel. This is surrounded by an Ergonomic Free-Float M-LOK rail and features an American Precision Arms Muzzle Device.
A barrel like that is the heart of the rifle coupled with their Short Stroke Free Floating Piston System that is self-cleaning. Their piston system expells carbon and gases forward and away from the shooter. More importantly, the piston's harmonics are not transferred into the barrel. The gas system is completely adjustable for various applications and because it does not vent directly to atmospheric pressure it completely eliminates flash signature and supersonic crack which is optimal for night vision and suppressed fire.
With 6.5 Creedmoor the rifle should allow shooters to go out to 2000 yards with relative ease, provided you can find a range that long.
One of the tricky areas of getting a gas gun in 6.5 Creedmoor to run is, well, the gas system and a lot of folks who attempted building an AR in 6.5 Creedmoor went back to their bolt guns, but Adams Arms seems to have figured this out with their piston system running the bolt.
If you are planning to attend Media or Industry Day at the Range this year make sure you swing by Adams Arms' shooting bay to run this one. They may not be reaching out to 2000 yards (probably on the order of 100 or 200 yards) but this is definitely a rifle you should take a look at and go for some trigger time.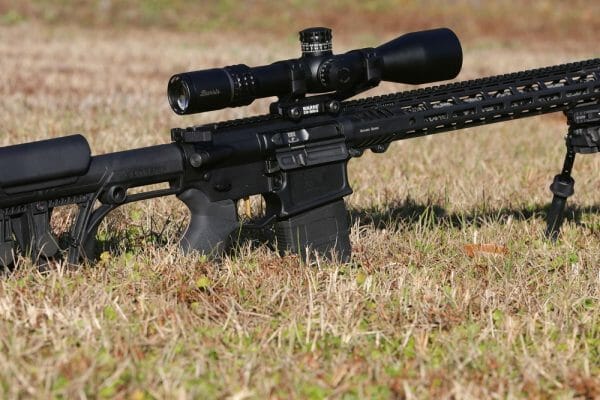 MSRP is set for $3900 and when you add up the cost of the products and engineering in this build, although it seems high it is more than fair. Particularly when you realize the weight is about 8 1/2 pounds, due largely in part to the Proof Research Carbon Wrap barrel.
If you have been on the fence about a 6.5 Creedmoor rifle that can really take advantage of that round's ballistics but do not want to go the bolt gun route, this may be just the rifle you have been looking for. It is definitely a unique precision rifle.
---
About Mike Searson: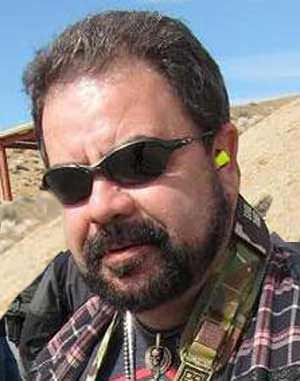 Mike Searson's career as a shooter began as a Marine Rifleman at age 17. He has worked in the firearms industry his entire adult life as a Gunsmith, Ballistician, Consultant, Salesman, Author and was first certified to teach firearms safety in 1989.
Mike has written over 2000 articles for a number of magazines, websites and newsletters including Blade, RECOIL, OFF-GRID, Tactical Officer, SWAT, Tactical World, Gun Digest, Examiner.com and the US Concealed Carry Association as well as AmmoLand Shooting Sports News.