USA – -(Ammoland.com)- "No one is talking about taking away your guns," say those who claim "all" they want is "commonsense gun safety laws." Someone forgot to tell them that some publications have opinion pieces belying that.
"To Repeat: Repeal the Second Amendment," columnist at The New York Times Bret Stephens demands. He says "to repeat" because he's it's not the first time "the newspaper of record" has shared his sentiments.
The "repeal" sentiment gets more media play. A history professor ignorant of history endorses the idea in Rochester's Democrat & Chronicle ("Part of the USA Today Network," which considering its owner Gannett Publications, should come as no surprise.
"I've made it clear in the past that I want extreme measures in response to gun violence – such as repealing the Second Amendment to the Constitution," Law Professor David S. Cohen writes in Rolling Stone.  He has made that clear before, and wants others to join his crusade by "voicing these opinions."
Plenty more examples exist to refute the reassurances that no wider disarmament goals exist. We've got examples from the past, from then Sen. Thomas  Dodd, author of GCA '68 saying "I would be for abolishing all guns … I hope some day the world will say 'Destroy them all,'" to Nelson "Pete" Shields, founder of Handgun Control, Inc.,  admitting his strategy to ban guns is to do so incrementally.
Add present-day Nancy Pelosi admitting she hopes any new concessions on guns help accelerate more edicts down a "slippery slope"  and "bipartisan efforts" on "compromise" described as "baby steps," and it should be clear to all that the "concessions" all go one way and play into the hands of those who will not stop until they achieve complete citizen disarmament and an unchallengeable government "monopoly of violence."
Actually, after that they'll just be getting started. History is pretty clear on that.
Anyone who thinks concessions can be made and that will be the end of it is deluding both themselves (assuming they don't know better) and anyone naïve enough to believe them. Every beachhead allowed or bit of ground voluntarily ceded allows those who want you disarmed to use it to launch their next incursion. To do so makes as much sense as throwing a scrap of flesh to a circling pack of jackals and expecting that it will satisfy them, and persuade them to leave you alone.
These are unsettling times for gun owners, as troubling as any I've ever seen. We need to remember that ultimately, we won't lose our guns unless we as individuals make a choice to surrender them.
I know that's unsettling to some, but really, isn't it something we've always known?
Now, in the midst of all the sound and fury, with all the demands being made and all the temptations for some who posture as our "gun rights leaders" to resort to "pragmatic" concessions, I'd like to introduce (or reintroduce) readers here to an essay written decades ago that I've always found inspiring.
I urge you to read, take to heart and share my friend and colleague Brian Puckett's "Memorandum on Arms and Freedom" and recommit to its central tenet:
"We will not disarm."
---
About David Codrea: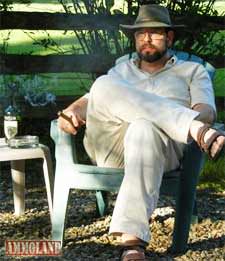 David Codrea is the winner of multiple journalist awards for investigating / defending the RKBA and a long-time gun owner rights advocate who defiantly challenges the folly of citizen disarmament.
In addition to being a field editor/columnist at GUNS Magazine and associate editor for Oath Keepers, he blogs at "The War on Guns: Notes from the Resistance," and posts on Twitter: @dcodrea and Facebook.