Tom reviews the Leatherman Tread Lt Multitool Bracelet.
USA – -(Ammoland.com)-During my meeting with the Leatherman crew at the SHOT Show in January they demo'd their new products for me.
Of course, everyone knows about the Leatherman Tool and it has been copied by tens if not hundreds of companies.
But one line of tools they make that I didn't know about is one they call the Wearables which are bracelets with an unbelievable number of tools built into them. Screwdrivers, box end wrenches, etc.
There are four models of the Using Leatherman Tread Lt Multitool Bracelet available. Let's briefly cover each model.
Leatherman TREAD
They advertise that the Tread was the first wearable multitool and features 29 tools and customizable links. Here's their description of the Tread:
"Our engineers designed multiple tools in each 17-4 stainless steel bracelet link, making usable tools like Allen wrenches, screwdrivers and box wrenches available at a moment's notice. Adjustable to accommodate any wrist size and fully customizable with the links you need most, the Leatherman Tread is as stylish as it is functional."
Leatherman TREAD LT
The LT is like the original Tread but is a little slimmer as you can see from the specs below as compared to above.
Leatherman TREAD METRIC
The Tread Metric is the same size as the Tread except that it is metric.
Now this one is where they really got unique. Not only is it a bracelet (full of tools) like the ones above but it actually doubles as a watch band and a Swiss made watch is included.
I told you, pretty unique huh?
In case the tools you desire weren't included, they offer a line of 19 links to choose from. Unless I miscounted it looks that between all the links that you could purchase that they would combine for 56 different tools. All but one link has three tools on it. That's like a whole tool box on your wrist!
---
---
They say that one size fits all but obviously some people have larger wrist and some have smaller ones. I'm small boned so I need to take out one link and only wear eight. Oh, and even the clasp has a couple of tools on it.
So, if you're maintenance inclined and like to be prepared carry the Tread LT and the Wave + that I wrote about a couple of weeks ago. So unless I'm miscounting, between both you'd have 44 tools at your fingertips. I know some people that can overhaul a car engine with less tools than that!
I'm about to take the dogs on a walk. I can only hope that some old lady drives by and her car engine falls out so I have a chance to save the day and reinstall it.  And if I am over estimating my tool skills, I still have a cell phone. I'll call triple AAA Auto Club for her and a taxi.
---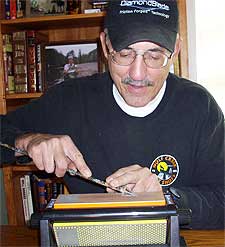 About Tom Claycomb
Tom Claycomb has been an avid hunter/fisherman throughout his life as well as an outdoors writer with outdoor columns in the magazine Hunt Alaska, Bass Pro Shops, Bowhunter.net and freelances for numerous magazines and newspapers. "To properly skin your animal you will need a sharp knife. I have an e-article on Amazon Kindle titled Knife Sharpening for $.99 if you're having trouble"