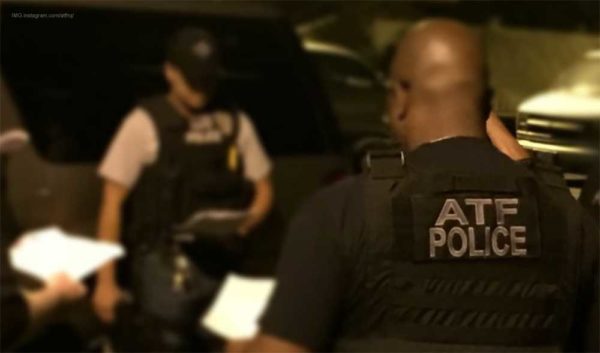 Every Friday afternoon like clockwork most of the ATF's 25 field divisions send out press releases showcasing their office's enforcement activities for the week. It's classic eyewash of sorts. The ATF is trying to look busy, like they're good stewards of our taxpayer dollars.
As we have previously reported, most of ATF's criminal charges are filed administratively after the fact, after another law enforcement agency has already made an arrest. For example, when local police arrest an armed criminal with a previous felony conviction, they may ask ATF to pursue federal charges, which usually carry a stiffer penalty. Of course, the ATF takes credit for the arrest, the investigation and the subsequent prosecution, often by claiming it was part of a task force or its Project Safe Neighborhoods program.
Still, as the ATF's press releases show every week, it's rare for the agency to initiate a major case on its own.
Here are some of ATF's highlights from last week:
Boston Field Division
New Britain Man Sentenced to 9 Years in Federal Prison for Fentanyl Distribution and Firearm Possession Offenses"
"According to court documents and statements made in court, in 2022, the Drug Enforcement Administration's Hartford Task Force identified Martinez as a large-scale distributor of fentanyl. Martinez's criminal history includes state felony convictions for narcotics offenses. It is a violation of federal law for a person previously convicted of a felony offense to possess a firearm or ammunition that has moved in interstate or foreign commerce," the press release states.
DEA Agents made the arrest.
East Hartford Man Admits Role in Catalytic Converter Theft Ring
"According to court documents and statements made in court, law enforcement has been investigating the theft of catalytic converters from motor vehicles across Connecticut," the press release states.
East Hartford Police officers made the arrest.
Denver Field Division
Wyoming Felon Sentenced to Prison for Possessing Unregistered Sawed-Off Shotgun
"The government alleged in court documents that in November 2021, Bureau of Indian Affairs officers attempted a traffic stop of a van driven by Medicine Horse because of reports that the van was speeding toward Lame Deer, on the Northern Cheyenne Indian Reservation. During a search of the van, officers recovered a sawed-off shotgun, with a barrel length of 6.5 inches and an overall length of 18 inches. Medicine Horse also was prohibited from possessing firearms because of a previous federal felony conviction for sexual abuse of a minor," the press release states.
Bureau of Indian Affairs officers made the arrest
Great Falls Man Sentenced to Four Years in Prison for Illegal Possession of Firearms
"The government alleged in court documents that in the fall of 2021, Potts was on state supervision for multiple felony convictions when he was stopped while driving a vehicle in Great Falls with a suspended license. During a probation search of the vehicle, law enforcement found a .357-caliber revolver in a backpack and a 9mm pistol under the driver's seat," the press release states.
Great Falls Police made the arrest.
Hamilton Felon Sentenced to Five Years in Prison for Illegal Possession of Firearms, Including "Ghost Gun"
"The government alleged in court documents that in January 2022, law enforcement executed a search warrant on a storage unit of Jakub's and recovered two semi-automatic rifles with large capacity magazines, one pistol, three suppressors, various firearm parts and thousands of rounds of ammunition," the press release states.
Montana Highway Patrol and Ravalli County Sheriff's Office made the arrest.
Great Falls Felon Sentenced to More Than Five Years in Prison for Possessing Firearm
"In court documents, the government alleged that in May 2022, Billings police officers checked on a suspicious vehicle and found Toulouse under the influence of some kind of substance and in possession of a loaded 9 mm semi-automatic pistol that had been stolen in Butte," the press release states.
Billings Police officers made the arrest.
Tampa Field Division
Brooksville Man Found Guilty of Possessing Firearm as an Armed Career Criminal
"Sumter County Sheriff's Office encountered Phillips while attempting to serve a warrant for his arrest on another matter. Phillips ran from the deputies but was apprehended after a brief foot chase. Phillips was searched incident to his arrest, and deputies located a revolver loaded with five rounds of ammunition in his pants pocket. As a previously convicted felon, Phillips is prohibited from possessing a firearm or ammunition under federal law," the press release states.
Sumter County Sheriff's Office made the arrest.
Ten-Time Convicted Felon Sentenced to More Than Eight Years in Federal Prison for Possessing Ammunition
"According to court documents, on November 22, 2021, just after midnight, Tampa Police Department (TPD) officers observed a silver Infiniti use the shoulder of the road to illegally pass another car. The officers activated their police emergency lights to initiate a traffic stop and Infiniti pulled over to the side of the road. As officers approached the car on foot, the Infiniti fled from the scene and the officers radioed out a description of the car and the events that had just occurred. Another TPD officer was in the area, heard the radio call, and observed two men walking away from a silver Infiniti that was had just been parked. The officer looked inside the silver Infiniti and saw a firearm poking out from under the driver's seat and radioed his findings. The officers from the earlier traffic stop responded to the scene and saw the two men walking, approached them. Rivas was one of the two men. During an interview with the officers, Rivas admitted that he had been driving the silver Infiniti and that he had fled from the scene," the press release states.
Tampa Police officers made the arrest.
Zephyrhills Man Pleads Guilty to Unlawfully Making a Destructive Device
"According to court documents, on November 1 and 2, 2022, Hall spoke on the phone with a man to whom he had sold firearms in the past. In these conversations Hall offered to sell the man a "pipe bomb" that Hall had built. Hall shared with the man that he had contemplated using the "pipe bomb" to target an individual with whom he was angry. The man with whom Hall was communicating was a confidential informant with the Pasco Sherriff's Office. The confidential informant reached out to the Pasco Sheriff's Office, who then coordinated further investigation with the Bureau of Alcohol, Tobacco, Firearms and Explosives (ATF). Later in the evening on November 2, the confidential informant and an undercover Pasco Sheriff's detective met with Hall, where the detective purchased the "pipe bomb." When asked about future purchases, Hall indicated he "had enough to build six more now." Hall also indicated that the device he was selling to the detective had a magnet on the bottom of it," the press release states.
Pasco County Sheriff's deputies made the arrest.
St. Paul Field Division
Sauk Rapids Man Sentenced to Five Years in Federal Prison for Unlicensed Manufacturing, Selling Ghost Guns
"On April 26, 2022, at a residence in Waite Park, Olson sold the confidential source 16 ghost guns, nine high-capacity magazines, one silencer, a machinegun conversion device, and other firearms accessories. Immediately after the transaction, law enforcement arrested Olson and executed a search warrant at the residence. During the search, investigators recovered various firearm assembly kits, unserialized lower receivers, and multiple miscellaneous firearms parts and accessories. On May 4, 2022, investigators executed a search warrant at Olson's Sauk Rapids residence, and recovered from the basement manufacturing tools, various firearm assembly kits, and a Glock firearm assembly diagram. The investigation revealed that Olson was trafficking these firearms and offering to sell them to others whom he knew or had reason to know were otherwise prohibited from possessing firearms or intended to use them for unlawful purposes," the press release states.
Hennepin County Sheriff's Office deputies made the arrest
Black Hawk Man Sentenced on Drug and Firearm Charges
"In November of 2021, in Box Elder and Black Hawk, Martin knowingly distributed methamphetamine. Additionally, when law enforcement executed a search warrant in December of 2021 at a residence where Martin was staying, he was found in possession of several firearms, including a Mossberg 12-gauge pump-action shotgun with a barrel length of less than 18 inches. The shotgun was not registered to Martin in the National Firearms Registration and Transfer Record as is required by law," the press release states.
The South Dakota Division of Criminal Investigation, and the Mellette County Sheriff's Office made the arrest.
Phoenix Field Division
Prison Escapee Sentenced to 10 Years for Being a Felon in Possession of a Firearm, a Charge Resulting From Shooting of Farmington Police Officer
"According to the plea agreement and other court records, on Jan. 7, 2022, police officers in Farmington responded to a report that the male driver of a black Cadillac was possibly driving under the influence. An officer located the vehicle in the drive-thru line of a Starbucks and waited for it to exit. Once it did, the officer initiated their lights and sirens and attempted to stop the Cadillac, but the driver fled at a high rate of speed. Another officer located the Cadillac a short time later in the Carl's Junior parking lot and learned from witnesses that two individuals fled from the vehicle on foot. A third officer who was nearby decided to check a large dirt lot in the area the witness had indicated that individuals fled. He parked his vehicle and walked towards an opening in the corner of the lot, where he observed two individuals walking towards him. The officer contacted the individuals and recognized Buck from the escape flyer circulated after Buck escaped from a Durango jail the week prior despite his attempt to disguise himself by wearing a wig. The officer asked Buck and the other individual to sit down, at which time Buck pulled a pistol from his pocket, pointed it towards the officer's face, and pulled the trigger.
"The firearm's muzzle was approximately one foot from the officer's face when Buck pulled the trigger. The officer raised his arm to shield his face and the bullet passed through his arm. Buck shot him a second time in the elbow. The officer retreated to put some space between him and Buck and heard Buck fire two more rounds at him before fleeing. Since the shooting, the officer has returned work, however he has not regained full range of motion in his arm.
"Buck was arrested on Jan. 14, 2022, in Phoenix, Arizona after he was recognized by a security guard at a local convenience store," the press release states.
Farmington Police Department and San Juan County Sheriff's Office made the arrest.
New York Field Division
Two Los Angeles Men Sentenced for Drug Conspiracy That Led to Murder
"Co-defendant Kyle Leeper was at the center of the conspiracy that trafficked methamphetamine from Indiana and Southern California to Cortland County, New York, where Leeper distributed it to local residents and drug dealers. In the fall of 2018, co-defendant Crystal Stephens, of Groton, New York, who was incarcerated in Indiana on burglary charges, contacted Leeper by telephone with contact information for co-defendant John Rice, an Indiana-based methamphetamine dealer. Leeper communicated with Rice by telephone and then travelled to and from Indiana twice in late 2018 and early 2019, where he obtained crystal methamphetamine and a .380 caliber pistol from Rice. Leeper distributed this methamphetamine in the Cortland area.
"After Rice was arrested in Indiana in early January 2019, Leeper arranged to travel to the Los Angeles area to purchase more methamphetamine. From jail Crystal Stephens provided Leeper with telephone numbers for possible methamphetamine sources in East Los Angeles. In mid-January 2019, Leeper and an associate, co-defendant Ramon Nieves-Cotto, drove from Cortland to Los Angeles, where Leeper contacted one of these sources. The source sought assistance from co-defendant Arlene Rodriguez, who introduced Leeper to a middleman. On January 17, 2019, this middleman arranged for Leeper to buy three pounds of crystal methamphetamine for $5,000 from co-defendant Jose Pimentel. But after the methamphetamine was delivered to a motel in El Monte, California, Leeper realized that he had been shortchanged on the quantity delivered. Leeper abducted the middleman and Arlene Rodriguez at gunpoint. Later that day, Nieves-Cotto purchased zip ties, which Leeper used to bind the middleman. On the night of January 17, 2019, in the desert in Barstow, California, Leeper shot the bound middleman eight times from behind with the .380 caliber pistol, killing him. Leeper and Nieves-Cotto, along with Rodriguez, then drove to Cortland, where Leeper distributed the methamphetamine he obtained on this trip to California.
"In early February 2019, Leeper, Nieves-Cotto, and Rodriguez returned to Los Angeles, where Leeper purchased an additional six to eight pounds of methamphetamine and a 9 mm pistol from co-defendant Edgar Arredondo. Upon his return to Cortland, Leeper, assisted by Rodriguez, began to distribute this methamphetamine. On February 19, 2019, officers from the Cortland County Sheriff's Office stopped Leeper and Rodriguez while they were driving in Leeper's pickup truck, which had an expired registration and cracked windshield. Inside the truck, the officers found four pounds of high-purity methamphetamine, the loaded .380 caliber pistol Leeper had used to commit the murder, and ammunition. They arrested Leeper, who previously had been convicted of state and federal felony offenses in Pennsylvania, and Rodriguez.
"Five (5) other co-defendants previously pled guilty to participating in the drug trafficking conspiracy, and/or aiding and abetting the murder.
"This case was investigated by the Federal Bureau of Investigation (FBI), the U.S. Drug Enforcement Administration (DEA), the Cortland County (New York) Sheriff's Office, the Barstow (California) Police Department, and the San Bernadino (California) County Sheriff's Department, with assistance from the U.S. Bureau of Alcohol, Tobacco, Firearms and Explosives (ATF)," the press release states.
Newark Field Division
Member and Associate of Newark Street Gang Charged With Unlawful Possession of Machinegun Used in Shooting of Three People
"Since 2021, law enforcement officers have been investigating a series of retaliatory shootings between rival neighborhoods in Newark involving individuals in the area of Clinton Place and Weequahic Avenue, which is known on the street as 'Cake Block.' These individuals are aligned with others who operate in the area of Vorhees Street and individuals who operate around the Bradley Court Housing Complex. Muhammad is a member and associate of this neighborhood street gang. He and his fellow gang members have committed numerous shootings that targeted individuals who operate in the area of the Oscar Miles Housing Complex and Goodwin Avenue.
"On April 8, 2023, law enforcement officers responded to a shooting in the area of the Oscar Miles Housing Complex and discovered three shooting victims, one of whom remains in critical condition.
"On April 12, 2023, after the investigation identified Muhammad as a primary suspect in the shooting, law enforcement arrested Muhammad while he was in possession of a 9mm handgun equipped with a machinegun conversion device and loaded with 30 rounds of ammunition in an extended magazine. A subsequent ballistics analysis of the machinegun confirmed that the machinegun fired 28 rounds during the April 8, 2023, shooting at the Oscar Miles Housing Complex," the press release states.
"This case is part of the Violent Crime Initiative (VCI) in Newark. The VCI was formed in August 2017 by the U.S. Attorney's Office for the District of New Jersey, the Essex County Prosecutor's Office, and the City of Newark's Department of Public Safety to combat violent crime in and around Newark. As part of this partnership, federal, state, county, and city agencies collaborate and pool resources to prosecute violent offenders who endanger the safety of the community. The VCI is composed of the U.S. Attorney's Office, the FBI, the ATF, the DEA New Jersey Division, the U.S. Marshals, the Newark Department of Public Safety, the Essex County Prosecutor's Office, the Essex County Sheriff's Office, N.J. State Board of Parole, Union County Jail, N.J. State Police Regional Operations and Intelligence Center/Real Time Crime Center, N.J. Department of Corrections, the East Orange Police Department, and the Irvington Police Department," the press release states.
New Orleans Field Division
Two Defendants in Separate Cases Sentenced to Federal Prison for Child Pornography and Illegal Possession of Firearm Crimes
"Charles Dirk Lafleur, 56, of Ville Platte, Louisiana, was sentenced to 78 months in prison, followed by 3 years of supervised release, for possession of child pornography. The charges in this case stem from an investigation by an agent with the Louisiana Bureau of Investigation Cyber Crimes Unit after a Cyber Tip Line Report was received from the National Center for Missing and Exploited Children (NCMEC). The report identified the upload of an image containing child pornography to a Microsoft OneDrive account and identified the unique user information associated with that account. Their investigation revealed that the image did in fact contain child pornography and a search warrant was obtained for the Microsoft OneDrive account. The search warrant identified the account user as Lafleur. After further investigation, another search warrant was obtained for Lafleur's residence and was executed by law enforcement agents on November 7, 2018. Agents recovered eight of Lafleur's electronic devices, which were analyzed and found to contain images and videos depicting child pornography, including depictions of pornography involving prepubescent minors under 12 years of age. Lafleur was charged and pleaded guilty to possession of child pornography on October 12, 2022," the press release states.
"The case was investigated by the Department of Homeland Security, Bureau of Immigration and Customs Enforcement and the Louisiana Bureau of Investigation Cyber Crimes Unit and prosecuted by Assistant U.S. Attorney Craig R. Bordelon," the press release states.
Chicago Field Division
Gary Man Sentenced to 2 Consecutive Terms of Life in Prison
"According to documents in the case, Gist-Holden and other individuals formulated a plan to rob the Bank on Ridge Road in Gary, Indiana. Before actually entering the Bank, Gist-Holden, at point blank range, shot the Bank's security guard. Gist-Hilden then proceeded into the Bank to complete the robbery. While another member of the robbery crew entered the Bank building and stole approximately $9,000.00, Gist-Holden remained in the doorway of the building firing bullets that shattered windows. After the robbery, Gist-Holden and a co-defendant fled Indiana. Gist-Holden, was subsequently apprehended in Georgia by local law enforcement following a high-speed car chase," the press release states.
FBI agents and the Lake County Sheriff's Department made the arrest.
Atlanta Field Division
Middle Georgia Meth Trafficking Leader Sentenced to 35 Years Imprisonment
"According to documents and other evidence admitted into court, Drug Enforcement Administration (DEA) agents and Warner Robins Police Department officers investigated Veal's Warner Robins-based drug trafficking organization from Jan. to June 2020. Law enforcement obtained court orders to intercept the phone calls and text messages from Veal's and co-defendant Tamara Hall's cell phones. Agents learned that Veal was a multi-kilogram methamphetamine dealer and surveilled Veal and various co-defendants conducting methamphetamine transactions and traveling to Atlanta to purchase large quantities of methamphetamine.
"Veal was taken into custody in June 2020, on a return trip from Atlanta in possession of three kilograms of methamphetamine and a Glock .40 caliber semi-automatic pistol with a 50-round drum magazine. Agents executed search warrants at various locations in Middle Georgia, seizing multiple firearms and ammunition, methamphetamine and more than $100,000 cash. The organization is responsible for distributing more than 16 kilograms of methamphetamine. Nine additional co-defendants have pleaded guilty and/or been sentenced as a result of this case," the press release states.
This case was investigated by Drug Enforcement Administration and the Warner Robins Police Department.
Dallas Field Division
Alleged Firearm Traffickers Arrested in ATF Bust
"According to court documents, Smith, Amill, Jones, and their co-conspirators sold more than two dozen firearms to undercover agents over the course of a month and a half. On multiple occasions, co-conspirators were informed that the guns they sold would be trafficked across the border into Mexico, where they would be resold illegally.
"Court documents allege they repeatedly bragged that they could obtain fully automatic AK- and AR-style rifles, referred to as "choppers." On one occasion, Smith and a coconspirator allegedly attempted to sell a Smith & Wesson pistol that they claimed was equipped with a custom firing pin that made it automatic. When an undercover agent expressed skepticism, they claimed the firing pin was "internal." On another occasion, Smith allegedly acted as middleman for the sale of a short-barreled Seekins Precision rifle equipped with a selector switch that moved from safe, to single shot, to automatic.
"The Bureau of Alcohol, Tobacco, Firearms and Explosives' Dallas Field Division conducted the investigation in partnership with the Fort Worth Police Department's Gang Unit. Assistant U.S. Attorney Levi Thomas is prosecuting the case," the press release states.
Angelina County Felon Sentenced for Federal Drug Trafficking, Firearms Violation
"According to information presented in court, Lufkin police officers came in contact with Spencer while responding to a report of a residential theft. Spencer matched the description of the suspect and was searched for stolen items. During the search, officers discovered a firearm in Spencer's backpack. Spencer admitted to being a convicted felon, having been previously convicted of murder, which would prohibit him from owning or possessing firearms or ammunition. Spencer was also in possession of a gallon-sized baggie containing synthetic marijuana. Spencer was indicted by a federal grand jury on August 19, 2020," the press release states.
Lukfin Police officers made the arrest.
Takeaways
The Citizens Committee for the Right to Keep and Bear Arms recently called on Congress to block funding for the ATF until "Democrats and federal bureaucrats publicly recognize Second Amendment rights of law-abiding citizens, and stop their attacks on legal gun ownership."
This came as Florida Republican Congressman Matt Gaetz submitted a bill to abolish the agency. Gaetz's legislation, H.R. 374 the "Abolish the ATF Act," simply states: "The Bureau of Alcohol, Tobacco, Firearms, and Explosives is hereby abolished."
Meanwhile, Joe Biden wants to give the ATF $1.9 billion in his FY2024 budget proposal.
The ATF's lack of independent investigations, known in law enforcement as self-initiated activity, is probably not a bad thing for the public. History has shown us that whenever ATF mounts a large-scale investigation, such as the sieges in Waco and Ruby Ridge or the "Fast and Furious" gun-walking scandal, innocent Americans often pay with their lives.
As last week's press releases indicate, no one makes a better case to abolish the ATF than the ATF.
This story is presented by the Second Amendment Foundation's Investigative Journalism Project and wouldn't be possible without you. Please click here to make a tax-deductible donation to support more pro-gun stories like this.
---
About Lee Williams
Lee Williams, who is also known as "The Gun Writer," is the chief editor of the Second Amendment Foundation's Investigative Journalism Project. Until recently, he was also an editor for a daily newspaper in Florida. Before becoming an editor, Lee was an investigative reporter at newspapers in three states and a U.S. Territory. Before becoming a journalist, he worked as a police officer. Before becoming a cop, Lee served in the Army. He's earned more than a dozen national journalism awards as a reporter, and three medals of valor as a cop. Lee is an avid tactical shooter.