The IWI Galil Ace Gen 2 is an interesting take on a platform that evolved from a modification of the AK-47. But don't let this simplification fool you; the Galil Ace series of rifles and carbines are refined machines that amplify the best aspects of the AK while mitigating most of the downsides. But in an era of the SIG Spear LT and other piston-gun with comparable reliability and price tags, can the newest iteration of the Israeli workhorse hold its own?
IWI Galil ACE Gen 2 5.56mm Rifle

As I mentioned earlier, the IWI Galil ACE Gen 2 5.56mm Rifle is technically an AK derivative, so it should come as no surprise that it operated VIA a long-stroke piston action. Unlike your standard AK, the 5.56mm Ace feeds from AR-15 or STANAG magazines. It ships with a single 30-round polymer PMAG in the box but accepts nearly every STANAG mag on the market. I say nearly because I found that some of my much older M16A1 magazines wouldn't lock up in the magazine well – but these are nearly 60-years-old, and not indicative of the average magazine available – still an interesting footnote, though.
The 5.56mm version of the ACE features a 16-inch, 1:7 RH twist barrel topped with standard 1/2×28 threads and an A2-style flash hider. Behind the barrel, the new second-generation Galil Ace does away with the original's polymer handguard in favor of an extruded aluminum MLok rail better suited to mounting precision devices like LAMs or IR lasers.
The Picatinny rail on top of the handguard extends all the way to the dustcover, and in testing, both rails held zero flawlessly after a few hundred rounds, even after removing and remounting optics between shooting strings.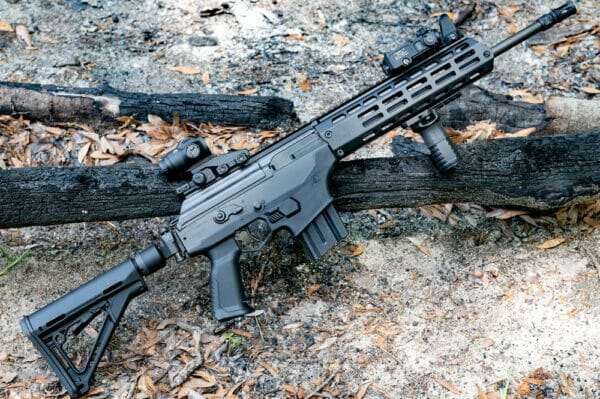 Just beneath this rail, the Galil has a massive, reciprocating charging handle on the left side. It features cross-checkering and a knob on the end that makes getting a solid grip effortless – not that they'll need it though. The action on the Galil Ace puts even the finest AKs to shame; it feels like someone took an AK bolt, polished it to a mirror shine, and covered it in grease.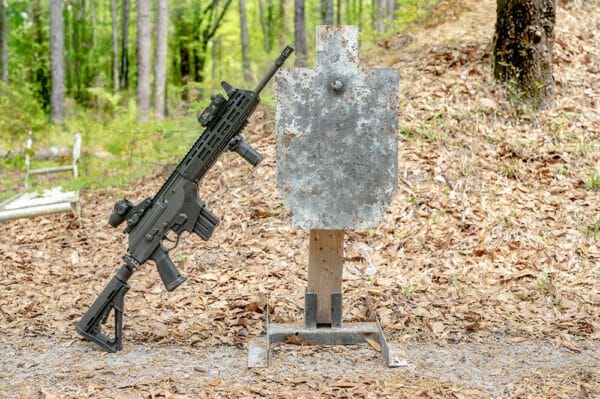 Beneath the huge charging handle, the Galil features the same ambidextrous controls as the first-generation Ace, allowing shooters to manipulate them without taking their firing hand on the pistol grip. Behind all this, the Galil Ace uses the old-school locking knuckle on its folding stock that allows the stock to fold to the left side of the gun for storage and transportation. But, since the Galil isn't an AR-15, it can still be fired with its stock in the folded position.
Speaking of which, the second-generation Galil Ace does away with the proprietary collapsible stock of the first Ace guns, and now uses a buffer tube adapter that allows shooters to use whatever AR-15 style stock they like.
Galil Ace Performance
The Ace is an AK-derivative and, as such, ran flawlessly during testing. This wasn't a surprise to me, since my personal Gen 1 Ace in 7.62x39mm has never had a single malfunction in over 6,000 rounds. What makes that even more remarkable is the fact that it's only been cleaned three times. While I don't recommend this, it's nice to know that the Ace series of rifles/pistols can function with very little maintenance. But what about accuracy?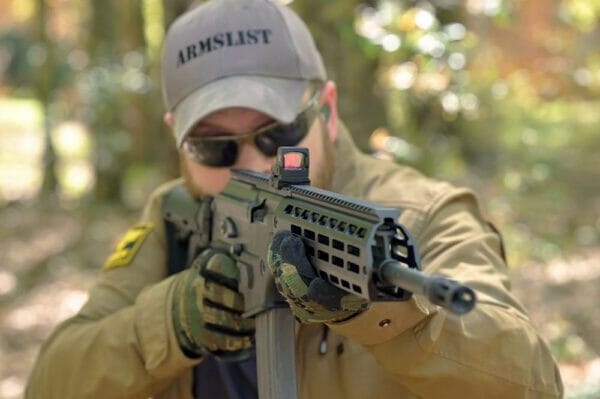 I shot the Galil Ace Gen 2 at 100 yards from a rest using a massive Vortex Venom scope to minimize human error and was able to achieve 1.6-inch groups with match ammo and 2.2-inch groups with steel-cased garbage. While not a precision rifle, the Ace is easily capable of making reliable hits out to 500 yards if a shooter does their part.
Now is where I normally give my verdict, but I actually want to mix things up a bit and talk about what I really like about the new Ace and what I would change, since I have a ton of experience with the older model as well.
Galil Ace Pros and Cons
I'll start with the positives first: I really like the added functionality and durability of the aluminum handguard. It makes attaching certain accessories in specific locations much easier. Accuracy is also top-notch, and felt recoil is extremely mild with 5.56mm ammo. I also like how the gun uses common STANAG magazines and runs flawlessly with all ammo I've tested, and it needs next to zero maintenance.
As far as what I would change, I'll start with the basics. I don't like how the new second-generation Galils lack iron sights. Yes, I know most shooters will just use an optic anyway, but I really like the aesthetics of the original Ace with integral irons, and the fact that a shooter doesn't need to buy anything to shoot the gun out of the box. This is fairly minor, what I really don't like about the gun is the stock.
Yes, I know shooters can swap it out for whatever they want, but the mechanism used by IWI adds undue distance to the gun's length of pull to the point that it's only comfortable for me on the most collapsed position. The other added downside of this stock configuration is that it shifts the center of balance further towards the muzzle, making the gun feel heavier than an original Galil Ace despite weighing a few ounces less.
That said, I'm a fairly short guy: I'm only 5'9. When I had my 6'3″ neighbor try the gun out, he actually extended the stock a few notches. So if you're not a shorter guy like myself, this likely won't be an issue. Plus, the stock's interface is still the same, so you could potentially buy an original Ace stock or even an older ARM tubular stock if you wanted something shorter.
Galil Verdict
I'm an AK guy, first and foremost, so I do really like this gun. But after shooting my Spear LT and the Foxtrot Mike 102, which weigh pounds less, the Ace feels somewhat unwieldy. But if you're taller than me, this likely won't be as big of an issue. Side from that, the Galil performed flawlessly across 500 rounds of mixed ammo, and produced excellent groupings with even the cheapest Russian steel-cased ammo. If a shooter loves the AK, and wants a modernized take on it, the Galil Ace Gen 2 (just like the first gen) is a perfect gun for them. One that offers all the reliability of an AK with better accuracy and more ergonomic controls. So if you want a die-hard reliable carbine and can afford its $1,979 MSRP, the Galil Ace is the perfect gun for you.
Select Gear As Seen in this Review:

IWI Galil Ace Gen 2 Rifle Specifications
UPC 818004022399
Manufacturer IWI US, Inc
Manufacturer Part # GAR27
Caliber 5.56 NATO
Action Semi-auto
Operating System Closed rotating bolt, Long stroke gas piston
Magazine Type 5.56 NATO STANAG
Magazine Capacity 30 Round
Barrel Material Chrome lined, Cold hammer forged, CrMoV
Barrel Length 16″
Overall Length 36″ Stock Collapsed, 39″ Stock Extended
Weight 8 Lbs 12.6 oz without Magazine
Rifling 1:7 inch twist, Right hand
Top Rail Length 18″
Handguard Free Float M-LOK Handguard with slots at 3,6 and 9
MSRP $1,979
IWI Galil Ace Gen 2 Rifle Operation Manual
---
About Jim Grant
Jim is one of the elite editors for AmmoLand.com, who in addition to his mastery of prose, can wield a camera with expert finesse. He loves anything and everything guns but holds firearms from the Cold War in a special place in his heart.
When he's not reviewing guns or shooting for fun and competition, Jim can be found hiking and hunting with his wife Kimberly, their son, and their dog Peanut in the South Carolina low country.