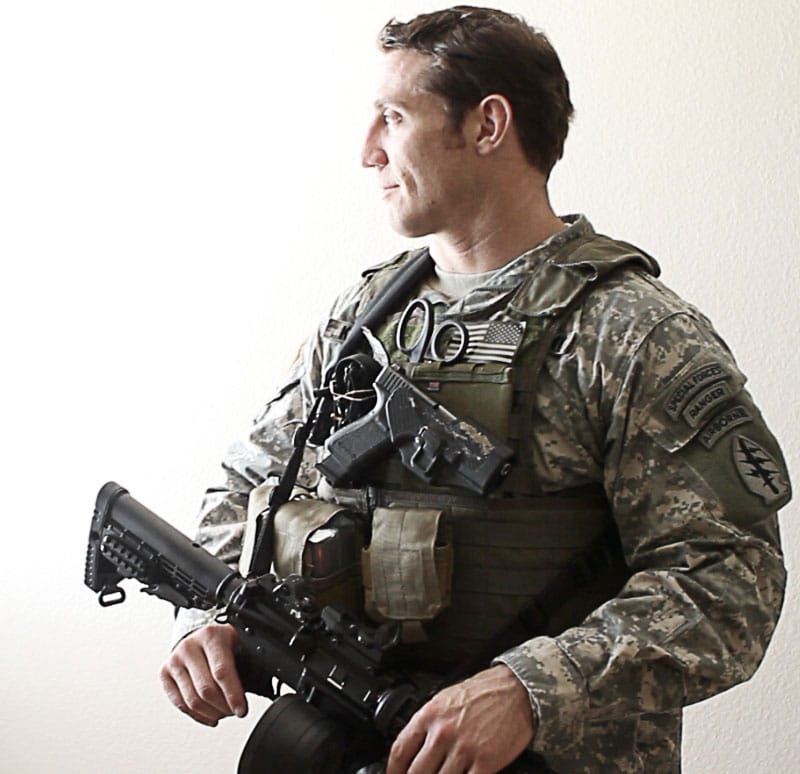 U.S.A. –-(Ammoland.com)- What type of person would go on Fox News after ISIS puts a price on their head and give out his home address and challenge ISIS to come get him? Maybe a Green Beret who was a Ranger sniper? Perhaps a UFC fighter? Possibly a guy who is "Hard To Kill" and is known for "Hunting Hitler"? The answer is all of the above!
Tim Kennedy has worn many hats in his life. He is a world-class athlete who turned pro in MMA during college. After college, Tim signed up for the army eventually becoming a Green Beret serving in the 7th Special Forces Group. He went on to compete in the UFC further proving he's earned the title of "bad ass."
Proving physical prowess is not the only thing Tim had in his arsenal he went on to found the wildly popular Ranger Up clothing brand. He is the star of the History Channel's "Hunting Hitler," and an upcoming Discovery show "Hard To Kill." These feets are in addition to appearing in movies such as "Range 15."
I had a chance meeting with Tim Kennedy at the 5.11 SHOT Show party in Las Vegas. He agreed to set down for an interview with me the next day.
John: I did a little bit of research on you. I understand your mom got you into cooking and piano, and then your dad got you into martial arts and shooting. Do you think that helped you while growing up with that balance of a yin and yang type of thing?
Tim: I think balance is important. Even now I do a lot of extreme stuff, but I still cook. I still clean my own animals. I still hunt. I still do a lot outdoors.
John: Do you still play the piano?
Tim: I do, but not as much as I should especially with these monkey hands. Balance is important. I do yoga. A lot of strength and conditioning I do is bodyweight movement so that I can tear people's throats out more efficiently, but yeah. I am sure it helped. I just don't know how.
John: You got into competing in MMA when you went to the Columbia College of Missouri. What got you into that?
Tim: I started MMA when I was twelve. I just went pro in college. I wrestled. I did Hawaiian Kempo. I did Japanese Ju-Jitsu.
I was a Japanese Ju-Jitsu school when Beau Taylor, Jake Shields, and Chuck Liddell walked in and just mopped the floor with everyone. I was like, "I think I need to change something up." So I followed them to where they were, which was The Pit with John Hackleman, and at the time it was probably the first and only real fight camp for professional fighters.
There was like the Huntington Beach guys, and there was the Team Quest guys, and there was The Pit. At the time there was no American Top Team, there was no Jackson's. This was the first, and that was 20 minutes from where I lived.
So I started at a very early age doing a lot of Martial Arts. I tried to find what worked best to try to beat someone.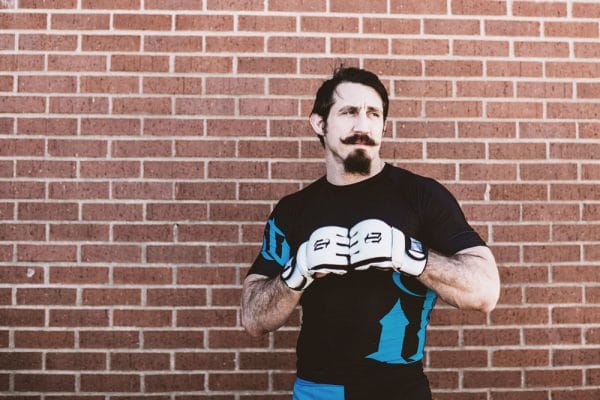 John: After college, you enlisted in the Army and joined the Special Forces. Is that something you had planned before going college?
Tim: Truthfully I wanted to be an FBI profiler. I wanted to track serial killers. There is a serial killer called Rex Krebs in San Luis Obispo, CA. I want to find guys like him and get them. I thought that was the worse form of evil that someone could do. Tracking and murdering innocent homeless women, or killing kids. That is nasty, right?
Then I watched planes slam into buildings, and I was like, "Man, that is a different kind of evil." I don't like that either. So instead of going into the FBI I walked into an Army recruiter office on 9/11 and said, " What is the fastest, best way to get those guys that flew those planes." And that was the Green Berets.
John: On the show "Hunting Hitler" you follow a lot of clues that say Hitler was alive after World War II. In your personal opinion do you think he survived the war?
Tim: I don't know. So, I can't say either way. What I know is that a whole bunch of high-level Nazis made it out of Berlin. They made it to South America, they made it to Africa, they made it to Iran, and they made it to Norway.
They lived and died of old age. Guys like Josef Mengele died on a beach in Brazil. The Angel Of Death. The most disgusting creature. Maybe even worse than Hitler. The Adolf Eichmanns. The skorzenys. Those are bad, bad dudes. Those are the upper echelon of the Nazi hierarchy, and there is no way those guys could have made it out and Hitler couldn't.
Now, what happened to him? That is for history to interpret, but I know the government didn't care anymore about Nazis after 1945. They cared about communist, and that story, that book had to be closed.
John: You are the co-owner of Ranger Up. How did you get into a clothing line?
Tim: Soldiers can't say a lot of things that they want to say. We think a lot of dirty things, and we think a lot of funny things, but due to the chain of command and military decorum that is off limits.
John: My wife is military, so I know.
Tim: So, she can wear a shirt. She can't wear it on base necessarily, but she can go down to "good old" Walmart and wear whatever she wants. That, fortunately, is still protected by the First Amendment.
So, Ranger Up was an outlet for us to say all the things we wanted to say, but we couldn't say so we put them on shirts instead.
John: You have been a Green Beret, an MMA fighter, in movies and TV, and an owner of a clothing company. I know you are going to say the best thing was being a soldier, so let's take that off the table. Other than being in the Army what was the best job you have had?
Tim: There is nothing else I could do. Those all sound like different jobs, but they are all the same job to me. Whether I am punching someone in the face, or I am shooting someone in the face, or I am teaching someone to keep blood in a good guy or let blood out of a bad guy that is all pretty much the same skill set but used differently.
I can't imagine doing anything else besides what I do.
John: You basically challenged ISIS to find you.
Tim: Not basically. I did on Fox News I gave them my address.
John: A lot of people thought that was crazy.
Tim: Yeah, but then it just shows that they are a bunch of impotent cowards. It's not crazy. I am still here three years later. ISIS is saying they are still trying to kill me. Obviously, they are completely unsuccessful. I mean you know where I live. So if you are only going to be hunting and killing unarmed women and children, cool good on you.
The first time they bite off more than they can chew they are going to have to deal with a real American, and I am no different than 150 million other Americans that within a heartbeat stand up and say, "No, not today."
Do you think anyone is going to take over a plane again? Is there a chance someone is going run down the aisle and say, "I am going to take this plane overs," and someone is not going to stop them. They had their one chance, and now it is over.
Even in Paris on a train, some guy thinks he is going to walk down start shooting people with a 7.62×39, and a couple of kids stand up and say "No! We have already seen this happen, and it is not going to happen here."
It is very evident to what they will do. They will try to hurt the weak, the unprotected, the ones that people should be protecting.
They are the ones that they try to capitalize on. I am not one of those, and they know if they come to my door they will die.
John: I saw a video on FoxNews that you are reenlisting. What is going on with that?
Tim: I have reenlisted. I am in. I am a worker bee, proud to be an American flag wearing military member.
John: Will we ever see you back in the cage again?
Tim: I don't know. I will always train. I still train. I love to fighting. I will always fight. I wanted to fight for the right reasons, and that was to be world champion and bring recognition to the best fighting force on the planet, which is the US Military. I think I might be able to do that in better ways outside the cage now. So, I don't know.
John: Do you have any future projects coming up?
Tim: Yeah, I have a new TV show coming out on Discovery called "Hard To Kill." It will transform TV in an exciting way. This isn't a stunt show. This isn't some guy trying to look cool. This is me trying to go and show who the most bad ass people are on the planet and the things that they sacrificed for the American way of life.
John: When will it come out?
Tim: It will probably come out in May. We are halfway done filming. We have four more episodes to go.
He can be followed on twitter at @TimKennedyMMA
---
About John Crump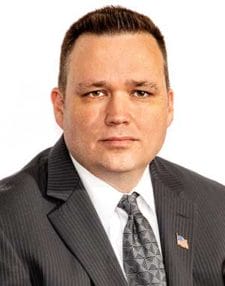 John is a NRA instructor and a constitutional activist. He is the former CEO of Veritas Firearms, LLC and is the co-host of The Patriot News Podcast which can be found at www.blogtalkradio.com/patriotnews. John has written extensively on the patriot movement including 3%'ers, Oath Keepers, and Militias. In addition to the Patriot movement, John has written about firearms, interviewed people of all walks of life, and on the Constitution. John lives in Northern Virginia with his wife and sons and is currently working on a book on the history of the patriot movement and can be followed on Twitter at @crumpyss or at www.crumpy.com.