Read the related range test of the handgun we use in this review: GLOCK 21 Gen 5 MOS Handgun – The Most American of GLOCKs
Flashlights are hardly something most people get excited about, but the new Holosun PID is actually pretty damn cool. And unlike many of its competitors, the Holosun PID is noteworthy for being exactly what it purports to be and nothing else; A bomb-proof, high-performance pistol light.
But the tactical weapon light market is a crowded one – can Holosun's newest product find a niche for itself? Let's take a closer look and find out.
Holosun PID Weaponlight
The Holosun PID is, in some ways, a relic of the past – or more like a throwback. It's not a product of technical limitations but a modern piece of kit that embraces form follows function. The PID doesn't have a strobe function, the base model doesn't have a laser sight, it's not IR/NVG compatible, and it's made of aluminum. It's heavy. It's big. And it's exactly the weaponlight you need when things go sideways in a hurry.
In many ways, the PID is like the Glock of pistol lights; it doesn't try to do everything well, but it does one thing perfectly – illuminate potential threats.
This might seem like cope, but given how Holosun has made a name for itself by offering less expensive products with more features, there's no way its engineers simply neglected to include these features. It's a refreshing take on pistol lights in an era when some lights have ten different settings and three different toggle switches.
But what's really nice is how the PID isn't just a simple, reliable light but a ruggedized, serious-use illuminator.
Holosun's Gun Light Features
This isn't to say the PID is a pure bare-bones light. In fact, it comes with a pair of ambi toggle switches that wrap around the trigger guard of the host pistol and a proprietary magnetic USB charging cable that allows shooters to charge it in the car or with their bedside phone charger keeping it easily accessible and fully charged. The magnetic portion is especially good for this since you don't have to unhook anything to deploy the light. Simply yank it free, and you're ready to go.
The switch has two operating modes: hold for momentary and tap for constant on – and that's it. And really, that's all you need/want at 2 AM when you hear glass breaking in your home. Nothing to fumble with when adrenaline is pumping through your thick veins, causing your heart to beat through your chest. Just a simple button to let you know WTF just made that noise in your kitchen.
As far as performance, the base model I tested blasts 1,000 lumens and 23,000 candelas, shattering the darkest nights with retina-searing white light. Run time on this mode is approximately one hour, according to literature, and in testing was actually closer to an hour and five minutes.
The PID measures 3.23 inches in length, 1.44 inches tall, and 1.21 inches wide – and in testing, the bezel just barely protrudes past the muzzle on a Glock 19, still allowing for contact shots without looking like your duct-tapped a maglight to your pistol. The only downside to the light is its portly five-ounce weight.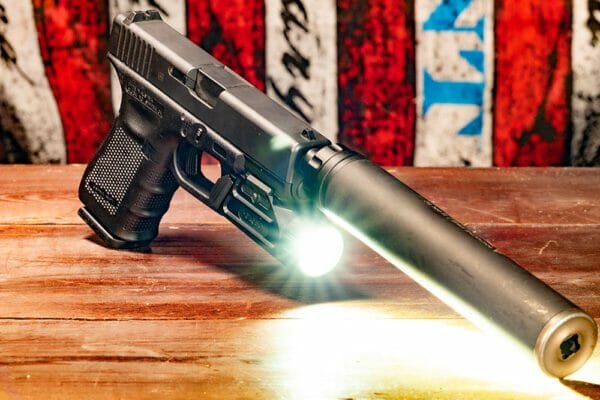 Ultimately, the Holosun PID is a solid duty, home defense, or concealed carry light for compact-sized handguns like the Glock 19. And with an MSRP of $135.00 for the base model, you can afford five of them instead of one SureFire.
Live Inventory Price Checker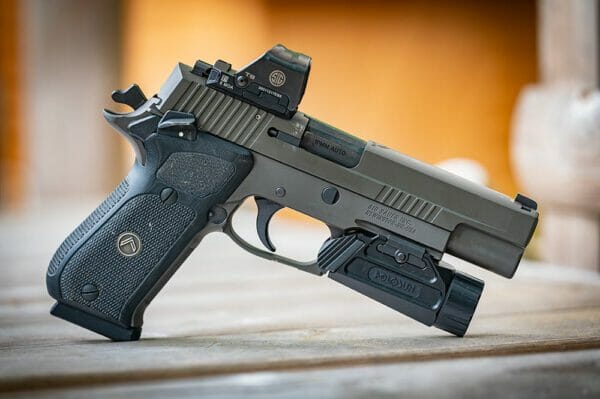 Holosun PID Weaponlight Specifications:
ELECTRONIC SPECS
Power Source Battery
Battery Type 18350
Battery Life (Hours) Up to 1 Hour
Brightness Setting High & Low
PHYSICAL SPECS
Window Size N/A
Dimension (in) 3.2 x 1.2 x 1.4
Weight (oz) 5
MECHANICAL SPECS
Housing Material 7075 T6 Aluminum
Surface Finish Anodize
Adjustment per Click N/A
W&E Travel Range N/A
ENVIRONMENT SPECS
Storage Temperature -40℃~70℃
Working Temperature -20℃~51℃
Submersion IP68
Vibration 1000G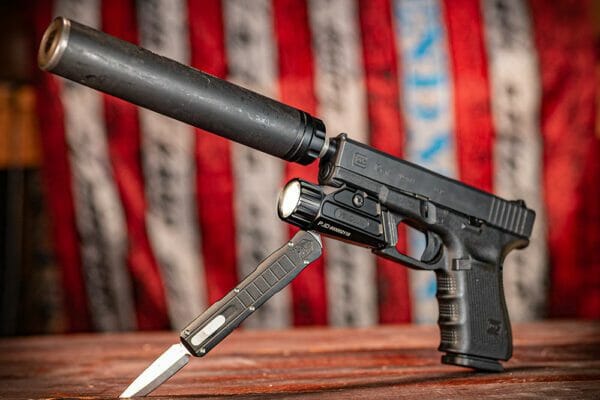 ILLUMINATOR SPECS
UPC: 810047071747
Manufacturer: Holosun
Part Number: P.ID
MSRP: $135.00
White LED Candela 23000
Laser & Illuminator Type White Flashlight
White LED Output 1000 Lumens
IR Illuminator Class N/A
IR Illuminator Output N/A
IR Pointer Class N/A
IR Pointer Output N/A
Visible Laser Class N/A
Visible Laser Output N/A
Holosun PID Weaponlight User Manual
---
About Jim Grant
Jim is one of the elite editors for AmmoLand.com, who in addition to his mastery of prose, can wield a camera with expert finesse. He loves anything and everything guns but holds firearms from the Cold War in a special place in his heart.
When he's not reviewing guns or shooting for fun and competition, Jim can be found hiking and hunting with his wife Kimberly, their son, and their dog Peanut in the South Carolina low country.