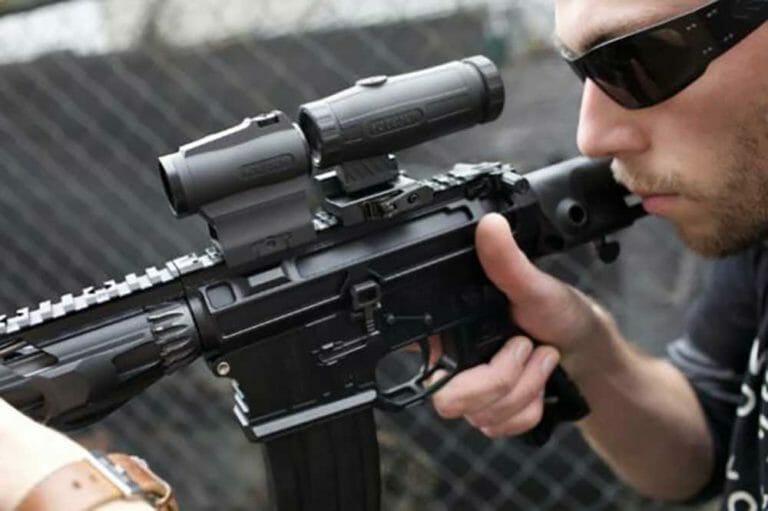 U.S.A. –-(Ammoland.com)- Holosun is pleased to announce the release of their 3 power Flip-to-the-Side Magnifier, the Holosun HM3X. This new product debuted to the public at the NSSF SHOT Show 2019 to much industry acclaim. The clear glass and very generous 2.75″ eye relief of the HM3X are designed to pair with and augment Holosun's red dot lineup.
With its flip-to-the-side design, the HM3X allows users to toggle between an un-magnified and 3 power magnification view through their optic as situational requirements demand. The HM3X's aluminum body is durable and corrosion resistant, protecting it from the wear and tear of heavy use. The IP67 water and dust tight rating combined with a nitrogen gas purge ensure that the HM3X won't let you down in humid or damp environments.
Holosun offers versatility and value in all its offerings, and this magnifier is no different. The unit includes a quick detach mount that can be rotated during magnifier installation to allow it to flip either to the right or the left. Additionally, the mount has hard stop positions that sit straight behind an absolute co-witness height optic (1.4″ from the top of the rail to the center of the lens) or flipped-to-the-side at ninety degrees. Also included is a spacer that creates compatibility forlower 1/3 co-witness height optics (1.63″ from the top of the rail to the center of the lens).
The Holosun HM3X Magnifier will be available in 2019 through Holosun's online store at www.holosun.com, Davidsons Gallery of Guns and at other authorized retailers. The HM3X will debut with an MSRP of $235.28. Holosun would like to thank Davidson's Inc. in Prescott, AZ for their support and assistance in the launch of this new product.
For more information, please visit Holosun at www.holosun.com
---
About Holosun Technologies
Holosun Technologies, located in Walnut, California, was established in 2013 by one of the industry's most successful OEM manufacturers. Holosun is committed to creating innovative optic, laser/IR technologies that benefit a broad range of shooting, hunting, law enforcement and military needs. Using the quality manufacturing standards demanded by some of the best known optics brands in the world, with a wide range of affordable options, we provide military grade optics without the military grade price.
Over the course of the past decade, Holosun has been at the forefront of developing new sight technologies to fulfill a variety of shooting needs. Our product line includes innovations such as; 50,000 hr battery life, solar options, the ability to change reticles with the press of a button and IR/Laser units that utilize the most recent advancements in laser and LED technology. At Holosun, we pride ourselves on producing cutting edge equipment with a competitive price that astounds the customer and the competition.