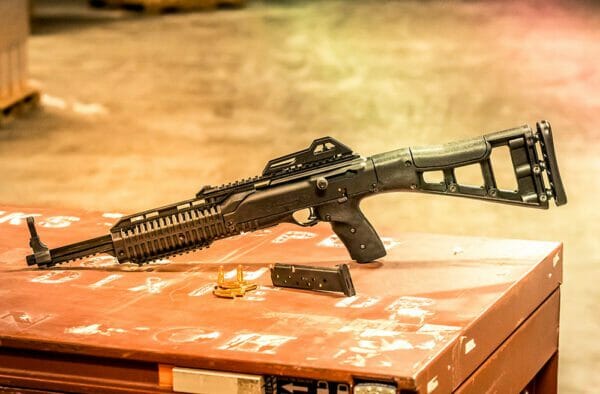 Mansfield, OH: Hi-Point Firearms, an America-based manufacturer of reliable and affordable pistols and carbine rifles for defense, sporting, and hunting applications, breaks new ground in the shooting industry by introducing the first-ever carbine chambered for the new 30 Super Carry defensive cartridge.
Serious personal and home defense practitioners understand the value of having ammunition compatibility between their handguns and rifles. This has long been the case with 9mm handguns and pistol-caliber carbines (PCC) chambered for the 9mm Luger. Now, Hi-Point extends that same compatibility to Federal's exciting new 30 Super Carry handgun cartridge with a personal defense carbine chambered for this potent ammunition.
The Hi-Point 995 is the industry's first rifle to accommodate the 30 Super Carry cartridge. Available in 16.5" barrel length, this all-new Model 995 boasts a semi-auto action with a 10-shot capacity. The carbine features a skeletonized polymer stock and pistol grip with a ribbed polymer forend for lightweight and durable performance. The carbine comes with a front post sight and a peep rear sight that is fully adjustable for windage and elevation. A Picatinny rail atop the receiver and a rail below the handguard allows shooters to accommodate their preferred optics and accessories.
Offered in black finish with a 1/2×28 threaded barrel and manual safety, the Model 995 30 Super Carry has an MSRP of $359.
Hi-Point will be displaying at the 2023 NRA Annual Meetings in Indianapolis, IN, April 14-16. NRA members and attendees are invited to stop by booth #5663 to see the Model 995 30 Super Carry first-hand.
To learn more about the Model 995 30 Super Carry from Hi-Point or any Hi-Point firearm, visit hi-pointfirearms.com.
---
About MKS Supply, LLC:
MKS Supply insists on high quality, reliable firearms. We insist on guns that are easy to own and service. Most of all, we insist on value.
For more information, please visit www.MKSSupply.com.