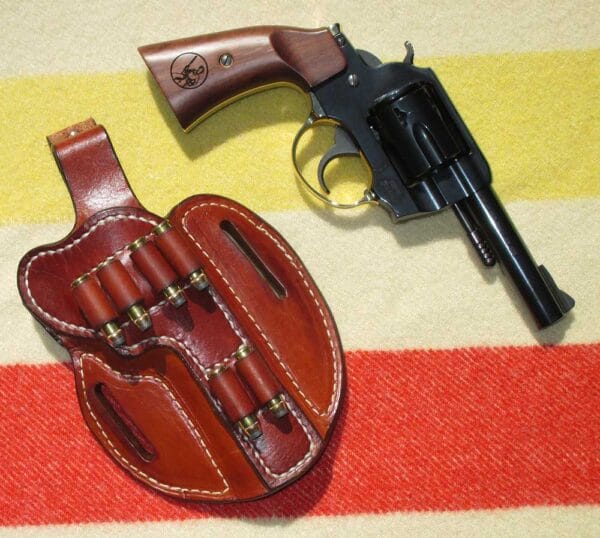 Pulling the new Henry H017 Big Boy double action 357mag revolver out of the box instantly let me know it was only the beginning for Henry manufacturing handguns.
The Colonel (my wife), who was sitting next to me, commented as the newly minted Henry Big Boy Revolver appeared, "I can see why people are getting one because it is a good-looking handgun." Perhaps it was the brass trigger guard and grip that caught her eye.
Back in the winter of 2015, I drove to what is now the international headquarters for Henry Repeating Arms, home-based in Rice Lake, Wisconsin. After a tour of the operations, I was let in on some of the future firearms concepts by Andy Wickstrom, the now president of Henry Arms. The question was asked back then if there would ever be a Henry handgun. Nobody was talking, and nobody was going to give away that secret, but I suspect more than one person at Henry was asking the very same question. Somebody knew that answer, and now they have made many Henry shooters extremely happy.
Henry H017 Big Boy Revolver
The Henry H017 Big Boy Revolver is a classically styled six-shot, blued steel, medium-sized frame revolver with a quick-release cylinder and a 4" barrel.
Pictures of the new blue steel, four-inch barrelled, fix-sighted handgun were shown to me a year ago. Information I could not talk about, and I really wanted to. I have a black cargo trailer wrapped in "Hunt with Henry" logos that I pull everywhere, and people stop to talk about Henry rifles. Inevitably, the question arises, "When is Henry going to make a handgun?" I had to shrug and mouth the words "I do not know'" when, in fact, I did know–sort of.
The development and the first production run of the Henry H017 Big Boy Revolver has been a long, slow process. The upside is that the quality is already built into the newest handgun in the U.S. and the future world firearms market. I make a point of not looking at other written and video product reviewer's content before I tackle a new column. This time, I made an exception. I found that everyone has comments, suggestions, and, of course, some complaints about the firearm.
My approach is slightly different because I assume the new Henry revolver is a quality product right out of the box. If you do a little historical research, as an example, on the 120-plus-year-old Smith and Wesson model 10, medium frame, 38 spl revolver, you see 120-plus years of improvements and modifications.
In conversation with Mr. Wickstrom, he made the point that the new revolver had no firearms legacy to build on and modify. The Big Boy Revolver is a new handgun designed from scratch. According to Mr Wickstrom, the best CNC technology, machining, integrated measuring, and cutting tools were employed to build in quality to the new handgun from the ground up.
Do not focus first on the grips, barrel, or sights of the new Henry Big Boy Revolver model H017. Look very intently at the action. That is what Big Henry got right the first time out.
Without anyone at Henry Repeating Arms telling me, I know there will be all kinds of modifications to the basic H017 action. I suspect there will be longer barrel versions. There will be adjustable sights and different styles of barrelled units produced. There will most likely be a stainless version (we can only hope). My seven years living in Alaska imprinted on me that, due to weather, you should carry a stainless handgun if you don't want to oil it every day.
---
Live Inventory Price Checker
---
Big Henry has not yet made a major announcement, but there is already a 22 LR and 22mag version of the revolver in production. Both of the rim fire revolvers have a 10-round cylinder. Personally, this is where I can see eight-inch barrelled, adjustable sights, 22mag revolver being introduced for the small game handgun hunters.
Take a look at the video from Dave Nash, aka 22Plinkster that I have included. He demonstrates his shooting skills with the new Henry Big Boy Revolver. Dave is hitting steel targets out to 100 yards using the open sights while shooting off-hand.
Now, Dave is an outstanding shooter, but the basic fixed sight, four-inch Henry revolver quietly demonstrates the accuracy and quality built into this brand-new, to-the-shooting market, six-gun.
If a person can produce this type of shooting with a four-inch barrel and fix sights, envision repeating this course of fire with a six-inch shrouded barrel, rubber grips, and adjustable sights. Henry people can only dream of the shooting future, but I suspect no one will have to dream for too long.
The shooting world loves high-capacity, semi-auto handguns, and that is what gets manufactured the most. Subject to yearly change, approximately only 1 out of every 7 handguns made in the U.S. is a revolver. Now that 1 out of 7 takes in all the single action and small frame, little pocket carry revolvers.
There is an unfulfilled need for a quality double-action revolver in 357mag.
Lt Colonel Floyd Smith, USAF Retired, who was involved in Air Force marksmanship and training back during the Vietnam War, informed me as a young 16-year-old that every outdoorsman needed to own a four-inch 357-mag revolver as a basic survival tool. This concept was from a man who built custom 1911 45ascp handguns for the competitive shooting market as a profession after he retired from the Air Force. He saw the dawn of the high-capacity semi-auto handgun but still understood the unending need for a quality 357-mag revolver.
When I could afford my first new in-the-box rifle back in my undergrad days, it was a Brand-X lever action chambered in 44mag. A handgun of that caliber would follow later. My very first handgun was a Brand-X, four-inch 357-mag revolver, and it took me over 30 years to pair it up with a Brand-X lever action rifle in the same caliber.
The hottest selling Henry centerfire rifles are chambered in 357mag, and now there is a Henry revolver chambered in the same caliber ready to match up with the rifle.
With some of the modern, improved 357mag ammo and a Henry rifle, there is very little in the lower 48 states that you cannot take with this combo. The author, Colonel Jeff Cooper, referred to the lever action as the "Brooklyn Assault Rifle." This means you can hide an outstanding defense long gun in plain sight from those who run in fear of a high-capacity, magazine-fed semi-auto rifle. This fear is extended to the semi-auto handgun. So, what better to go with your lever action rifle than a quality revolver in the same caliber to "side-you" in an unsafe world?
Master holster maker Dan Johnson, owner of Ace in the Hole Holsters (sonbury@att.net / 414-704-8767) made me a custom pancake holster for the new Henry Big Boy Revolver
Read Related:
Besides the quality and excellent shooting of this new Henry revolver, there is the unquenchable passion of the Henry collector. The first production run of this new handgun has built-in quality, and it will not last on the market. Changes and configurations will happen, but the first Henry Big Boy revolver will be the most desired collector's item.
This is not the time to nitpick the first Henry revolver. They are quality, and you need to get one now before they are gone. You can always get one of the later versions down the road for field carry, and endurance testing, but the first Big Boy Revolvers goes in a safe for your grandkids.
It is only the beginning.
Major Van Harl USAF Ret.
Henry H017 Big Boy Revolver User Manual Specs:
Product Name: Henry H017 Big Boy Revolver
Brand: Henry Arms
Model Number: H017GDM
Action Type: Double-Action/Single-Action Revolver
Caliber: .357 Magnum/.38 Spl
Capacity: 6 Rounds
M.S.R. Price: $928.00
Additional Specifications
Barrel Length: 4″
Barrel Type: Round Blued Steel
Rate of Twist: 1:16
Overall Length: 9.5″
Weight: 35 oz.
Receiver Finish: Polished Blued Steel
Rear Sight: Fixed Notch
Front Sight: Screw-On Post
Scopeability: N/A
Scope Mount Type: N/A
Stock Material: American Walnut
Buttplate/Pad: N/A
Length of Pull: N/A
Safety: Transfer Bar
Best Uses: Target/Collector
Embellishments/Extras: Interchangeable High/Medium/Low Front Sights
---
About Major Van Harl USAF Ret.:
Major Van E. Harl, USAF Ret., a career Police Officer in the U.S. Air Force, was born in Burlington, Iowa, USA, in 1955. He was the Deputy Chief of police at two Air Force Bases and the Commander of Law Enforcement Operations at another. He is a graduate of the U.S. Army Infantry School. He is a retired Colorado Ranger and is currently an Auxiliary Police Officer with the Cudahy PD in Milwaukee County, WI. His efforts now are directed at church campus safety and security training. He believes "evil hates organization." vanharl@aol.com