When Foxtrot Mike announced their Mike-102 carbine at SHOT Show 2023, it immediately caught my eye; I am a sucker for the odd and esoteric. But the majority of shooters will look at the Foxtrot Mike and ask, "why?"
And that's a fair question. Why would they use an HK-style forward charging handle, a modified direct impingement operating system, and 5.56mm AK magazines when they could build a standard AR-15 for a fraction of the cost? As much as I'd like to answer that question in a short sentence or even a single word, it's a little more complex than that. I've even heard some people refer to it as a poor man's MCX. But is it? Let's take an in-depth look and find out.
Foxtrot Mike Mike-102 Rifle

The FM Mike-102 Rifle is a direct-impingement, semi-automatic carbine (and pistol) chambered in .223/5.56mm. It feeds from AK-101-pattern rock-and-lock magazines and ships with a metal-reinforced, polymer 30-round version from AC Unity in the box. And while everything I just wrote is 100% true, it leaves out tons of important details that separate this gun from the countless Modern Sporting Rifles on the market today. So like with most of my reviews, let's start at the muzzle and work our way back to understand the Mike-102 and how it works.
The carbine model reviewed ships with a 16-inch, 1:8 twist 223 Wylde barrel with a 1/2×28 threaded muzzle topped with an A2 flash hider. This allows shooters to mount any standard AR-15 muzzle device on the Mike-102, like my SilencerCo ASR suppressor or the single-port Silencerco ASR brake I used for half of the review. On a side note, the Foxtrot Mike gun ran flawlessly with a can, which is somewhat surprising given that it uses a direct-impingement gas system.
Speaking of which, the Mike-102 uses an intermediate-length gas system to strike the perfect balance of reliability and soft recoil. Above the gas tube and around the barrel, the gun uses a proprietary slim-line free-floated aluminum M-Lok railed handguard. The handguard interfaces with the barrel nut like any other modern M-Lok rail, but it features a unique cut halfway down for the forward charging handle.
This charging handle has two great features: most importantly, it's non-reciprocating, and secondly, it can be swapped from one side to another. The ergonomics of it are surprisingly great, and I personally like how it allows shooters to keep their support hand on the handguard itself when charging the weapon. That said, I would have preferred it to have both a lock open position like on an MP5 and that it was a little bit larger. As it stands, when the gun gets really dirty and the lubrication on the Mike-102 dries up, it can feel a little tough to charge on a full magazine.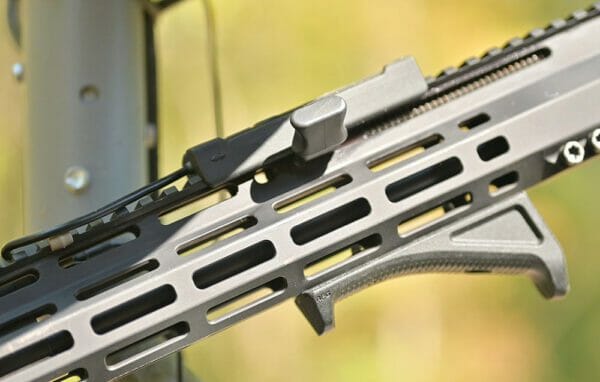 The good news is that future models of the Mike-102 will have both of these upgrades integrated into them, and if the 9mm offerings from Foxtrot Mike are any indication, they will be available to purchase as an upgrade in the future for very little money.
Continuing back, the Mike-102's upper receiver features a monolithic rail that has a clever notch-and-peg interface to the handguard rail that keeps the two perfectly aligned. But it's what's inside this upper that really sets Foxtrot Mike products apart from the competition – the integrated recoil system.
Foxtrot Mike Integrated Recoil System
In the simplest of terms, the Mike-102 uses a truncated bolt carrier group that sits against a recoil spring wrapped around a guide rod. This rod is captured inside the receiver with a small plug at the rear where a traditional AR-15 would normally have its charging handle. To remove the system for cleaning, a shooter needs to use a small Allen key to remove a set screw from this plug, and then the entire system pulls out the rear like a standard AR-15 BCG.
If your first thought is, "why?" you're not alone.
FM uses this proprietary variant of DI because it negates the necessity of a buffer tube/receiver extension. This, in turn, means that shooters can utilize a folding stock and, unlike aftermarket folding add-ons to standard AR15s, still permits the gun to be fired from the folding position. But we'll get to that shortly; first, let's move down to the new proprietary lower receiver.
Rock and Lock and Roll!
In order for the FM Mike-102 to use 100-series 5.56mm AK magazines, it needs a special lower receiver. So the engineers at Foxtrot Mike decided to make a special billet one. I'll touch on the features of it shortly, but I need to address the elephant in the room first: Why?
AR-15 or STANAG magazines are abundant, cheap, and proven – why would the gun's designers utilize a vastly less common magazine instead? After talking to Paul, the owner and lead designer at Foxtrot Mike, I discovered there are effectively two reasons for this. The first and most important is lock-up. AK-style rock-and-lock magazines are nearly impossible to screw up inserting into a firearm properly. In fact, I've never seen a shooter take a shot with an AK and have the magazine fall out. I have seen this occur with AR-15 shooters at matches and casual plinking sessions dozens of times with fully-loaded magazines.
The reason for this has to do with mechanical advantage – you know, that stuff you studied in grade school and forgot the name of later. Basically, once the front lip of an AK magazine is inside the magazine well, the shooter uses a lever when rocking the rear tab past the mag release and into the gun. And since the magazines themselves are fairly long, this means that all that distance you rock the magazine from nearly parallel to the barrel to perpendicular gets converted into force. And since doing so gives an audible 'click,' shooters will have to have the cognitive capacity of a shoe to mess it up.
The second reason is far more subjective – cool-factor. Because hey, it's damn cool to launch an empty magazine out of a gun with a full one.
In addition to the AK-pattern magazines it uses, the Foxtrot carbine also uses an oversized AK-style paddle release that allows you to perform standard and 'Spetznaz' style reloads with ease. Behind the magazine release, the Mike has a unique ambidextrous selector switch made of polymer – though shooters can use any AR-compatible one if they choose.
Non-Stock, Stock
At the rear of the Mike-102 receiver, the billet lower features a threaded portion for attaching a standard AR-15 buffer extension and stock. But what's unique is that Foxtrot Mike makes a Picatinny adapter that fills this hole and allows mounting a folding stock like the A3 Tactical Skelestock I used in the review. This is technically non-standard, but since the pistol models of the Mike-102 originally used the brace variant of the A3 Skelestock, I opted for one. I'm also told by the engineers at Foxtrot Mike that this configuration will be available from the factory in the near future.
The Skelestock is made of aluminum and can be configured to fold to either side. Other noteworthy aspects of the stock are its ribbed rubberized buttplate and ambidextrous QD sling mount. The folding knuckle used by the Skelestock is based on that of the original Galil ARM rifle, but unlike the ARM, the Mike-102's stock was much easier to fold. The only downside of the design is that it can be almost a little too easy to fold when the stock is tucked under the shooter's arm. Though the stock locks in both the folded and extended position, and it never unlocked during use or under recoil.
Mike-102 Performance and Reliability
While all these features are incredible, they aren't worth a damn if the gun is inaccurate or unreliable – so how'd the Mike-102 fair?
In terms of reliability, the Foxtrot Mike Mike-102 was nearly perfect; I experienced ten malfunctions across 1,000 rounds. The first seven occurred during the initial factory-recommended 300-round break-in period and only once the gun got very hot, dry, and dirty. The remaining three happened after a 400-round extended shooting session when running Tula-brand steel-cased ammunition without any additional lubrication than what the gun came with from the factory. Also, it's important to note that every one of these malfunctions was a failure to extract.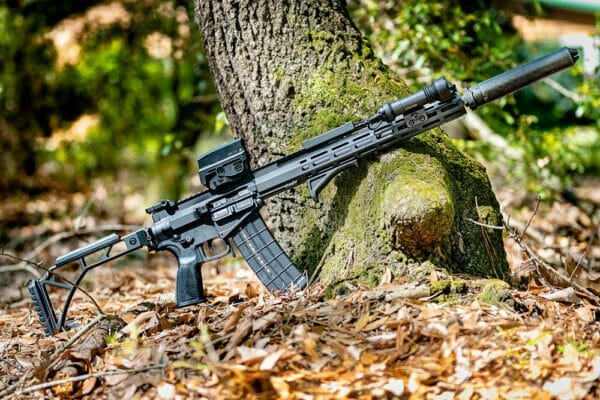 When coupled with a sound suppressor like my SilencerCo ASR Saker 762, the Foxtrot ran flawlessly even with sub-standard steel-cased ammunition like Tula or Wolf. In fact, the recoil impulse felt noticeably lighter, and getting back on target was much quicker.
As far as accuracy, I stretched the legs on the Foxtrot carbine out to 500 yards using a Trijicon 4×32 ACOG, and at that distance, the gun had no issues hitting a silhouette target even with Igman 5.56mm ammunition which is, on a good day, a two-MOA round.
When I ran some SIG Performance .223 77gr Match ammo through the Mike-102, I was able to get 1.3 MOA groups reliably. But truth be told, the 6.5-pound mil-spec trigger really makes a shooter earn both hits at range and tight groups. Thankfully, the Mike uses standard AR-15 trigger groups, so shooters can install a Geisselle, ALG, or Larue trigger to make hits substantially easier.
Foxtrot Mike Mike-102 Verdict
Lightweight, accurate, and reliable, the Foxtrot Mike Mike-102 feels and performs like a much more expensive gun than it is. And with an MSRP of around $899, it certainly seems like a poor man's MCX. The biggest difference is in how the gun has to be treated. Because despite its AK influences, it isn't an AK. So shooters will have to keep the gun at least somewhat oiled to keep it running reliably. But since I only put a few drops of Hoppes on the gun after 750 rounds and had only a 0.1% failure rate, this isn't nearly as big of an issue as it might seem.
Foxtrot Mike Products Mike-102 .223 Wylde Gen 2 Rifle Product Specifications:
Brand: Foxtrot Mike Products
Model SKU: MIKE102-G2-161-2FTT
Name: Foxtrot Mike Products Mike-15
Caliber .223 Wylde
Op. System Direct Impingement
Barrel Length 16"
Barrel Contour Lightweight
Barrel Material 41V50
Barrel Finish Black Nitride
Barrel Twist 1:8
Muzzle Device A2 Flash Hider
Muzzle Thread 1/2 X 28
Gas System Intermediate
Gas Block 0.625" Non-Adjustable
Weight 6.0 Lbs.
Length 34" (25.75" Folded)
Hand Guard 15.5" Mlok Free Float
Charging Handle 4-Position Front Charge
Safety Selector Fm Products Ambi.
Receiver Material Billet Aircraft Aluminum
Receiver Finish Type Iii Hard Black Anno.
Receiver Extension Gen 2 Ar Folder
Stock / Brace Thril Competition Stock
Pistol Grip Thril Rugged Tactical
Trigger Guard Integrated
Trigger Type Usgi Mil-Spec
Foxtrot Mike Mike-102 Rifle Product Manuals can be found online here.
---
About Jim Grant:
Jim is one of the elite editors for AmmoLand.com, who in addition to his mastery of prose, can wield a camera with expert finesse. He loves anything and everything guns but holds firearms from the Cold War in a special place in his heart.
When he's not reviewing guns or shooting for fun and competition, Jim can be found hiking and hunting with his wife Kimberly, their son, and their dog Peanut in the South Carolina low country.