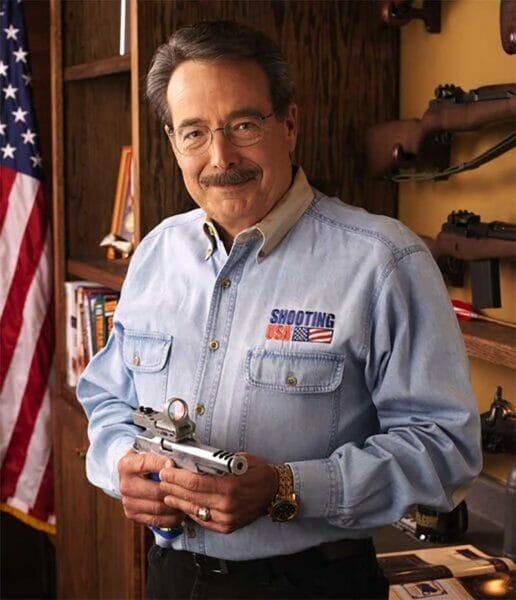 Earlier this week, Shooting Sports TV legend and long-time mentor to AmmoLand News, Jim Scoutten, passed away.
A brief statement from Jim Scoutten's Shooting USA broke the heartbreaking news.
"It is with great sadness that we announce the passing of Jim Scoutten. In his thirty years of reporting the shooting sports, Jim played a pivotal role in the industry and will be greatly missed."

"As always, shoot safely, shoot often, and keep 'em in the ten ring" -Jim Scoutten
That pivotal announcement sparked an overwhelming wave of sincere sympathies and fond recollections, commemorating the incredible moments and the genuinely kind soul that defined Jim Scoutten.
From World Shooting Champion, Julie Golob:
You know days like this will come, but that doesn't mean it makes it easier. The shooting world has lost an icon, and my heart aches for loved ones and crew.

I grew up with Jim Scoutten's unmistakable voice narrating the stories and actions of the shooting sports. I was star-struck to meet him and later floored and honored to work with him through Shooting USA's Impossible Shots and Jim Scoutten's Shooting USA.

Thank you for all the tips and advice, laughs, birthday celebrations, and unwavering dedication to 2A, Jim. I will miss our chats and selfie snaps. Please say hi to Dad for me. He's always been a huge fan too. May you rest in peace knowing so many are grateful for you.
From Michael Bane, author, and host of hit Outdoor Channel shows Shooting Gallery:
I'm a little without words here.

I note the passing of my friend, my friendly competitor for so many years and a giant in our industry, Jim Scoutten.

It was watching his older show, AMERICAN SHOOTER, that convinced me that I wanted to try my hand in this television thing. I think the first "televisiony" think I ever did was scout a USPSA competition for AMERICAN SHOOTER..

He and I went head to head for 2 decades, SHOOTING GALLERY against SHOOTING USA. But we were, in a sense, never true competitors. Jim and I had different visions, but both of us had an irrevocable commitment to the 2A, to our culture and to our sports.

John, my heart breaks for you.

Go with God, Mr.Scoutten, and keep 'em in the 10-ring.
---
Jim Scoutten and his son, John Scoutten.
---
From Hornady Manufacturing:
The shooting and hunting sports industry mourns the loss of Jim Scoutten, a friend and colleague to many at Hornady. Jim was a man with a charismatic personality and an iconic voice that entertained TV audiences throughout the course of his professional career. He was a huge supporter of the industry and worked diligently to promote shooting and firearm advocacy through the outreach afforded by his dedicated TV audience. We extend our deepest sympathies to his family and know that Jim has left a legacy that will stand the test of time. "As always, shoot safely, shoot often, and keep 'em in the ten ring" -Jim Scoutten
Jim Scoutten's Shooting USA's team did several video projects with Hornady, covering things like the Zombie Match, new product introductions, SHOT Shot interviews, and more. Here is one of our favorite videos from 2014 when Jim and his team visited Hornady headquarters.
For many more heartfelt condolences or to leave your own, visit the Jim Scoutten's Shooting USA Facebook page.