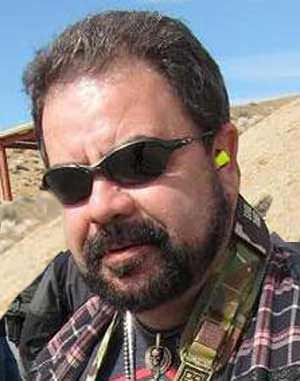 USA -(Ammoland.com)- An AR-15 pistol is often the red-headed stepchild of the firearms world.
They are heavy, make a lot of noise, but can be a lot of fun at the range and are a great alternative for folks who live in states that restrict the ownership of an SBR (Short Barreled Rifle) or shooters who wish to travel to such states with their NFA (National Firearms Act) items.
EXTAR EXP provides a new take on the AR pistol concept with a redesigned bolt carrier and lack of a buffer system to unleash what is probably the world's lightest AR-15 pistol without the ubiquitous buffer tube in their EXP-556.
Tipping the scales at 48 oz, the EXP-556 is probably the lightest AR-15 style pistol in the world that is chambered for 5.56 NATO.
While that caliber in a package that weighs the same as 3 loaded AR-15 magazines sounds like a nightmare for recoil, the EXTAR EXP-556 is easy to fire one-handed and yields no muzzle rise thanks to its muzzle brake.
Their proprietary muzzle brake works by diverting the muzzle downward and rearward simultaneously by way of a single large U- shaped port at the back end of the brake and 5 egg-shaped ports in front. There are no ports on the underside.
Instead of the standard bolt and buffer method of the AR, this one is closer to an MP5 clone with a long recoil spring.
The trigger breaks at 5.25 pounds according to our scale. Students of the AR platform will notice that there is no ejection port cover, molded brass deflector or forward assist. The charging handle a reciprocating side-charging version accessible from the left-hand side.
This is actually a huge improvement over the venerable AR platform in both ergonomics and resolving gas leakage through the rear of the receiver.
EXTAR uses a finger-grooved pistol grip with a trapdoor to store spare batteries or other items. The barrel is free floated and the no frills polymer hand guard can be used by the non shooting hand for stabilization and support, although we do not shoot it this way.
An integrated Picatinny rail graces the top of the polymer upper receiver to allow scope mounting and the factory rear aperture sight is mounted at the end of this rail. The factory front sight sits above the gas tube as a polymer blade.
EXTAR EXP-556 AR-15 Pistol – The Good
We have fired numerous types of ammunition: Norma Match Grade 55 grain. Winchester White Box 55 grain, Herter's steel cased 55 grain, PMC Bronze and Federal 62 grain. In three separate 400-1000 round range sessions the pistol fed everything we loaded into a magazine, apart from a few Winchester 55 grains key-holing on the target.
The PMC Bronze proved the best rewarding us with a sub 1-inch group at 150 yards with a Lucid Optics M7 in place. Herter's may have been the worst giving us a 4" group at 100 yards. Although Winchester key-holed on us a few times, they still fell well within 2".
We found the best method for us to be a two-handed grip just as you would use on a large revolver or Thompson-Center Contender Pistol in the standing position. Some shooters have found success by gripping the magazine well as a form of support or even using the hand guard.
This is going to vary based on the individual. What works for one shooter does not always work for the next.
EXTAR EXP-556 AR-15 Pistol – The Bad
The pistol is limited with regard to mounting accessories. The top rail provides an excellent platform for mounting sights and scopes, but unless you use a scope with additional side rails there really is no place to install a white light or laser.
If you are considering something like this for an ultra light SBR project or even using a device like the SIG Brace, you will be disappointed as there is no way to attach one without heavily modifying the pistol. (Editors Note: Although availability is spotty at best, TACTIMOUNT makes and Arm Brace Adapter for the EXTAR EXP-556 AR-15 Pistol. )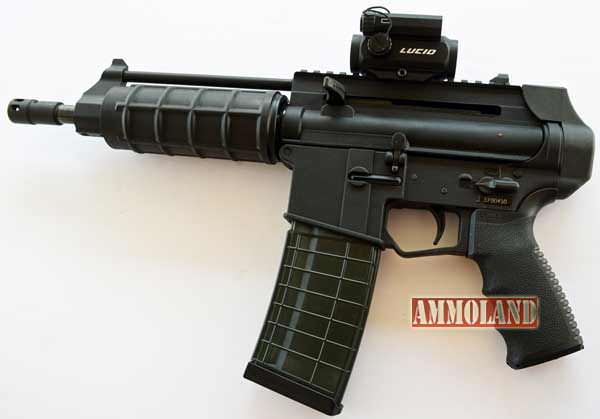 EXTAR EXP-556 AR-15 Pistol – The Reality
As a lightweight AR pistol intended to be used as such, the EXP-556 excels as it represents a departure from the norm. This gives the power of the 5.56 round in a compact package. Out of an 8.5" barrel, there will be a loss of velocity and energy than the same round fired through a rifle but it is still at a comparable level of energy as a 357 Magnum round.
The EXP-556 may have limited use as a hunting or survival pistol in this regard, but frankly with a street-price of less than $450 it is just a fun piece to shoot. Sometimes a shooter does not need a reason to buy or test fire a gun other than the sheer fun factor of blowing up Tannerite or watermelons on a Saturday afternoon.
EXTAR's distributor for the EXP-556 is New Frontier Armory out of Las Vegas, Nevada. http://newfrontierarmory.com/
---
Check out mixflip's video look at this unique American made pistol.
---
About Mike Searson
Mike Searson's career as a shooter began as a Marine Rifleman at age 17. He has worked in the firearms industry his entire adult life as a Gunsmith, Ballistician, Consultant, Salesman, Author and was first certified to teach firearms safety in 1989.
Mike has written over 2000 articles for a number of magazines, websites and newsletters including Blade, RECOIL, OFF-GRID, Tactical Officer, SWAT, Tactical World, Gun Digest, Examiner.com and the US Concealed Carry Association as well as AmmoLand Shooting Sports News.
home page: www.mikesearson.com
FB: www.facebook.com/mike.searson
TWITTER: www.twitter.com/mikesearson
The post EXTAR EXP-556 AR-15 Pistol: Lightweight AR Pistol without the Buffer Tube appeared first on AmmoLand.com.