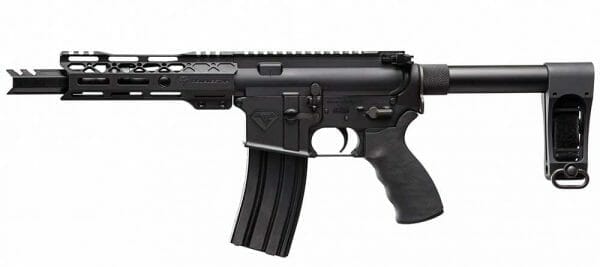 Winchester, Ky. – DoubleStar Corp, manufacturers of high-quality, US-made AR components, rifles, pistols, and blades, will be exhibiting at the 2019 National Rifle Association (NRA) Annual Meetings & Exhibits at the Indiana Convention Center in Indianapolis, Indiana, April 26 – 28, 2019 at Booth 3734. Known throughout the shooting community as the manufacturer of customer spec builds, high-quality rifles, 1911 style pistols, as well as a producer and distributor of innovative accessories and parts, DoubleStar will have on display its ARP7, Cloak Handguards and several blades, including its newest blade, the Ahab knife. NRA Annual Meetings & Exhibits attendees will also get a first look at DoubleStar's new line of G10 accessories and the new .308 pistol AR, which will both be debuting at the show.
Weighing in at 5.4 lbs., the ARP7 is the AR-15 pistol built to perfection. When you reach behind your truck seat for the ARP7, you are prepared for anything. The rock-solid billet Strongarm Pistol Brace and Big Timber Brake keep this beast under control when sending rounds downrange on target. The Cloak MLOK handguard allows for accessories to be mounted and profiled to fit the shooter's hand beautifully. Finish this pistol with your favorite doc optic and it's a force to be reckoned with on the range or protecting your family. It is available in .300 Blackout, 5.56 and 9mm with MSRP starting at $1,299.99.
When looking for the perfect MLOK handguard to wrap around your barrel, look no further than the Cloak MLOK from DoubleStar. Available in 7" or 15.5," the slim, lightweight profile makes it comfortable for any shooter. The Cloak features two QD swivel pockets and MLOK slits on six sides, making it as versatile as you need. It was designed with two anti-rotation tabs to fit tightly with your MIL-SPEC receiver. Because it was designed to work with MIL-SPEC receivers, customers with billet receivers will need to be sure the anti-rotation tabs will clear their receiver. The Cloak will not work with Gas Piston AR-15 systems. MSRP for 7" handguard is $149.99; MSRP for 15.5" handguard is $199.99.
The Ahab Knife, made from 1084 Carbon Steel, is an everyday carry designed by Blade Division Director Rob "Filo" Cabrera to be discrete and compact without sacrificing relevance. Elements like the oversized ring and precision thumb break provide the best amount of retention for quick deployment. The Ahab's strong, lightweight construction makes it the perfect duty belt utility that will be there when you need it most. An oversized ring allows for gloved deployment, while a swedged spine at the point provides for better penetration. The Ahab knife has precision jimping for proper thumb braking and screwed handle hardware for easy maintenance. Equipped with versatile eyelet locations, they provide adaptability to other attachment systems. It is PVD coated for a clean, sharp, durable finish. MSRP $84.99.
The NRA Annual Meetings & Exhibits is a celebration of freedom featuring acres of exhibits, premier events, educational seminars and workshops, and fun-filled activities. This three-day event is attended by tens of thousands of patriots and features more than 15 acres of the most spectacular displays of firearms, shooting and hunting accessories in the world. In addition to the exhibit floor, NRA Members enjoy world-class entertainment, attend educational seminars and demonstrations, listen to leading pro-Second Amendment speakers, and much more.
For more information about DoubleStar, visit www.star15.com.
---
About DoubleStar Corp.:
DoubleStar Corp., located in Winchester, Kentucky, was formed when customers of J&T Distributing, a leading manufacturer and supplier of thousands of AR15 parts and accessories, requested complete rifles and pistols crafted from the same high-quality, U.S.-made components. DoubleStar now manufactures and supplies not only the commercial market but military and law enforcement forces across the world with rugged and dependable firearms. www.star15.com