U.S.A. –-(Ammoland.com)- The DELTA 5 is an extremely accurate and durable bolt-action rifle that provides all of the attributes of a custom rifle right out of the box. Between the ease of switching calibers/barrels, the forged-to-contour barrel, mechanically-embedded stainless steel action, phenomenal trigger and user-configurable stock, this rifle is an excellent choice for any long-range shooter. While this gun comes standard with the custom features of a $4,000 to $6,000 rifle, it is adequately priced right at $2,199 making long-range-precision shooting more accessible to the average shooter.
Designed with the user in mind. Daniel Defense has taken the modularity of the AR platform and integrated it into a one-of-a-kind bolt action rifle. From an interchangeable cold hammer forged barrel to a user-configurable stock, the DELTA 5 features out-of-the-box customization that would normally require professional gunsmithing. Designed for the user that expects more from their rifle, the DELTA 5 provides the ultimate long range shooting experience from the day its purchased. No custom wait time required. Get an in-depth look at the DELTA 5 at Delta5.DanielDefense.com.
MATERIALS & CONSTRUCTION
BARREL: User-interchangeable, proprietary steel cold hammer forged to contour
ACTION: Mechanically bedded stainless steel action with integral recoil lug
BOLT: Three-lug bolt with a 60 degree throw and floating bolt head
BOLT KNOB: 5/16 – 24″ removable bolt knob
TRIGGER: Adjustable single stage Timney Elite Hunter with two position safety (1.5 – 4 lbs)
PICATINNY SCOPE BASE: 20 MOA / 5.8 MRAD of elevation with four #10-32 bolts
BOTTOM METAL: Integrated with pillars and barrier stop
ERGONOMIC STOCK: Constructed of carbon-fiber-reinforced polymer
ADJUSTABLE CHEEK RISER: For preferred height, yaw, and drift
CONFIGURABLE BUTTSTOCK: Offers length of pull and butt pad height adjustments
ATTACHMENT: 11 total M-LOK points along forend with one point on bottom of buttstock
QUICK DETACH: Three M-LOK QD sling points
CAPACITY: Five round PMAG 5 7.62 AC – AICS Short Action magazine included
All Daniel Defense products carry a 100% satisfaction guarantee against defects in original materials and workmanship. If your Daniel Defense product shows evidence of such defects, Daniel Defense will make every accommodation to fix, repair, or replace your product in the most expeditious manner possible. Daniel Defense does not warranty products or damage caused to our products by the correct or incorrect installation of other manufacturer's products. Be sure to retain your sales slip as proof of purchase date when making a claim.
---
About Daniel Defense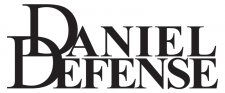 President and CEO, Marty Daniel founded Daniel Defense at the turn of the 21st century. From its humble beginnings as a start-up company, creating rails and accessories for the AR-15 platform in small batches, Daniel Defense has grown exponentially over the last decade, and is now known for its premium line of rifles and firearms accessories. Now with two locations and a combined 137,000 square feet of available manufacturing space, Daniel Defense looks forward to continued growth, as well as the opportunity to better serve their customers. For more information, visit www.danieldefense.com.