AmmoLand News and Brownells are giving away a Brownells XM177E2 Retro Carbine to one insanely lucky AmmoLand News reader. But before we do, Tom Mchale had to get his hands on it and take it to the shooting range.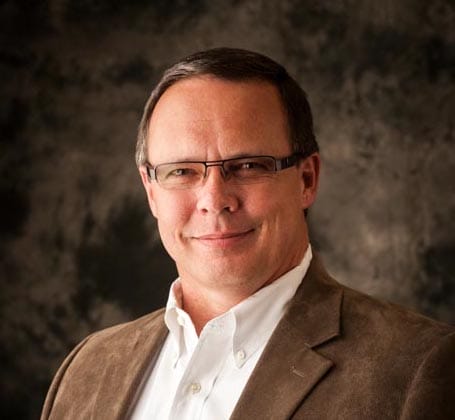 USA –-(Ammoland.com)- They say that those who don't study history are bound to repeat it. However, in this case, I think it's the other way around.
The folk at Brownells did two things at the 2018 SHOT Show. They entered the firearms business, not just as a retailer, which they were already doing, but as a manufacturer. Second, they studied history and decided to repeat it with the launch of their Retro series of AR-type rifles. In honor of the iconic models that started the whole "America's Rifle" movement, the company released several new (old?) rifles based on the original M16 variants.
Just to be clear, the guns in the Retro series use all newly manufactured parts and components, so these rifles are not a collection of aged surplus pieces!
This member of the Retro family is the famous Colt Commando, also known as the XM177 E2 model. One of many variants in the CAR-15 family of rifles, machine guns, and compact carbines, this one was used by Special Forces, K-9 units, armored vehicle, and aircrews just to name a few.
One undeniable feature you'll notice is the very unusual flash hider. It is modeled after the original XM177 moderator which was designed to minimize the epic muzzle flash of the short-barrel carbine and help mitigate the noise a bit. Presumably, to comply with current silencer regulations, this new/old flash hider is just a uniform open cylinder on the inside, just about 0.7 inches in diameter. There are no partially enclosed chambers or baffles because that would make it super dangerous or something? There are six flash ports on the muzzle, so orientation (timing) of the device isn't relevant. There's also a grenade ring present to add to the proper look of the original.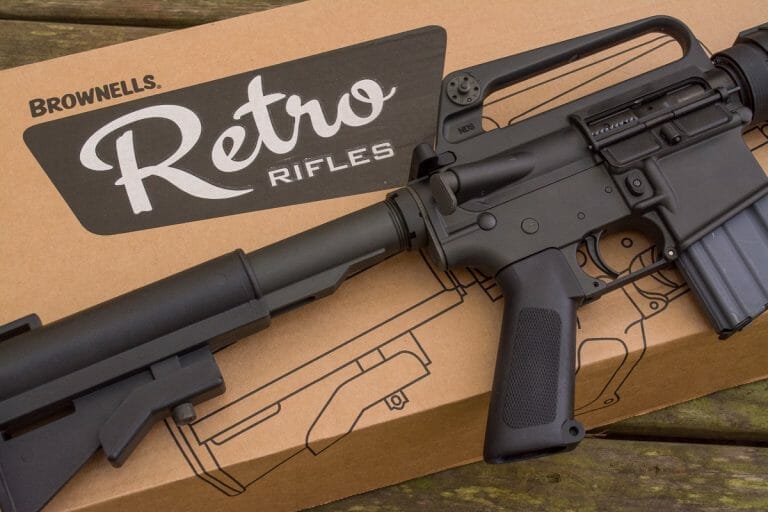 As you'd expect, in a nod to being a faithful reproduction, the carrying handle is fixed and machined as a single unit with the upper receiver. It contains a flip aperture sight adjustable for windage. The apertures are the original A1 style, and both share the same diameter. They're set at different heights thereby allowing the shooter to quickly adjust for longer ranges by flipping the rear aperture. The front is a standard post that's adjustable for elevation.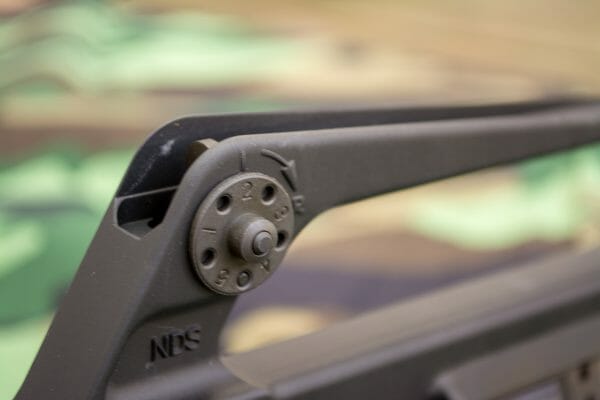 To comply with that pesky 16-inch barrel rule, the flash hider is permanently pinned into place, so when you add the length of the muzzle device to the 12.7 inches of barrel, the overall "barrel" length is legal. The pin is placed discreetly on the very bottom so you'll have to look for it. That's a nice little touch that adds to the authentic look.
The first thing you'll likely say when you pick up the Brownells XM177E2 Retro Carbine is something like, "Hey! This is really handy!" What I mean by that is it's compact and light. Rather than repeat written specs, I set the carbine on my postal scale, and the rifle with an empty 20-round magazine weighs just about six pounds.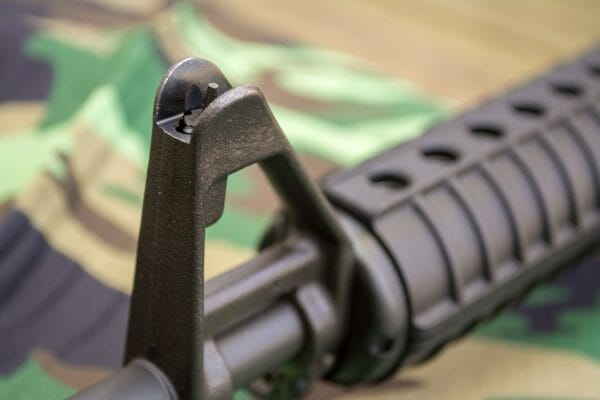 The adjustable buttstock is minimalist too, with the pad being only four inches tall as compared to about five for standard AR-15 rifles. The adjustment uses a standard pressure lever below the comb but this one, like the original Colt Commando, only has two positions – open and closed. With the stock collapsed, the overall rifle is 31 inches. With the stock extended, length increases to 34 1/4 inches. So if you look at that fancy math, you can adjust the length of pull by 3 1/4 inches to account for body armor, varying user sizes or need for close quarters use in crowded environments.
The handguard is one of the earliest AR-15 variants to use the round forward hand guards. Offering extra strength and durability due to the cylindrical shape, the round guards also simplified logistics. Rather than needing two unique pieces to make a triangular handguard, two identical halves of the round model made construction and spare parts inventory easier.
The Brownells XM177E2 Retro Carbine's operating controls are almost exactly what you would expect on a modern AR-15 rifle, without, of course, recent improvements like ambidextrous operation. The magazine release, bolt catch/release, charging handle, and safety are all standard. One difference you will notice is with the forward assist button. This one is oversized and oblong with texture grooves. It fits a thumb quite nicely.
As a side note, this feature is historically correct as some variants of the XM177 family did have forward assists while others did not. Depending on the customer and version, things got really finicky back in the day as to whether the carbines would or would not leave the factory equipped with a forward assist.
The Brownells XM177 E2 ships with a 20-round magazine. Apparently, there were some feeding issues with 30-round curved magazines of the day, so most factory configurations used the 20-round version. As the stories go, many Vietnam War users sourced commercial 30-round magazines using their own funds. Perhaps some of our Vietnam Vet aged readers of AmmoLand News can chime in with personal stories on this topic?
Shooting the Brownells XM177E2 Retro Carbine
You know we had to take this to the range to see how it handles. As the XM177 features a 1: 12-inch twist rate like the originals, I stuck to ammunition with bullets in the shorter (and therefore lighter) side of the 5.56mm ammo spectrum. I used a couple of different types of ammo: American Eagle AR-223 55-grain and American Eagle M855 Steel Core. I set up a chronograph 15 feet down range to see how the short barrel configuration impacted velocity.
American Eagle AR-223: 2,695.7 fps
American Eagle M855: 2,917.3 fps
Not too shabby for that 12.7-inch barrel, especially the M855 which is factory rated at 3,020 feet per second. As for accuracy testing, I wasn't about to buzz kill the Retro vibe and try to mount a scope on this rifle just to print tiny groups at 100 yards. If you're buying this rifle for that reason, you might be missing the point! Instead, I opted for clay target destruction using the iron sights. Let's just say that this rifle will outshoot any possible precision with human eyes looking through peep sights anyway, so I skipped the traditional group testing. Having spoiled myself rotten with all the modern AR optics, I'd forgotten the simple pleasure of aperture iron sight plinking. It's highly recommended.
If you want a bit of history, check this one out. It's fun, and with all modern components, functional too.
Oh, the best part is that you can enter win the Brownells Retro XBRN177E2 Carbine Rifle because we are giving one away. Click here to Enter!!!
About
Tom McHale is the author of the Practical Guides book series that guides new and experienced shooters alike in a fun, approachable, and practical way. His books are available in print and eBook format on Amazon. You can also find him on Facebook, Twitter, Instagram, and Pinterest.