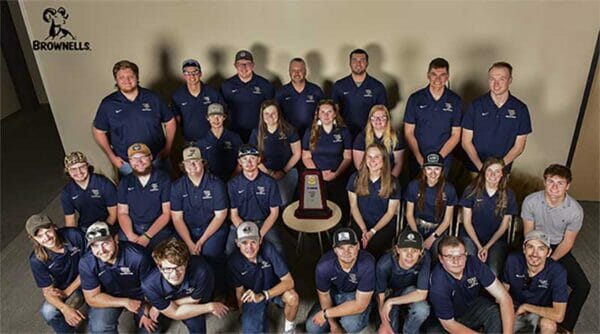 GRINNELL, Iowa – Brownells hosted the William Penn University shotgun team Wednesday, April 12, to celebrate their second consecutive NCSSAA National Championship at the Division IV level.
The Statesmen of Oskaloosa, Iowa, claimed their latest national title in March in Las Vegas, Nevada, topping 10 other teams with 1,423 clay targets broken out of a possible perfect score of 1,500 in Skeet, Trap and Sporting Clays combined.
Midland University and Concordia University, both located in Nebraska, finished second and third respectively at the 2023 national championship.
Back-to-back national titles in any college sport is impressive, but accomplishing it in only the third year of the team's existence is a feat rarely equaled at any level of competition.
"This group of young adults is nothing short of amazing, both in the classroom and on the field," said Steve Heaton, head coach of Men's and Women's Shotgun Sports at William Penn. "The drive and passion they have for the task in front of them is indescribable. They succeed to the best of their ability at everything."

"It has been impressive watching many of these young men and women hone their skills through our local scholastic shooting teams to become collegiate national champions," said Brownells CEO Pete Brownell. "Many of the 2022 and 2023 D IV William Penn shotgun champs are from communities Brownells employees and family members call home."
Included on the winning roster are Jarrett DeKoning and Liam Saunders of Grinnell, Iowa, Dryden DeKoning of Newton, Iowa, and Noah Seeley, Carver Van Zee and Dominick Ver Meer of Pella, Iowa.
All told, 17 of William Penn's 33 listed shotgun shooters hail from the Hawkeye State.
The Statesmen frequently practice at the Big Springs Shooting Complex in Searsboro, Iowa. Owned by the Brownell family, Big Springs offers both Trap and Skeet as well as 5-stand, and frequently hosts both practices and matches for area youth and high school shotgun sports.
---
About Brownells
Serious About Firearms Since 1939

, Brownells is the world's leading source for guns, gun parts and accessories, ammunition, gunsmithing tools and survival gear. With a large selection of both common and hard-to-find items, and an extensive collection of videos, articles, and gun schematics, Brownells is the expert for everything shooting-related. Committed to maintaining our great traditions, Brownells has more, does more and knows more – and guarantees it all, Forever. For more information or to place an order, call 800-741-0015 or visit Brownells.com. Stay up to date with Brownells on YouTube, Facebook, Twitter and Instagram.