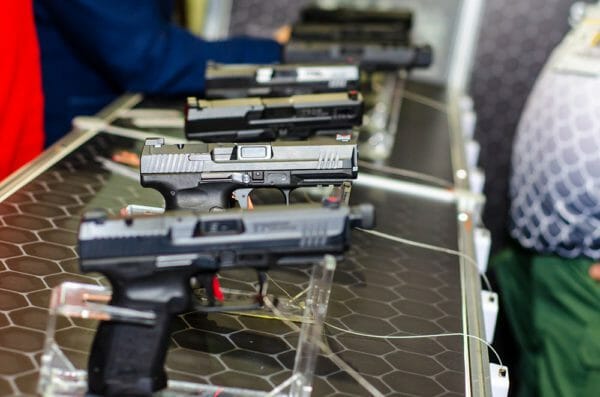 President Joe Biden and the Department of Justice announced a proposed rule to change who will need a federal firearms license (FFL) to sell firearms.
The long-awaited rule was hailed by anti-gun groups like Everytown for Gun Safety, Giffords, and Brady United as a way of closing the "gun show loophole" and the "internet loophole." Anti-gun organizations claim this is a step towards universal background checks, a centerpiece of the Biden Administration's anti-gun policy.
The proposed rule is powered by the Bipartisan Safer Communities Act (BSCA), which was a law championed by Chris Murphy (D-CT) and John Cornyn (R-TX). The BSCA changed the law's wording to describe who the federal government considers a gun dealer. The bill altered the language of Section 921(a) of Title 18, United States Code. The BSCA changed the definition of someone "engaged in the business" of selling guns from "with the principal objective of livelihood and profit" to the ambiguous statement of "to predominantly earn a profit." Now, the Biden Administration is exploiting that change through the upcoming rule. At the time, some Republicans who backed the law blew off the concerns that an anti-gun administration would exploit the language. The change read:
(22) The term `to predominantly earn a profit' means that the intent underlying the sale or disposition of firearms is predominantly one of obtaining pecuniary gain, as opposed to other intents, such as improving or liquidating a personal firearms collection: Provided, that proof of profit shall not be required as to a person who engages in the regular and repetitive purchase and disposition of firearms for criminal purposes or terrorism.
The new rule will also affect those that sell multiples of the same type of firearms. This section means that anyone who liquidates a collection of Glock pistols must acquire an FFL before they can liquidate the guns. Many people collect certain guns, and this would prevent the legal transfer of those firearms without an FFL.
Unlicensed sellers who sell through "online auctions" would be required to obtain an FFL under the proposed rule. This section is a targeted shot at sites like Armslist.
These websites do not sell firearms and currently do not have to get an FFL. The new rule seems to change that. This has long been a goal of the Biden Administration, which has put out false narratives about online gun sales, such as buyers not having to go through background checks for guns purchased online. The rule reads:
"In addition, it clarifies the term "dealer," including how that term applies to auctioneers, and defines the term "responsible person." These proposed changes would assist persons in understanding when they are required to have a license to deal in firearms."

"These examples are provided to clarify for unlicensed persons that firearms dealing requires a license in whatever place or through whatever medium the firearms are purchased and sold, including the Internet and locations other than a traditional brick and mortar store."
Armslist is specifically called out in the rule. Armslist is a firearms version of "Craigslist List." Armslist has been the target of anti-gun groups for years who keep launching and losing lawsuits against the website. Many think this is a concerted effort to hurt the website's business by stating up to 25% of people selling on the site will require an FFL under the proposed rule. The rule reads:
"To better estimate both online and offline sales, ATF assumed, based on best professional judgment of FIPB SMEs and with limited available information, that the national online marketplace estimate above may represent 25 percent of the total national firearms market, which would also include in-person, local, or other offline transactions like flea markets, State-wide exchanges, or websites within each of the 50 States."
The rule would make it so that anyone who rents a table at a gun show will be assumed to be in the business of selling firearms, meaning that private citizens will no longer be able to sell their firearms at any gun show. Also, if someone advertises their firearms for sale, they could be assumed to be in the business of selling firearms, which will shut down most private sales. The rule reads:
"Based on this decades-long body of experience, the proposed rule provides that, absent reliable evidence to the contrary, a person is presumed to have the intent to "predominantly earn a profit" when the person: (1) advertises, markets, or otherwise promotes a firearms business (e.g., advertises or posts firearms for sale, including on any website, establishes a website for selling or offering for sale their firearms, makes available business cards, or tags firearms with sales prices), regardless of whether the person incurs expenses or only promotes the business informally;94 (2) purchases, rents, or otherwise secures or sets aside permanent or temporary physical space to display or store firearms they offer for sale, including part or all of a business premises, table or space at a gun show, or display case;95 (3) makes or maintains records, in any form, to document, track, or calculate profits and losses from firearms purchases and sales;96 (4) purchases or otherwise secures merchant services as a business (e.g., credit card transaction services, digital wallet for business) through which the person makes or offers to make payments for firearms transactions;97 (5) formally or informally purchases, hires, or otherwise secures business security services (e.g., a central station-monitored security) system registered to a business,98 or guards for security99) to protect business assets or transactions that include firearms; (6) formally or informally establishes a business entity, trade name, or online business account, including an account using a business name on a social media or other website, through which the person makes or offers to make firearms transactions;100 (7) secures or applies for a State or local business license to purchase for resale or to sell merchandise that includes firearms; or (8) purchases a business insurance policy, including any riders that cover firearms inventory. 101 Any of these nonexclusive, firearms-business-related activities justifies a rebuttable presumption that the person has the requisite intent to predominantly earn a profit from reselling or disposing of firearms."
By requiring more people to get FFLs, it will prevent a lot of Americans from selling guns. The secondary market has been an excellent way for those less fortunate to acquire the means of protection. Those who choose to get an FFL will be subject to unannounced warrantless inspections. These inspections have been used to revoke gun shop's FFLs under the Biden Administration's zero-tolerance policy.
FFL revocation is up between 350% and 500% and is currently at a 17-year high. The amount of record keeping, cost, and hostile environment created by the ATF could mean that many will not get an FFL to sell their firearms, which could be part of Biden's plan.
The government's argument is most criminals do not get their guns from gun dealers. That fact is true, but most criminals do not get firearms from legal transactions. Most guns used in crimes are obtained illegally through such means as theft, which means this rule will not prevent criminals from getting firearms.
"The U.S. Sentencing Commission reports that "88.8 percent of firearm offenders sentenced under §2K2.1130 [of the United States Sentencing Commission GuidelinesManual (Nov. 2021)] were [already] prohibited from possessing a firearm" under 18U.S.C. 922(g). These individuals would thus have been flagged in a background check,would have therefore been prohibited from buying a firearm from a licensed dealer after their first offense, and would not have been able to commit the subsequent firearms offense(s) if their seller had been licensed."
There will be an exception for gifting firearms between family members. Although this type of transfer only makes up a small portion of transfers. There will be a 90-day comment period once the proposed rule is posted to the federal registry. After the comment period, a final rule will be unveiled."
AmmoLand News is currently reaching out to those Republicans who backed the BSCA to get comments.
ATF – Definition of "Engage… by AmmoLand Shooting Sports News
---
About John Crump
John is a NRA instructor and a constitutional activist. John has written about firearms, interviewed people of all walks of life, and on the Constitution. John lives in Northern Virginia with his wife and sons and can be followed on Twitter at @crumpyss, or at www.crumpy.com.