Bill Mooney lets us in on his secret to the best coyote hunting optics set up for your AR rifles.
USA – -(Ammoland.com)- I feel I own the ultimate coyote hunting rifle and optics set up in America.  I really do.
I don't feel this way because of the brand I use or the look of the optics. My humble opinion isn't based on impressing my friends.
Flat out it's the best coyote hunting optics set up be cause it's built around the needs of predator hunting, my shooting skills, and maximum versatility.I figured this out through trial and plenty of errors.
Years ago, I bought my first AR-15 simply because I wanted one and had some fear they would be banned. I really didn't have a specific purpose in mind for the rifle when I bought it. I didn't understand the platform and potential uses very well back then. But they are badass and fun to shoot.
I quickly fell in love with the AR-15 platform.
Shortly after I bought my AR rifle, I reconnected with an old college buddy who owned an "arsenal" of AR-15s any second amendment enthusiast would envy. I was an AR-15 novice but quickly developed a thirst for knowledge. Years later, my coyote hunting Sensei and I still talk rifles, handguns, hunting, and anything related to this sport.
Sensei opened my eyes to the possibilities around customizing my hunting rig for coyote hunting starting with the scope.
The First Optics Addition to My Coyote Rifle Rig.
An ACOG 3.5×35 TA11J Optic with a LaRue QD Mount was the first serious upgrade to my AR. Why?
Because I wanted an optic with outstanding low-light performance and preferably having an illuminated reticle. I can't stand dealing with dead batteries, so the Trijicon ACOG with Tritium was the perfect choice.
Yes, the ACOG is expensive. But hang with me here. I will discuss other options for you budget minded.
This optic has performed exceptionally. The glass and coatings are perfect for low-light performance (dawn and dusk, prime coyote hunting times.) I can acquire a target very quickly with both eyes open out to a few hundred yards. In reality, I won't be shooting coyotes beyond 250-300 yards anyway because of the terrain I hunt. So, for my needs, the 3.5 power is plenty for the medium to longer shot.
But there are limitations with the ACOG.
After missing a coyote 5 yards away because I couldn't obtain the target (don't ask, it's the trial and error part I mentioned), I quickly added an Aimpoint T-1 Red Dot Optic to my set up before my next outing. The Aimpoint is attached to my picatinny rail by a Larue 45-degree offset QD mount. With the Aimpoint reputation for durability and long battery life, I don't have to worry about a dead battery while on a hunt. The 45-degree offset mount makes it easy and quick to acquire targets from the fixed 3.5 power on the top rail to the one power red dot.
As the best coyote hunting optics this set up allows me to literally track the target and shoot with both eyes open. This fixed/red dot optic combination is now the perfect set up for any target I need to hit from point blank distance to well over 300 yards.
The downside for budget-minded people? This optic combination is retail priced well over $2,000.
Have no fear though.
Best Coyote Hunting Optics Set Up for Your AR Rifles on a Budget
If you are looking for a similar optics setup and can't convince your better-half you need to spend $2 big ones, there are lower-priced options for you on the market. Check out the Sightmark Wolfhound 3×24 HS-223 and the Sightmark Wolverine Red Dot. You can pick this combination for about $350 to $450 total. The Sightmark products are also backed by an amazing warranty.
This is much more budget friendly.
How About a Multi-Range Optic or Traditional Scope for Coyote Hunting Optics?
The MRO (Multi-Range Optic) phenomenon has dramatic growth the last few years. Once these style optics started to sell well and became more affordable, brands got on the bandwagon and are producing a ton of variations and choices. We've seen new variations like the 1-5×24, the 1-6×24, then the 1-8×24, and now I've seen 1-10×24 scopes entering the market.
The MRO can be a great option for your AR-15 or AR-10 depending on your needs. But I don't think they are the best coyote hunting optics though.
Very few of these MROs feature a true one-power. Most brands I've inspected appear to have a 1.2 to 1.5 power at the lowest power setting but market the optic as a true one-power. Just pick one up with both eyes open and look at a target. Does the image look the same with both eyes? You will find variations with most models but most aren't as advertised. It's very difficult and expensive to achieve a true one power optically. For close shots on coyotes, a true one-power is critical.
I learned coyotes, like most animals, scan the terrain for unusual movement. As a hunter, I want as little movement as possible. To adjust the power of the multi-range optic, I need to reach up to the power selector and make the move. That would look like a freight train running through the woods for a coyote. With my favorite optics set up, I can slowly and minimally rotate my rifle from the fixed power optic on top, to the 45-degree offset red dot very efficiently.
No MRO optics for coyote hunting for me unless I leave it on a particular power and not change while stalking the prey.
Traditional scopes have a similar challenge with movement and adjusting the power and the power range can limit your ability to shoot at close distances.
This is why I feel I have the best coyote hunting optics setup in America.
Not to mention… this is an amazing self-defense set up for many of the same reasons it's the ultimate coyote hunting setup.
---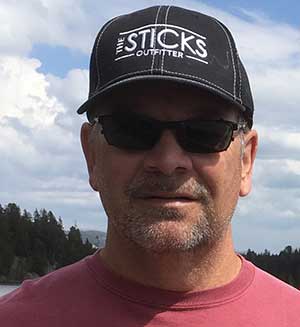 About Bill Mooney
Bill Mooney is an outdoor and shooting industry sales and marketing expert, an outdoor writer, and hunting enthusiast. His experience in the sport optics and firearms manufacturing world provides a fresh approach to his inspired writing, information, and instruction. Bill also helps many companies with public relations initiatives, strategic marketing, and helping companies grow their sales through creative and traditional sales channels.
"I want my writing to inspire consumers to break out of their comfort zone and improve their outdoor and shooting experiences. I also write to encourage businesses to break bad sales and marketing habits and grow their opportunities!" ~ Bill Mooney