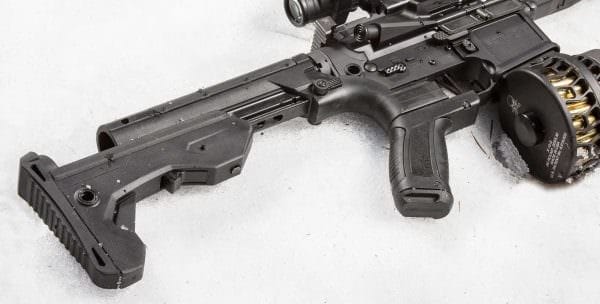 U.S.A. –-(Ammoland.com)- The Bureau of Alcohol, Tobacco, Firearms and Explosives (ATF) officially published in the Federal Register its Notice of Proposed Rulemaking (NPRM) on Bump-Stock-Type Devices (Docket No. 2017R-22). Written comments can now be submitted and will be accepted until June 27, 2018. The electronic Federal Docket Management System will not accept comments after midnight Eastern Daylight Time on the last day of the comment period.
As we first reported in our March 26, 2018 Alert, ATF is accepting comments on the following topics:
the scope of the proposed rule and the definition of "machinegun;"
the costs and benefits of the proposed rule and the appropriate methodology and data for calculating those costs;
the reasonableness of the assumption that retailers of bum-stock-type devices are likely to be businesses with an online presence;
how ATF should address bump-stock-type devices that private parties currently possess; and
the appropriate means of implementing a final rule.
The NPRM provides the following instructions for submitting comments:
1. Submission: Comments will be accepted in one of three ways, but ATF instructs not to submit the same comments multiple times, or by more than one method. The three ways to submit comments are:
Federal eRulemaking Portal: https://www.regulations.gov. Follow the directions for submitting comments.
Fax: (202) 648-9741.
Mail: Attn. Vivian Chu, Mailstop 6N-518, Office of Regulatory Affairs, Enforcement Programs and Services, Bureau of Alcohol, Tobacco, Firearms, and Explosives, 99 New York Ave., NE, Washington D.C. 20226. ATTN: 2017R-22
All comments must reference the docket number ATF 2017R-22, be legible, and include the commenter's complete first and last name and full mailing address.
Hand-delivered comments will not be accepted.
ATF will not acknowledge receipt of comments.
2. Confidentiality: All comments will be made available for public viewing at ATF and on the internet, and will be subject to the Freedom of Information Act.
Commenters who do not want their name or other personal identifying information posted on the Internet should submit comments by mail or facsimile, along with a separate cover sheet containing their personal identifying information. Both the cover sheet and comment must reference this docket number (ATF 2017R-22). Information contained in the cover sheet will not appear on the Internet. ATF will not redact personal identifying information that appears within the comment, and it will appear on the Internet.
3. Disqualification: ATF will not consider, or respond to, comments that do not meet the requirements stated in the NPRM, or comments containing profanity. In addition, if ATF cannot read the comment due to technical difficulties and cannot contact the commenter for clarification, ATF may not be able to consider the comment.
For more information on ATF's Proposed Rule, contact:
Vivian Chu
Office of Regulatory Affairs, Enforcement Programs Services
Bureau of Alcohol, Tobacco, Firearms, and Explosives
U.S. Department of Justice
99 New York Ave., NE
Washington DC 20226
Tel.: (202) 648-7070
New Chief at ATF Firearms Industry Programs Branch
Tomorrow marks the end on an era for Ed Courtney as Chief of the Firearms Industry Programs Branch (FIPB) in EPS. Mr. Courtney will be moving down to the ATF Federal Law Enforcement Training Center in Brunswick, Georgia to run the IOI Basic Training courses.
Kyle Lallensack will be the new Branch Chief of FIPB beginning Monday, April 2, 2018. Mr. Lallensack was most recently the Program Manager in Field Management Staff, where he managed the ATF monitored case program and also the Major Inspection Teams. Mr. Lallensack started his career in the ATF Milwaukee Field Office as an Industry Operations Investigator before being promoted to the position of Area Supervisor.
Mr. Lallensack can be reached at Kyle.Lallensack@atf.gov or by direct dial, 202-648-9477.
The above alert is for informational purposes only and is not intended to be construed or used as legal advice. Receipt of this alert does not establish an attorney-client relationship.
---
About Reeves & Dola
Reeves & Dola is a Washington, DC law firm that specializes in helping clients navigate the highly regulated and complex world of manufacturing, sales and international trade of defense and commercial products. We have a deep understanding of the Federal regulatory process, and use our expertise in working with a variety of Federal agencies to assist our clients with their transactional and regulatory needs.