U.S.A. – -(Ammoland.com)- A Notice of Appeal requesting was filed Monday by attorneys Stephen D. Stemboulieh and  Alan Alexander Beck with the United States Court of Appeals for the District of Columbia after the United States District Court issued an order denying a preliminary injunction in challenges to the Trump administration's "bump stock" ban. The appeal "would further request expedited treatment in this appeal due to the urgency of the Final Rule going into effect on March 26, 2019."
In the Memorandum Opinion, U.S. District Court Judge Dabney L. Friedrich, nominated to the court by President Donald Trump, ruled against all motions for a preliminary injunction to find for the administration in the cases of Guedes, et al., v. ATF and Codrea, et al. v. William P. Barr:
DC District Cout Opinion in Trump Bump Stock Ban Challenge
Denied were motions that "ATF violated the Administrative Procedure Act," that the rule  "violates the Takings Clause of the Fifth Amendment," and "that then-Acting Attorney General Matthew Whitaker lacked authority to promulgate the rule."  In doing so, Judge Friedrich made some assumptions unsupported by fact and some contentions where she admitted as much.
Judge Friedrich begins with the assertion that "According to the Bureau of Alcohol, Tobacco, Firearms, and Explosives (ATF), the [Las Vegas] gunman used multiple 'bump stocks' in the attack, which increased his rate of fire."  As contrary to most news reports, political claims and public opinion as this may sound, that has never been definitively established, or if it has, that information has not been made public. True, guns were recovered from the scene with bump stocks attached, but, as a Freedom of Information Act response documented, ATF was denied inspection access to weapons at the scene to determine if the ones used had been modified with "machine gun fire-control components or known machine gun conversion devices," and to this day no report of technical examination has been released.
"[T]he bump stock rule was based on a legal, rather than a factual, determination; crime statistics did not play any role in ATF's analysis," Judge Friedrich noted.
She further admits that critical terms such as "single function of the trigger" and "automatically" are "ambiguous," and therefore a prior decision in the Chevron v. Nat. Res. Def. Council case "permits an agency to reasonably define undefined statutory terms."
In reaching that conclusion, Judge Friedrich decided it "reasonable" to ignore prior Bureau rules, prior arguments made by ATF in court cases, the technical assessment of Rick Vasquez, the former head of the Firearms Technology Branch, and his sworn statement that the initial rule against the Akins Accelerator was made by political appointee and Acting ATF Director Michael J. Sullivan  against the advice of legal counsel and technical experts.
"To the extent Guedes argues that Vasquez's views are entitled to special weight because he is a former ATF official, Guedes is incorrect," Judge Friedrich asserted in a footnote, arguing that a prior unrelated court decision demands bureaucratic diktats trump technical determinations. "The deference afforded under Chevron extends only to the agency's official interpretations, not to the views of its former officials."
"Given the language of the rule and ambiguous nature of the wording I have come to the conclusion they should get it over with and get to the point they really want to make and just say 'We want the guns, all of them,' because they do," Len Savage, President, Historic Arms, LLC and longtime colleague noted about the ruling.
The same legal ambiguity holds true for the "takings" motion, regardless of admitted "merits":
"Codrea also asserts that the bump stock rule violates the Takings Clause because it fails to provide compensation to current bump stock owners who must destroy or abandon their property. Regardless of the merits of Codrea's takings challenge, however, it does not justify preliminary injunctive relief."
That Friedrich is a Trump appointee is relevant to note because it's telling as far as expectations go. This also does nothing to bolster the credibility of some Trump apologists who have been insisting that the bump stock rule is some sort of 3D chess gambit cleverly designed to be overruled by the courts. That said, it would admittedly not be realistic to expect a more supportive decision had this been assigned to a Democrat appointee. And that ought to give gun owners a good idea of how "legally" hemmed in we are.
Where we stand now is unless the D.C. Appeals Court grants the appeal with expedited treatment, on March 26 I and others will become felons if we do not surrender or destroy property previously deemed lawful by the same bureau now saying it's not.
---
About David Codrea: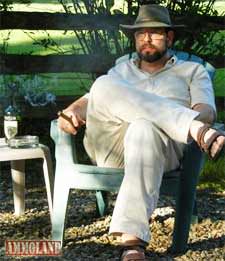 David Codrea is the winner of multiple journalist awards for investigating/defending the RKBA and a long-time gun owner rights advocate who defiantly challenges the folly of citizen disarmament. He blogs at "The War on Guns: Notes from the Resistance," is a regularly featured contributor to Firearms News, and posts on Twitter: @dcodrea and Facebook.