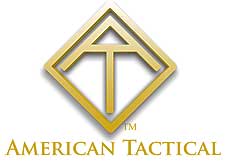 Summerville, SC -(Ammoland.com)- American Tactical (AT) is proud to announce the sponsorship of Tommy Regan, and Regan Motorsports.
Tommy Regan will be making his debut in the NASCAR Camping World Truck Series on July 11, 2014 at the Iowa Speedway.
Regan Motorsports will be the first-ever NASCAR reality TV show and will also be starring Tommy Regan. The full fourteen episode season will air on the Velocity Channel (Discovery Networks) and begins on June 29, 2014 at 10:30am EST.
"We decided to do something unique and different in our industry," says Tony DiChario, President and Founder of American Tactical. "We feel that being a part of this race team will help us reach out to a new fan base and expose the product line on a broader scale."
More information about American Tactical and Regan Motorsports, including full-length pilot episodes visit The Gun Truck.
About American Tactical Imports
ATI is one of the nation's top importers and manufacturers of firearms and firearm related products. Having created a unique channel of distribution, ATI has quickly become a single-source provider for many manufacturers around the world. From quality and affordable imported firearms to specially designed American Tactical US manufactured firearms, ATI continues to be a leader in the industry.
About NASCAR
The National Association for Stock Car Auto Racing (NASCAR) was born after a December 1947 meeting at the Streamline Hotel in Daytona Beach, Fla., where Bill France Sr. sought to organize the growing sport. What grew from this summit of automotive leaders was a national phenomenon, now in its seventh decade of racing. France's vision to bring stock car racing under one organization has seen the sport transition from the dusty, dirt tracks and sandy beaches of its earliest days to today's high-tech speedways and television coverage that broadens its reach to millions of fans.