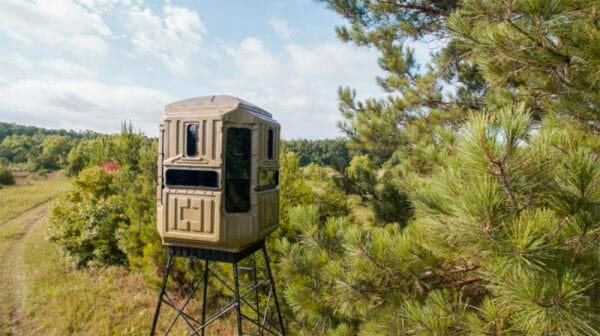 U.S.A. –-(Ammoland.com)- Deer hunters who are looking ahead to next season typically vow to hunt more often and more effectively. But hunters who overlook the role that modern blinds can play to create a better season are leaving on the table numerous chances not only to hunt more effectively but to do so more comfortably and with more flexibility.
Flexibility is not usually the first thing that comes to mind when hunters think about rigid, hard-sided blinds, but flexibility is exactly what Advantage Hunting Blinds' full line of blinds is all about.
To meet a wide variety of hunting situations, Advantage Hunting Blinds makes a range of blinds in different configurations: the Dual-Threat Bow/Gun Combo Blind, the 2-Person Advantage Hunting Blind, the Whitetail 2-person Blind, and the Whitetail 4-Person Blind. Various options allow these blinds to be elevated, or used on the ground depending on the habitat of the hunting situation.
If you are planning now for an improved hunting season next fall, there's an Advantage Hunting blind for almost any deer-hunting situation, from taking a kid or partner hunting in the roomy Whitetail 4-Person Blind to the most comfortable and practically designed bow/gun combination blind on the market. They are also designed to be comfortable and practical to shoot out of – one of the reasons Advantage Hunting Blinds seeks design input from top hunting professionals. Advantage Hunting Blinds knows their blinds have to work in the real world, on the ground – or above it.
All of the Advantage Hunting Blinds are sturdy, roomy, and essentially maintenance free. They feature a polycarbonate shell that won't rot, even when placed on the ground. The carefully designed window systems allow for maximum visibility in all directions and are virtually silent to open and shut. The Dual-Threat Bow/Gun Combo and the 2-Person Advantage Hunting Blinds help seal out the elements thanks to their gasket seals around the door and windows.
The Dual-Threat Bow/Gun Combo features a 7-foot interior height and special vertical windows for hunters using compound or traditional bows. The result is unlike most other blinds on the market. The Dual-Threat Bow/Gun Combo blind allows for easy, quick and comfortable standing vertical bow shots. Changing your shooting position is easy so that the hunter can reposition to a window, without hitting the limbs of his or her bow or the barrel of the rifle on the blind. Additionally, the tinted windows help conceal movement, making hunting with these blinds silent, fast and effective.
The Whitetail Blind is a more traditional format with folding, horizontal windows that can be quickly secured out of the way, and fixed windows in each corner so that you never lose sight of an approaching deer. The 2-man version provides 25 square feet of floor space while the four-man versions sport 45-square-feet of space and a carrying capacity of 1,000 pounds.
Advantage Hunting Blinds also offer an optional carpeted flooring for noise reduction. Full, locking doors are standard, and there are optional trap-door versions. Elevation options include the Quadpod Kit in 2- or 4-man blind versions, which allow you to choose the length of the support legs, allowing you to decide the height of the blind.
Hunting long and hard doesn't have to mean you have to have long, hard days. This year, resolve to hunt better – and more comfortable – all season long in an Advantage Hunting Blind.
For more information on Advantage Blinds' models, options, and accessories, check out https://www.advantagehunting.com/products
---
About Advantage Hunting Blinds:
Advantage Hunting Blinds are the leaders in rigid, portable, lightweight, scent-proof blinds. Our blinds are so technologically advanced in function and design that you can enjoy hunting more successfully and comfortably with less maintenance.
For more information on Advantage Blinds' models, options, and accessories, check out their website.