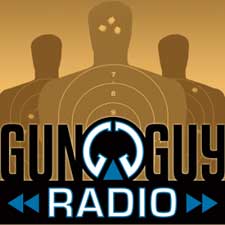 DeKalb, Illinois – -(Ammoland.com)- In many areas of the country the ammunition shortage has abated – that is for almost all calibers but .22LR.
Nevertheless, firearms chambered in .22LR are still relatively inexpensive to shoot and those guns often make for easier training of new shooters. There is another use for .22LR guns – prepping and survival. In this episode of Gun Guy Radio Jake examines several .22LR rifles suitable for use in a survival situation.
Compact survival rifles have been in use for quite some time even in the United States military.  The AR-7 has been used by American pilots and the Henry Repeating Arms Co. makes a version available for civilian use.  The AR-7 breaks into several parts and the barrel, action, and magazines can all be stored in the waterproof and floating buttstock.  The AR-7 comes with two 8 round magazines and has an MSRP of $345.
The Ruger 10/22 Takedown is a more recent iteration of this venerable .22LR rifle.  This rifle comes in stainless steel with a synthetic stock and forend.  The 10/22 Takedown separates at the barrel and comes with its own storage and transportation bag.  It accepts most after-market 10/22 accessories.
Other viable options for compact .22 rifles are a Marlin Model 70 PSS which also separates at the barrel and the Feather USA RAV 22LR which has a stock that collapses into the receiver.  Lastly the Henry Mare's Leg lever action pistol is another option for a compact .22LR survival gun.
For practical .22LR rifles, the choices are vast.  A Henry .22LR lever action rifle is an inexpensive and practical rifle that holds 15 rounds of .22LR and 21 rounds of .22 short. The MSRP of the Henry Lever Action is $340.
Both Savage and Remington make high quality options at reasonable prices.  The Savage Mark II is a stainless steel rifle with a laminate thumb hole stock that is optic ready.  It's MSRP is $450.  The Remington 597 AACSD is a suppressor ready .22LR rifle with a non-glare finish and a synthetic stock.  It comes with a 10 round magazine and can be had for slightly more than $200.
Finally, the .22LR is also a popular chambering for tactical rifles.  Smith & Wesson, Mossberg and Colt (manufactured by Walther) all manufacture AR15 style rifles chambered for the .22LR cartridge.  The guns range in price from about $286 to $475.  All three are ready for either iron sights or optics and can accommodate high capacity magazines if legal in your jurisdiction.  Walther Arms also manufactures two other remakes of the popular H&K MP5 ($499) and 416 ($542), both for the .22LR.  Lastly, Beretta makes the ARX160, which is a .22LR version of the ARX100, and which can be had for $520.
This week's Brownell's Product Spotlight focuses on Storm Lake pistol barrels.  Brownell's sells a variety of these barrels for Glock pistols.  They are solid replacement barrels for your Glock pistol and, because these barrels have cut rifling they are suitable for use with lead bullets.  Storm Lake also manufactures barrels for 1911s, M&Ps and Springfield XD pistols.  All Storm Lake barrels are made with 416R gun certified stainless steel. The barrels come in "basically any configuration you can imagine" according to Paul Levy, included threaded and ported.
GGR's November giveaway will be the Storm Lake barrel of your choice and a Streamlight Game Spotter green LED light.  Enter the drawing by subscribing to the Gun Guy Radio email newsletter.
GGR would like to make sure that all veterans are thanked during the Veteran's Day holiday, especially the high quality veterans that are part of the Firearms Radio Network.
Listen to the entire episode atwww.gunguyradio.com/093/ or subscribe to the show on iTunes.  Visit the Firearms Insider Community at www.firearmsinsider.tv.
About Gun Guy Radio:
Gun Guy Radio is an on demand talk show that stays positive and leaves out the politics. The podcast features a variety of popular guests that cover a wide range of topics that firearms enthusiasts crave. Each episode delivers entertainment, education and encouragement that expands firearm ownership and knowledge to the current and next generations. Gun Guy Radio is found on the Firearms Radio Network and releases every Sunday at 12:00 pm central time. Subscribe to the email list and listen via Apple iTunes, Stitcher Radio or www.gunguyradio.com.