By Andy Lightbody; AmmoLand Auto Editor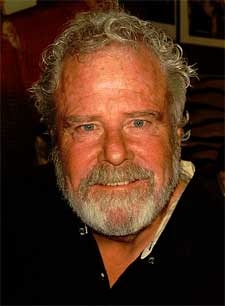 Grand Junction, Co. -(Ammoland.com)-  With roots that go back to 2002, the Kia Sorento has gone through three generations of changes, modifications and improvements as what most would rate as an affordable, boxy, small crossover SUV.
For the new model year, the Sorento has been "pumped up," both in terms of size, stature and quality.
It is available a either a five or seven passenger vehicle and has a host of notable design improvements. Five different models are offered with a choice of a 2.4 liter four cylinder, a 2.0 liter turbocharged four-banger, or Kia's larger 3.3 liter V6. For our tests, we hammered the little turbo All Wheel Drive (AWD) version that kicked out a surprisingly strong 240 horsepower, 260 lb-ft of torque and still maintained around 26 mpg on the highway, 20 mpg when we were low-speed backcountry cruising.
With a standard 18.8 gallon gas tank, you can figure a driving range in excess of 350 miles, and that's a good thing when you head into the backcountry and civilization is miles and miles away!
With the 2.4 liter base engine, you are going to be limited to a max towing capacity of a paltry 2,000 pounds. Opt for the Sorento with turbo package and it jumps to 3,500 pounds. At the top of the hill are the AWD vehicles with the 3.3 liter V6 and a tow capacity of 5,000 pounds.
Upper level models of the Sorento have so many "whistles and bell features" that it takes awhile to go through and figure everything out. Optional 19-inch wheels, LED taillights, 10-way power driver seat, xenon headlights, USB/110-volt power inverter, multi-angle parking camera, lane-departure and forward collision warning systems, adaptive cruise control, speed alert, cross-traffic waning and even a curfew alert for younger drivers are all available if you want them.
As you can tell, the Sorento series is reaching up to some higher levels. Inside, most surfaces are soft-to-the-touch and have both a premium feel and look. Most of the controls are large, well marked, simple to operate and user friendly.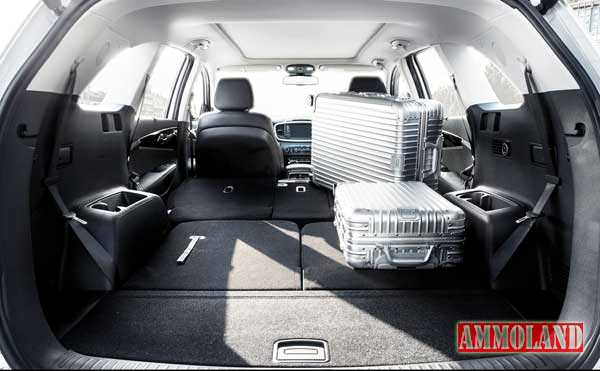 Seating area and dimensions in the two-row model are comfortable and plush. Opt for that 3rd row seat to increase passenger capacity to seven, and it still rates as a stretch for anyone other than small children. With the two-row models, cargo carrying capacity is 38.8 cubic feet of gear. Unfortunately, that's not a lot for a vehicle that is rated now as a mid-size SUV. Even with the second seats folded flat, you are going to be limited to 73.8 cf of gun and gear space. Luckily most of the higher-end models come standard with roof rack rails, and are optional on all the other lower-priced versions.
On the highway, the Sorento is exceptionally quiet. The suspension rides well, and with the Driver Mode Select feature (Normal, Eco or Sport), you can actually alter the steering effort and transmission shift points. The Select feature isn't anything radical, but it is enough that when in the Sport-mode, the vehicle revs faster, shifts quicker and the steering is noticeably tighter.
When traveling off-road and doing a little trailblazing, the Sport-mode was a favorite because of the more precise steering articulation and the quicker response from the automatic transmission when accelerating in soft sand, snow and on steeper grades.
With the DynaMax AWD system, it actually monitors a lot of the Sorento's power train functions, including the steering angle and stability of the vehicle. All of the info is calculated and instantly results in "wheel torque" being sent to wheel it is needed and without the tires having to slip or spin.
Overall, the Sorento feels a little stiffer this year, thanks to a body structure that now uses more high-strength steel. Overall rigidity has been increased by 14 percent. It feels more solid than previous models, and it's a feeling of confidence and reinforcement… not a rougher ride! Suspension upgrades have translated to quiet and smooth on road driving, and controlled stability when it is time to leave the blacktop world behind and head off for some trail travels.
About:
Andy Lightbody is a TV/Video producer and host, as well as an outdoor writer/photographer. Lightbody is the former Managing Editor for Western Outdoors Magazine; Senior Editor at Petersen's Hunting Magazine and Editor of the Guns & Ammo Book Division.
He remains an avid shooter, hunter and angler, as well as a regular contributor to the Sportsman's Warehouse publication-Sportsman's News Magazine. Visit Rocky Mountain Television/Productions : www.rmtv.net