Summer Drought Dampens Early Spring Nesting.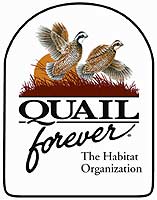 Nashville, Tenn. –-(Ammoland.com)- Quail hunters and biologists' hopes were high for quail nesting conditions coming into the spring of 2012.
A combination of increased population carryover from a mild 2011 winter and productive nesting conditions in early spring across the country gave quail managers hope of a more productive year.
But as temperatures increased, rains decreased and now most of quail country is locked in drought. This will inevitably lead to a decrease in quality habitat due to lack of forb activity, abnormally high temperature pressures, and with emergency grazing on Wildlife Management Areas and Waterfowl Production Areas in many states, reductions of critical habitat.
Most of the quail biologists are still optimistic that the early 2012 nesting start may have given the birds a few extra weeks to gain a wing up on the summer heat. Should the heat break and rains increase through the rest of the summer, populations could even see late breeding season growth in some places.
Quail are resourceful and will make use of what they can, so the full story remains to be written for this year. Quail Forever's complete quail hunting forecast will be released in September.
Alabama
Good news for The Heart of Dixie as Carry Johnson, Wildlife Biologist and Alabama Department of Conservation and Natural Resources Quail Coordinator, reports a slight increase for whistle counts when conducting this year's spring songbird surveys. With the mild winter, Alabama bobs had a head start on nesting which started in April -a few weeks earlier than normal. Like most of the country, however, Alabama has been suffering from drought conditions with only sporadic rains through July.
Johnson also noted that acreage has been consistent added through Alabama's Forever Wild Program since its start in 1992.
This year marks a new formal Fall Covey Count Survey on most of state owned land. Find more details at the Alabama Department of Conservation and Natural Resources website.
Arizona
For quail in Arizona, the most important thing to remember is "rain." The three main species – of the five found in Arizona – all have different requirements of precipitation for successful breeding and hatching. Gambel's quail rely on winter rain, scaled (or blue) quail require spring rains, and Mearns' quail need summer rains. Gambel's quail are indigenous to the Sonoran Desert, so there is no shortage of quality habitat for them. However, winter precipitation has been in short supply for an extended number of years, and thus lower than average food crops to produce large broods. They do respond well to localized rains, so pockets of average to above average habitats do exist.
Scaled quail look to spring rains in the desert grasslands of southeastern Arizona, where precipitation has been limited due to many years of drought conditions. Efforts are underway to restore these areas after unregulated livestock grazing practices of the late 1800's and early 1900's converted native vegetation to non-native invasive ones.
The Mearns' quail is a neotropical species evolving in the oak savannahs and Madrean forests of the Sky Island region of North America. They are well-suited to the seasonal summer monsoon pattern in southwestern Arizona. Changes by the U.S. Forest Service in 2003 to grazing practices on leased lands have led to substantially better cover and nesting habitat for Mearns', but El Niño/La Niña patterns in the Pacific Ocean have diminished the quality of monsoons in recent years.
California
Weather conditions over winter and through the spring continue to be beneficial to all three of California's quail species, notes Brad Burkholder, Environmental Program Manager for the California Department of Fish and Game. Reasonable levels of winter precipitation, combined with stable weather patterns during the breeding season continue to favor quail reproductive activities.
The annual statewide precipitation average across hydrologic regions is at 73 percent of its long term average, with lower levels in the Colorado River hydrologic region and higher levels in the hydrologic regions in the northern part of the state.
In concurrence with Burkholder, Dan Connelly, State Coordinator for Pheasants Forever and Quail Forever in California, reports the southern part of the state received very little spring rain, which could adversely affect quail populations for the region. The northern quail range was lucky to receive some late spring rains after a fairly dry March and April. These timely rains provided birds appropriate nesting/brood rearing conditions and should lead to improved numbers.
Colorado
Currently, Colorado quail are recovering from last year's severe drought, so there was a below average to severely below average breeding population going into the spring. The production, due to weather, was likely better in the southern region than in the northern quail range, which was abnormal due to the increased rainfall in the southern region.
Brood reports are showing the hatch date a few weeks early than normal, beginning in early to mid-June (Colorado typically sees July as its most productive nesting season.) Additionally, whistle counts were early statewide. Given nesting conditions, Colorado is expecting a below average to average year, with local conditions applying.
Scaled quail, located in Colorado's southern range, have also been affected by the drought due to the dry spring. They can possibly have another late hatch and have a better opportunity to bounce back a little bit. "The story remains to be written for scaled quail," says Ed Gorman, Small Game Manager with the Colorado Division of Wildlife.
Georgia
"Reports in general indicate that areas with large blocks of high quality habitat seemed to have a reasonably good carryover of birds into the nesting season, which bodes well if we get an adequate abundance and distribution of rainfall through the summer months," says Reggie Thackston, Program Manager for the Georgia DNR Private Lands Program.
Unfortunately as of July 24th, Georgia was still locked in an exceptional drought through much of the state. The upside is that winter weather was not an issue and generally the spring and early summer weather has resulted in adequate nesting and brood rearing cover.
Since 2009, Georgia landowners have or will have received over $11 million through the USDA Wildlife Habitat Incentives Program for the planting and/or prescribed burning of over 40 thousand acres of longleaf pine (source Keith Wooster Georgia NRCS). When this occurs in the appropriate landscapes and at the appropriate management intensity it has the potential to be value added for bobwhites and numerous other wildlife species of concern.
Illinois
Like many states, the mild winter in Illinois should have led to better survival. The statewide January through March average temperature was 40.9 degrees, a full 9.1 degrees above normal, and the warmest January-March on record.
However, it isn't all good news for Illinois quail hunters as drought conditions exist throughout Illinois' quail range.
"If the drought doesn't ease up soon, quail nest success will be low and the state will see even lower numbers in the fall," says Michael Wefer, Ag and Grassland Wildlife Program Manager/Acting Field Operations Section Head for the Illinois Department of Natural Resources.
Additionally, Illinois' CRP acreage is at 1,030,778 acres, down 2,446 acres from last year as high commodity prices continue to encourage conversion of nesting cover to crop production. Positive acreage has been seen in the addition of approximately 3,050 acres of CRP SAFE – a wildlife-specific CRP practice – established in the state's quail range. Anecdotal reports are noting positive bird numbers in the southern Illinois range.
Indiana
Budd Veverka, Farmland Game Research Biologist for the Indiana Division of Fish and Wildlife, stated the quail population should be up slightly across most of the state due to the mild 2011-2012 winter, and though wet early, a decent overall breeding season. However, Veverka noted this was not necessarily observed in the whistle count, which was nearly static from 2011 to 2012.
The state had an extremely mild winter with less than 3" of total snowfall in January across the primary quail range of southwest Indiana and had few significant rain events this spring that would have negatively impact quail. One concern Veverka noted is that both April and May were down 1.6" of rainfall statewide and down 30 percent in southern Indiana. If the drought continues to worsen as the summer progresses, late season nesting will become even less productive.
As part of the state's Early Succession Habitat Initiative, state fish and wildlife areas began setting back succession and reclaiming old field habitat on several historically bobwhite-inhabited properties.
Iowa
It's been a welcome change for upland birds this season in Iowa. The mild winter and productive spring leads Todd Bogenschutz, Upland Wildlife Research Biologist for the Iowa DNR, to believe there will be a significant increase in quail populations across southern Iowa this year. In examining recent trends, Bogenshutz says this year is shaping up much like 2003, when Iowa saw a 42 percent increase in its overall pheasant count. Anecdotal reports from southern Iowa indicate more quail broods showing up this year.
Results from the state's August Roadside Surveys will give the best information on quail numbers, which will be posted on the Iowa DNR website the first week of September.
Kansas
Kansas had a relatively mild winter, and it seems to have improved production last year in many areas of the northern-central and eastern regions, according to David Dahlgren, PhD, Small Game Specialist for the Kansas Department of Wildlife and Parks. The exception to this would be southwest Kansas, where last year's drought hurt populations, and the below average production in south-central Kansas.
Early nesting conditions in the Sunflower State were favorable to quail throughout much of its quail range; however, drier conditions have dominated summer which could put the quail population at a loss if there is not an increase in precipitation.
Habitat acreage has stayed the same or slightly decreased. Kansas had a "relatively good sign up for general CRP," Dahlgren said, though it did lose acres. Of the 500,000 acres expiring in Kansas, 375,000 acres were reenrolled.
"We currently have the Bobwhite Quail Initiative that started this year in Kansas," added Dahlgren, "We have two focus areas in eastern Kansas where we will be focusing quail habitat 'tools' and monitoring population response over the next few years. We look forward to seeing positive results and being able to expand the success to other areas of the state."
Kentucky
The Bluegrass State had a relatively mild winter and biologists anticipated quail carry-over to be above average going into the spring/summer breeding season, according to Ben Robinson, Wildlife Biologist-Small Game Program for the Kentucky Department of Fish & Wildlife Resources. Spring came early and plant growth seemed to be 2-3 weeks ahead of schedule. Given this, early nesting birds should have had ideal conditions providing a good chance for multiple broods.
At the time of the information received, weather had turned very dry, especially in far-west Kentucky. If Mother Nature provides rains, nesting season will be above average. However, if the dry weather persists, multiple brooding quail may be limited.
Kentucky continues to focus efforts on several public and private lands quail focus areas. Peabody Wildlife Management Area is the top producing public area for quail. *Note: Hunting is limited to quota on portions of the area.
Louisiana
Jimmy Stafford, Small Game & Turkey Program Leader for the Louisiana Department of Wildlife & Fisheries reports Louisiana had a mild winter and early spring, with weather in late spring-early summer that has generally been favorable with regular insect producing rains for early quail broods. However, much of the state's brood rearing occurs mid to late summer and conditions have turned very dry in much of the state.
Like most other southeastern states, Louisiana suffers from a lack of suitable habitat that meets year-round quail needs. In 2011, whistle counts were again disappointing and indicated no real improvement from the previous year. The lack of quality brood habitat in proximity with other critical habitat needs is a concern in much of the state. The LDWF is working with private landowners and federal agencies to improve quail habitat where potential still exists. For the last couple of years, the state has seen some success with private landowner prescribe burning initiatives, and the LDWF is currently working with the U.S. Forest Service to create a quail focus area on the Vermon Unit of the Kisatchie National Forest.
On Sandy Hollow Wildlife Management Area, an area managed for quail, the LDWF did see a slight improvement in the bobwhite whistle count. Fall whistle surveys will determine if there is any significant statewide improvement or decline in quail populations.
Missouri
Elsa Gallagher, Quail Forever's Regional Wildlife Biologist in Missouri, notes favorable early conditions had quail poised for a good nesting season; however, a significant drought statewide starting in the end of June has caused uncertain conditions for the state. With drought conditions continuing throughout the summer, Gallagher thinks there will be adverse effects for nesting and brood rearing conditions due to decreased forb and insect production.
"We're not sure right now how the dry weather is going to affect the birds," stated Gallagher, "That said, prior to the drought conditions, the nesting should have been good with plenty of critical early insects for broods."
Nebraska
Nebraska's quail population seems to be on the uptick according to Dr. Jeffery Lusk, Upland Game Program Manager for the Nebraska Department of Natural Resources. There was no significant late winter weather that would have adversely effected the quail population. However, the Cornhusker State did see an abnormally warm spring and continues to be in severe to extreme drought conditions.
Lusk went on to report that if the quail were able to get an early start, there should have been a decent nesting success rate and that a good number of the routes of the Department's summer whistle counts were up from previous years.
Regionally, the state's acreage loss/gain was varied from 2011. The eastern region of the state lost habitat to crop production, while the western part of the state did not lose as many acres by comparison. Lusk also notes the quail population is shifting to the western part of the state after the 2009 winter. The full forecast for the state will be available later this month.
New Mexico
"Quail populations in New Mexico are on the low end of the boom and bust dynamic, characteristic of quail populations in arid landscapes," says Dr. Joseph Sands, Migratory Bird, Wild Turkey, and Small Game Program Coordinator with the New Mexico Department of Game and Fish.
The prolonged drought conditions in New Mexico are likely having a negative impact on quail habitat as these conditions result in reduced nesting and brood rearing habitat, including an overall reduction of insects that are critical to breeding females and chick development.
A positive sign for New Mexico quail hunter is that the state received snowfall over the winter in quail habitats throughout the state. Despite potential isolated mortality events, this moisture will likely be beneficial to quail over the long-term.
Ohio
For the 16 southern Ohio counties with huntable quail populations, a good April breeding season in combination with the mild 2011-2012 winter led to a very positive initial outlook. Since then, drought conditions have negatively affected habitat conditions for the birds and what little rain the state has seen has not been enough to turn things around. In addition, the state has approximately 50,000 acres coming out of CRP enrollment, representing another challenge for Ohio quail.
The Ohio quail population has seen a decline of nearly 9 percent each year due to loss of habitat. Like many states throughout the country, bigger agricultural fields with less diversity have pushed the quail further into the fringes. Ohio's traditional stronghold between Dayton and Cincinnati has been under pressure from urban sprawl.
Oklahoma
The summer of 2011 was hot and dry in Oklahoma, but "carryover from last year's winter seems to be positive for Oklahoma," says Doug Schoeling, Upland Game Biologist for the Oklahoma Department of Wildlife Conservation, "We did not have any major cold snaps and there were generally favorable weather conditions which should lead to an increase in numbers, but not a boom."
It was just 12 years ago that Oklahoma harvested over 1,000,000 bobwhites, so new acres added in western Oklahoma and the mild early season will hopefully help boost numbers back to historical highs. The state remains in drought conditions though, so hopefully August rains give the Oklahoma bobs a chance to recuperate before hunting season.
Oklahoma State University is working with radio collared quail on two WMAs in the state and reported quail broods on the ground. In addition, weather stations on both of those WMAs are monitoring smaller scale weather conditions and microclimate effects on quail.
Oregon
"There were no significant mortality events during the 2011-12 winter, and we expect a good number of California quail to enter the breeding season," reports David Budeau, Upland Game Bird Coordinator for Oregon Department of Fish and Wildlife.
Oregon's spring was generally wet, but California quail are known for their later nesting, hopefully negating any negative impact. California quail numbers have been improving each year in Oregon since the population low in 2007. Another positive sign for this West Coast quail state is that the 2011-12 harvest was up 31 percent over the previous year.
In the drier part of the state, the wet spring resulted in excellent habitat conditions which should improve brood survival. The wet spring on the west side of the state will likely negatively impact mountain quail production for the third year in a row. However, mountain quail hatches are also late, so the actual impact of the wet weather won't be known until brood surveys are conducted in late July and early August.
There was no significant impact on habitat in Oregon as most expiring 2012 CRP acreage was re-enrolled.
South Carolina
South Carolina's virtual lack of a 2011 winter, combined with moderate harvest levels, has resulted in high quail carryover on managed properties, reports Billy Dukes, Small Game Project Supervisor for the South Carolina Department of Natural Resources. One of the mildest winters on record resulted in an early nesting season for many bird species, including quail. These early hatches will help to spread out an already protracted nesting season and may lead to greater instances of re-nesting. South Carolina's spring was essentially normal, with a few timely rains that improved growing conditions. That said, all counties except Barnwell are now in drought status, which will likely decrease hatchability of nests and lower chick survival.
Since South Carolina added counties to those eligible for the state's CRP SAFE practice, acreage has increased from less than 100 acres to more than 1,000 acres. South Carolina's SAFE practice is essentially a short-term set aside program in which landowners are allowed to convert whole crop fields to native warm season grasses and forbs for the duration of their contract.
Tennessee
Tennessee's low quail populations benefited from a mild winter, but the state's overall quality habitat acreage is insufficient to increase the population, according to Roger Applegate, Small Game Coordinator for Tennessee Wildlife Resources Agency. Following the upcoming hunting season, Tennessee will conduct a harvest survey (and in alternating years going forward) to better track wild quail populations.
Texas
"This year appears to be one of recovery for Texas quail, although it will take one or two more consecutive years of favorable conditions to get the state up above average," notes Robert Perez of the Texas Department of Parks and Wildlife, "Prior to the breeding season, numbers were down from the previous year's poor conditions in the two major quail hunting regions of the state, south Texas and the Rolling Plains."
Pockets in south Texas and in the central coastal prairies held fairly good carry over, but the many parts of Texas remain in drought conditions.
Intermittent spring and summer rains, while behind for yearly averages, have been seen throughout the state. Quail do not need as much rain as crops of corn, so there was strong breeding activity in response to the rain events early and a lot of calling activity that began as early as April in some places, continued Perez. Brood reports began in late May.
Due to long term drought conditions, much of the state's rangelands could not handle the grazing pressure from cattle and other livestock. For this reason, suitable nesting cover is somewhat limited, but quail are noted for making the best of what is available. The TPWD quail forecast will be available mid-September.
Virginia
A combination of an unusually mild winter and fair conditions leading up to the breeding season put Virginia's population in great shape this spring. Marc Puckett, Small Game Project Leader for the Virginia Department of Game and Inland Fisheries, noted the state did suffer from an unusual heat spell in June and has been in a moderate drought since then, with rain sporadic and spotty. Luckily, the drought has not become severe and the best quail hatching areas in the Tidewater region of Virginia should be okay. Additionally, if Virginia can get better rainfall through August, the second peak in hatching should go well.
Habitat losses are hard to track, but over the past three years the state's team of private lands wildlife biologists have created or maintained over 11,000 acres of habitat. "We have a couple areas in our priority counties that show promise of becoming "quail quilts" – areas where landowners work together to sew a habitat quilt on the landscape for quail," continued Puckett.
Utah
The state's quail population was in fair to good condition as the birds headed into this breeding season. This was in part due to an extremely mild winter with little precipitation, notes Jason Robinson, Upland Game Coordinator for the Utah Division of Wildlife Resources. In combination with hot, dry and windy conditions lowering brood survival, the possibilities of wild fires was also a concern for nesting quail in Utah.
This report was compiled by Rehan Nana, Pheasants Forever and Quail Forever's Public Relations Specialist. Email Rehan for more information.
Quail Forever is dedicated to the conservation of quail, pheasants and other wildlife through habitat improvements, public awareness, education and land management policies and programs.