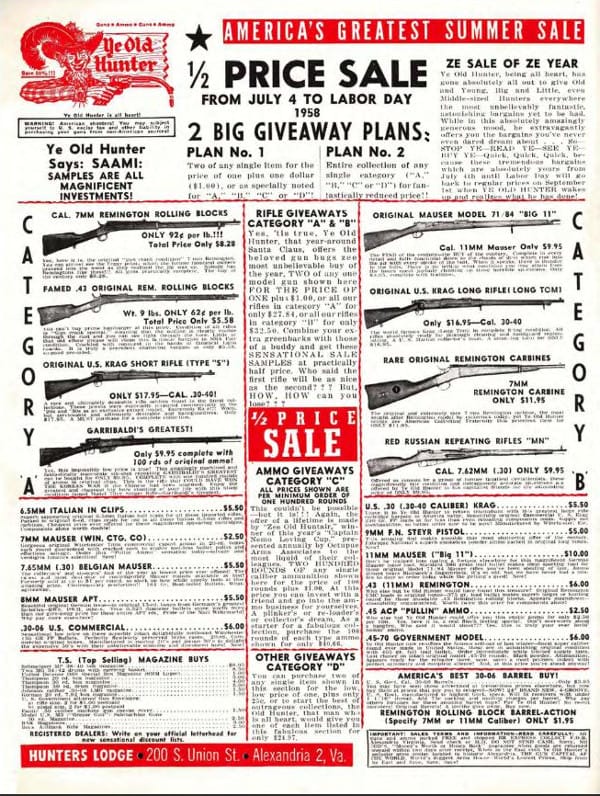 By Dean Weingarten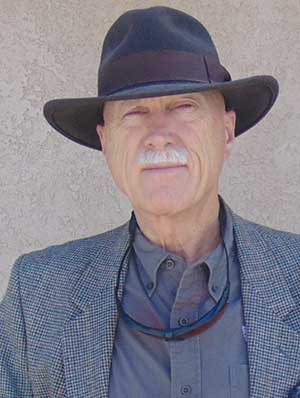 Arizona – -(Ammoland.com)-The above ad is from 1958 Guns magazine(pdf).  In constant dollars, one dollar in 1958 would be worth about $8.36 today. Let's see how the 1958 prices look in 2016 dollars.
Total of prices listed for the four rifles, $41.76.  If you bought all four at once, they only cost $27.84 total. The equivalent in 2016 calculates at $232.74.
These rifles were far from "excellent" or "like new", which is why they were so cheap.
Some excerpts from Group A, top to bottom: "All guns practically complete", "You can see light through the bore", "worn, but serviceable", and  "fantastically inaccurate".
You can understand that rifle buyers of the time were less than impressed. I recall two things when thinking about buying such a rifle during that era.
First,  putting a scope on these "treasures" would have cost more than the rifle. Second, finding sporting ammunition would be difficult.
The rifles were shipped COD, Railroad Express, which, in much of the country, could increase the cost 50% or more.
The best lever action rifle of the time, the Savage 99, was going for $113 in 1958.   A new Model 94 Winchester cost $80.  As late as 1965, your could buy excellent condition Model 03A3 surplus rifles for $29.95.  That was "your pick" out of a barrel at the hardware store. They had much nicer peep sights, with lots of after market stocks available. They were chambered in .30-06. I still have one that was sporterized.
Total for four rifles in group B, purchased separately, was $48.80. If you bought all four at once, the price was $32.50.
That would be $271.70 in 2016. Here are some excerpts from Group B, above: "complete in every detail and fully functional" tempered by "horrible condition"; "complete firing condition"; "magnificently fair condition".
The Mosin Nagant was going for $9.95 in 1958, in only "fair" condition. That, according to the calculator translates to $83 in 2016.
Mosin Nagants are fun rifles, and generally accurate.  Most people can remember the last big imports of Mosin Nagants.  There may be more to come, with a Trump administration.
I have seen a smattering of surplus rifles out in the woods. They tend to be used for a few years until the owner could afford something better. A next door neighbor took a big buck a quarter mile from my brother's house. He used a Mosin Nagant. He was 12, the rifle about 50.
I have bought and sold lots of rifles over the years. I have enjoyed it immensely. They are a cheaper hobby than automobiles, scuba diving, or skiing.   Guns values tend to keep up with inflation. They are a store of value, but not a great investment.
If you are considering them as an investment, an index fund on the stock market does better, does not take up storage space, and is not as subject to theft. The Dow Jones Industrial Average was about 580 at the end  of 1958.  It hit 19,000 in 2016, a 32X increase.
As with most collectibles, the best reason to buy old guns is the enjoyment you get from them, seeing how they work, shooting them, and thinking of the history involved.
©2016 by Dean Weingarten: Permission to share is granted when this notice is included.
About Dean Weingarten;
Dean Weingarten has been a peace officer, a military officer, was on the University of Wisconsin Pistol Team for four years, and was first certified to teach firearms safety in 1973. He taught the Arizona concealed carry course for fifteen years until the goal of constitutional carry was attained. He has degrees in meteorology and mining engineering, and recently retired from the Department of Defense after a 30 year career in Army Research, Development, Testing, and Evaluation.