Opinion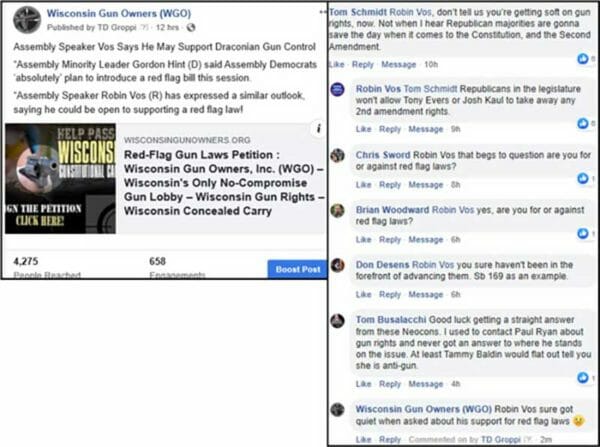 Wisconsin – -(AmmoLand.com)- Red-flag gun control is on the march in Wisconsin. They're calling it "gun control that even conservatives can support."
As I mentioned in my last alert, the idea behind these dangerous gun laws is that someone reports you, or "red flags" you to the government. A secret court (that you are not allowed to attend or have legal representation at) decides if you're a "threat" and issues a gun confiscation order.
Just like that your gun rights are gone … no due process, no presumption of innocence, no legal defense.
Knock, knock. The police show up.
And they're on high alert.
It's a perfect recipe to get gunned down (it's already happening).
All it takes is for a nosy neighbor or disgruntled ex-spouse to call you in. Even if someone completely lies about you, there's no due process for you to refute the allegations.
It's what life must've been like with the snitches and secret police of East Germany.
Now, 12 states have already passed red-flag gun laws and Wisconsin will be taking up the issue this session.
Both Governor Tony Evers (D) and Democrat Attorney General Josh Kaul want to give secret judges unlimited power to arbitrarily disarm Wisconsinites they deem to be "dangerous."
And state Republicans are fixing to join them, to sell you out.
According to Wisconsin Public Radio, "Assembly Minority Leader Gordon Hintz, D-Oshkosh, said Assembly Democrats 'absolutely' plan to introduce a red flag bill this session. He said he hopes the plan can be a bipartisan one."
And that's exactly what's happening:
"Assembly Speaker Robin Vos, R-Rochester, has expressed a similar outlook, saying he could be open to supporting a red flag law, but that it would need to be limited in scope."
Limited in scope? Who do you suppose will decide that?
This is very serious. I need to know if you'll stand with me and WGO to OPPOSE red-flag gun laws in Wisconsin.
It is obvious that Wisconsin Gun Owners (WGO) will be the sole voice opposing this so-called "bipartisan" gun grab bill without compromise.
Corey Graff
Executive Director
P.S.- Wisconsin legislators are being pressured to introduce so-called red-flag gun laws. If passed, an ex-spouse could simply call the authorities to report you, and you lose your guns.
Notorious compromiser Assembly Speaker Robin Vos (R) has now expressed support for the gun control bill.
Wisconsin Gun Owners, Inc.
PO Box 329
Waupaca, WI 54981
---
About Wisconsin Gun Owners:
WGO works for grassroots gun owners, not politicians. While many gun lobbies fight for "reasonable gun control," WGO sets a higher standard: Defining the terrain of pro-gun political battle. Sure, many groups claim they're "pro-gun" – all the while they provide cover for anti-gun deals cut by politicians – but only WGO truly informs gun owners, remaining committed to a 100% pro-gun position. We oppose all gun control – regardless of the political party – and work tirelessly to restore the Second Amendment. Visit www.wisconsingunowners.org