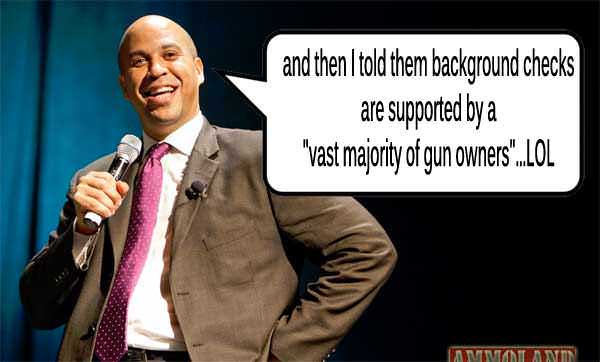 New Jersey/United States – -(AmmoLand.com)- One of the Democrats running for president and getting a lot of air time is Senator Cory Booker of New Jersey. Booker had a bit of a star turn before he even reached the Senate due to the documentary Street Fight, featuring his effort to defeat a political machine in Newark. But where has Booker stood on our Second Amendment rights?
The answer: He's bad on them – willing to back arbitrary bans on modern multi-purpose semi-automatic firearms and so-called "universal background checks." Those are the big items. He's voted against pro-Second Amendment legislation. Even when it comes to preventing the denial of Second Amendment rights to people who are unable to manage their finances, Booker votes to take guns away when he can. He even opposed allowing federal funds to be used to train teachers who volunteered for training to better protect their students.
But his awfulness goes further than just taking guns away – bad as that is. Not only is he bad, he's been willing to support Andrew Cuomo-esque tactics at times. For instance, he was one of those who signed on to a letter trying to get financial services companies to impose restrictions on Second Amendment rights that have gone nowhere in the legislative arena.
Booker has gone even further than that lately, vowing in a tweet to "take down" the NRA. Let's get one thing straight: Does Cory Booker really believe that the millions of Americans who are NRA members, who support the Second Amendment, who oppose bans on modern multi-purpose semiautomatic firearms deserve to be taken down like some ISIS terrorist? All for the crime of trying to oppose what amounts to punishment for shootings in movie theaters, churches, schools, and other public venues that they did not commit?
It's a safe bet that is he were to do so, we'd be seeing the same sort of abuses that Andrew Cuomo perpetrated in New York, only this time coming from the White House. In addition, you can bet that Booker would be using the bully pulpit of the White House to try to accelerate the social stigmatization of the Second Amendment, and to encourage Silicon Valley's censorship of Second Amendment supporters.
You have to wonder, given how Booker talks about gun bans as "common sense" gun control, what does he think about efforts to muzzle the voices of Second Amendment supporters? Does he call it "common sense" speech control? If anything, Booker's seeming embrace of the Cuomo tactics speaks to a tacit admission that he can't refute the facts, including those pesky Justice Department statistics that seem to put the lie to the claims behind his push to ban modern multi-purpose semi-automatic firearms. Whoops – was mentioning that rifles of all types killed only about 25 percent as many people as knives in 2017 an act that warrants being taken down?
The weakness of the arguments behind Cory Booker's anti-Second Amendment track record should be noted, but it is also, in a way, cold comfort. In a Booker Administration, Second Amendment supporters would have to fight hard for the right to even make the argument. That would be a dire situation to be in.
---
About Harold Hutchison
Writer Harold Hutchison has more than a dozen years of experience covering military affairs, international events, U.S. politics and Second Amendment issues. Harold was consulting senior editor at Soldier of Fortune magazine and is the author of the novel Strike Group Reagan. He has also written for the Daily Caller, National Review, Patriot Post, Strategypage.com, and other national websites.