Sheridan, WY –-(Ammoland.com)- Weatherby Inc. is excited to announce two new Mark V rifles the Backcountry and Backcountry Ti in combination with an all new Weatherby magnum cartridge, the 6.5 Weatherby RPM cartridge.
Weatherby has been known for ballistic superiority, touting many of the fastest cartridges available by caliber, as well as the strongest rifle action available with the Mark V Magnum 9 lug action. The new 6.5 Weatherby RPM (Rebated Precision Magnum) has been purpose built for the smaller Mark V 6 lug action. This 15th cartridge introduction is unique compared to Weatherby's 14 preceding cartridges because it is a non-belted, non-venturi shoulder case with a rebated rim. Out of the gate Weatherby will be shipping 3 offerings in 6.5 WBY RPM.
Weatherby Select using a 140 gr Hornady Interlock with a muzzle velocity of 2,975 fps
Weatherby Select Plus using a Nosler 140 Accubond wit a muzzle velocity of 3,075 fps
Weatherby Select Plus using a Barnes 127 LRX with a muzzle velocity of 3,225 fps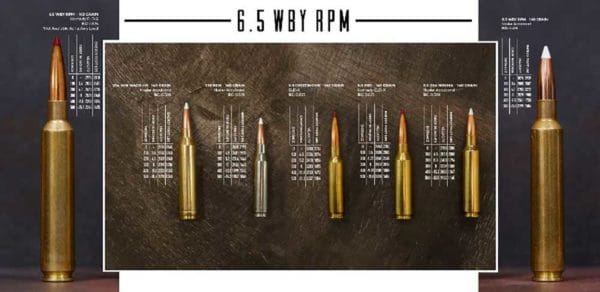 "We set out to produce the best backcountry rifle and cartridge combination ever, it was a project we did not take lightly. At our core, we pride ourselves in ballistic superiority. So, the goal was not to simply achieve the production of a 5 pound rifle. Instead, our team was able to break the 5 pound mark while delivering magnum performance in a firearm that doesn't demand custom rifle pricing. Additionally, the combination of the stock design, brand new muzzle brake and proprietary patent pending 3D HEX recoil reducer make it enjoyable to shoot. After years of innovation and development, the Mark V® Backcountry Ti and 6.5 WBY RPM combination achieves the weight savings, ballistic performance and price that cannot be found in a production rifle anywhere else." says Adam Weatherby.
The new Weatherby Mark V Backcountry and Backcountry Ti rifles are packed with new innovations that help achieve the lightest and fastest rifle available. Both models share the following features
An all new TriggerTech Mark V trigger
An all new Slim-line Accubrake ST muzzle brake with industry standard 1/2x28tpi threads
A new carbon fiber stock from AG composites paired with Weatherby's patent pending 3D HEX recoil pad absorbs recoil better than any other recoil pad available at half the weight.
A Weatherby first spiral fluted bolt with scalloped bolt sleeve and hollowed out bolt handle
The Backcountry Ti features enormous additional weight savings with a titanium action for those that are seeking to save every possible ounce.
Models:
Backcountry – MSRP $2,499.00 – Weight Standard Action: 5.3 LBS / Magnum Action: 6.3 LBS
Backcountry Ti – MSRP $3,349.00 – Weight Standard Action: 4.9 LBS / Magnum Action: 5.9 LBS

Available in the following cartridges: 6mm Creedmoor, 240 WBY, 257 WBY, 6.5 Creedmoor, 6.5 WBY RPM, 6.5-300 WBY, 270 WBY, 280 Ackley Improved, 7mm WBY, 300 WBY.
"We have created the ultimate backcountry hunting system with these new Mark V Rifles and the 6.5 WBY RPM. The amazing thing is that this system has an amazingly low amount of recoil. Even when pushing a 140 gr bullet over 3,000 fps in this lightweight sub 5 lb rifle, the firearm is a pleasure to shoot. This is going to revolutionize the expectations of weight conscious hunters around the globe!" says Luke Thorkildsen, VP of Marketing, Sales, and Product Development.
For more info please visit www.weatherby.com.
---
About Weatherby

Founded in 1945, Weatherby, Inc. is a family-owned company that continues to fuel the passion of hunters and shooters around the globe by building some of the world's finest firearms. With a legacy of setting new standards in ballistics and performance, the company is committed to redefining excellence on the range and in the field. The Weatherby line features the legendary Mark V® rifles (production and custom), popular Vanguard® rifles, and shotguns like the 18i, Orion®, Element® and SA-08

. Weatherby's premium ammunition and shooting accessories are also the choice for discerning shooters worldwide. The company is based in Sheridan, WY and invites all hunters and shooters to visit their social media communities. The latest Weatherby films can be viewed at www.wby-tv.com. For more information, go to www.weatherby.com.
The post Weatherby Introduces New Mark V Backcountry Rifles and New 6.5 WBY RPM Cartridge appeared first on AmmoLand.com.