Weatherby Firearms Announces The Promotion Of Daniel Weatherby To Marketing Coordinator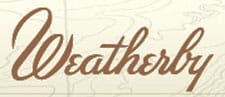 Paso Robles, CA –-(Ammoland.com)- In his new position, Weatherby plays a key role in various communication initiatives including the annual catalog, website and Weatherby Nation

online community, as well as advertising and e-mail campaigns.
He is also involved in the company's public relations program, working with outdoor writers and other industry professionals.
In addition, Weatherby organizes exhibits for trade and consumer shows, and represents the company at numerous events.
"We welcome Daniel to our marketing team," said Brad Ruddell, Weatherby's vice president of sales and marketing."He grew up with the company and has valuable experience in several other departments that will be very beneficial in his new position. As a member of the Weatherby family, Daniel has a heritage in the hunting and shooting sports that is second to none."
Prior to his promotion, Weatherby served as a custom shop and technical support representative at the company's headquarters in Paso Robles, Calif., and previously worked in customer service and warehouse operations.
He was also employed as a certified history teacher in California, and taught in Ecuador as well. Weatherby holds a Bachelor of Arts degree from Westmont College in Santa Barbara, Calif., and a master's degree from the Denver Seminary in Colorado.
Founded in 1945, Weatherby, Inc.'s line features the popular Vanguard® and legendary Mark V® rifles (production and custom), over/under and side-by-side shotguns in the classic Athena® and Orion® lines, Threat Response

shotguns and rifles, semi-auto and pump shotguns, premium ammunition and security/shooting accessories. The company is based in Paso Robles, Calif., and invites all hunters and shooters to visit and join its free online community at www.weatherbynation.com.
The post Weatherby Firearms Announces The Promotion Of Daniel Weatherby To Marketing Coordinator appeared first on AmmoLand.com.