WDFW Officer Chad McGary Receives Officer of the Year Award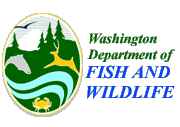 OLYMPIA, Washington –-(Ammoland.com)- A Fish and Wildlife Police officer for the Washington Department of Fish and Wildlife (WDFW) who stared down a gunman and alerted his partner to impending danger has been named Officer of the Year by the Washington Council of Police & Sheriffs.
WDFW Police Officer Chad McGary, 28, of Othello, received the award Wednesday (Feb. 2) at a ceremony attended by Gov. Chris Gregoire, WDFW Director Phil Anderson, and other law enforcement officers.
The statewide council recognized McGary for his "bravery and heroism" during an incident last July, a year after he had joined WDFW as a fish and wildlife police officer. He had previously served for three years as a police officer in Royal City.
McGary and his supervisor, Capt. Chris Anderson, were patrolling the banks of Crab Creek near Mattawa when 18-year-old Garcia Miraz allegedly pulled a handgun on McGary during a fishing-license check.
Officer McGary reasoned with the man and refused to hand over his own pistol, even when the man's father showed up brandishing a five-inch fillet knife.
"I just had a feeling that it would be all over if I gave up my gun," said McGary, who instead threw it into a thicket. After warning the two men that his captain was nearby, McGary eventually convinced the younger man to get in his car and leave.
That's when Officer McGary used his radio to call Capt. Anderson, who chased the younger man in his patrol vehicle and apprehended him after an exchange of gunfire.
Miraz was charged with attempted murder, and is scheduled to appear in Grant County Superior Court next week. His father pleaded no contest to a charge of second-degree assault, and was sentenced to five months in jail and deported.
"Officer McGary kept his wits about him and succeeded in turning a bad situation around," said Bruce Bjork, WDFW Chief of Enforcement, who nominated him for the award. "Intelligence and courage are qualities we look for in all of our officers."
The Washington Council of Police & Sheriffs is a statewide organization that represents 5,000 law enforcement professionals.
WDFW officers are general authority police, who regularly enforce all state laws while protecting Washington natural resources
Officer McGary lives in Othello with his wife, Jande, and their three children.
The post WDFW Officer Chad McGary Receives Officer of the Year Award appeared first on AmmoLand.com.