U.S.A. -(AmmoLand.com)- As a long-time lover of 007, I reluctantly fell in love with the Walther P99. I say reluctantly because, for me, the PPK was the end-all, be-all James Bond pistol. That said, if we're being realistic, there's no way anyone who kills bad guys for a living would run a .380 ACP pocket pistol.
Walther P99 Final Edition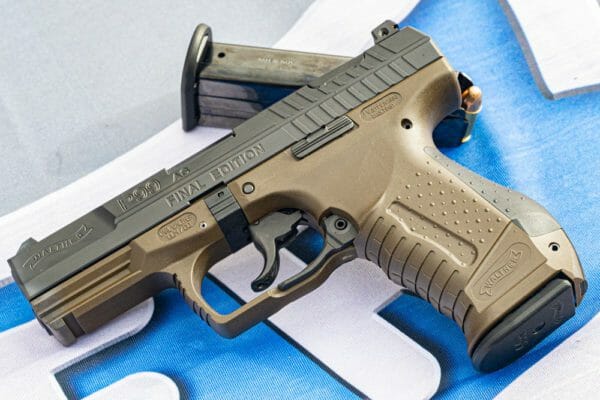 But back to the point at hand, after a very long run (the P99 was introduced in 1997) the Walther P99 is retiring. To celebrate this retirement, the folks at Walther are introducing a Final Edition of the pistol featuring the original OD green frame and a slide with "Final Edition" engraved on it. Just like the original P99, the Last Edition version feeds from 15-round stagger-column magazines and includes two in the box. It also features interchangeable backstraps and a decocking button on top of the slide. The P99 Final Edition is also fully ambidextrous with a slide release lever on both sides of the frame and a paddle-style magazine release that lays flush with the trigger guard. The P99 was a very forward-thinking gun when it was released 26 years ago.
Unlike the original, the new Final Edition ships with a special edition hard carrying case and a numbered challenge coin to commemorate the final batch of these guns to ever be produced. Pricing was said to be around $900, and the guns should be available in the next few weeks.
---
About Jim Grant
Jim is one of the elite editors for AmmoLand.com, who in addition to his mastery of prose, can wield a camera with expert finesse. He loves anything and everything guns but holds firearms from the Cold War in a special place in his heart.
When he's not reviewing guns or shooting for fun and competition, Jim can be found hiking and hunting with his wife Kimberly, their son, and their dog Peanut in the South Carolina low country.