Colandro for NRA Board!
Running on the Antagonist Platform!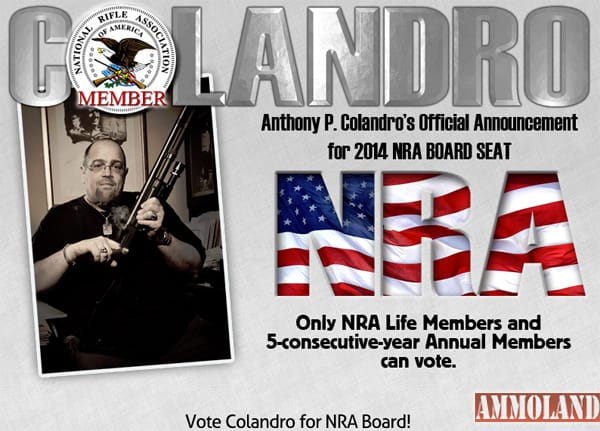 Woodland Park, NJ – -(Ammoland.com)- AmmoLand readers and NRA members, our friend Anthony P. Colandro, of Gun for Hire Radio fame, was passed over by the recent NRA Board Member Nominating Committee.
This grave mistake needs to be corrected and a write in petition nomination has been started to help Mr. Colandro get onto the ballot and represent the gun owners of NJ.
Says Anthony, "Please note I was NOT nominated to run by the NRA! I am running for the people and by the people as an independent, with ties to no one. If elected I will represent the 1 Million New Jersey gun owners as well as all of the other battle ground States. It is time to do things differently. Vote for me and see."
View NRA Rejection Letter : http://tiny.cc/fp2y3w
Continues Anthony " I am an antagonist "opponent, competitor, enemy, rival", from anti- "against is a character, that represents the opposition against which the protagonist must contend. In other words, an antagonist is a person who oppose status quo in this case."
Click to download the petition. http://gunforhire.com/wp-content/uploads/2013/08/2014-ant-Petition.pdf
Mail or bring in the petition before Monday September 30th 2013 to Gun For Hire's Range in Woodland Park
Gun For Hire's Range 1267 McBride Ave. Woodland Park, NJ 07424
Note: They have petitions at the range or if you want to print it out you must print the petition on 8 1/2″ x 14″ Legal size paper and bring into or mailed to Gun For Hire's Woodland park Range at the address above. If you can not print out we have copies for you at the range.
ANTHONY P. COLANDRO
CEO & Capitalist Marksman of Gun For Hire New Jerseys First Five Star Range and Training Facility
Host of Gun For Hire Radio New Jerseys First and only Pro-Gun show. The Voice of 1Million NJ gun owners!
Leadership & Credentials
NRA Master Training Counselor – All Disciplines
NRA Chief Range Safety Officer
NRA Law Enforcement Instructor Handgun
NRA Law Enforcement Instructor Shotgun
NRA Benefactor Life Member
NRA Ring of Freedom Member
NRA Heritage Society Member
NRA Election Volunteer Coordinator – Congressional District Eight N.J.
NRA Education and Training Committee Member
Executive Vice President – Assn. of N.J. Rifle and Pistol Clubs
Board Member – New Jersey Second Amendment Society
Regional Training Counselor – NRA Refuse to be a Victim Program
PPCI Certified Handcuff, Baton, OC Instructor
N.J. Division of Criminal Justice Certified Firearms Instructor
Sabre Civilian Mace Instructor
Graduate – Lethal Force Institute and M.A.G. Group
Life Member – Jews for the Preservation of Firearms Ownership
Life Member – Assn. of N.J. Rifle and Pistol Clubs
Life Member – Gun Owners of America
NRA Whittington Center Trailblazer # 353
Member – National Shooting Sports Foundation
Member – Armed Citizens Legal Defense Network
Member – Amateur Trapshooting Association
Member – KnifeRights.org
Member – National Muzzle Loading Rifle & Pistol Association
Member – Second Amendment Foundation Defenders Club
Possesses Carry Permits in Eight States, Including New Jersey
Endorsements
ASSN of NJ Rifle & Pistol Clubs
New Jersey Second Amendment Society
Ammoland
Evan Nappan Esq.
Jews for the Preservation Of Firearms Ownership
Golani Rifle and Pistol Club
Chris Knox
The post Voting NRA Members Help Anthony Colandro Get on the NRA Board Member Ballot appeared first on AmmoLand.com.