After taking the plunge to equip my carry pistols with quality micro red dots like the Vortex Defender CCW a few years ago, there's no going back. The increase in speed, as well as the accuracy of having a red dot, means making hits under pressure is vastly easier.
I'm not the only one who feels this way since a bevy of micro red dots have hit the market in the last few years, and now finally, the engineers at Vortex Optics have entered the fray with their new Defender CCW.
Vortex Defender CCW Micro Red Dot Sight Review
The Vortex Defender CCW Micro Red Dot Sight is built explicitly for modern everyday carry. The micro handgun optic delivers maximum concealment and reliability.
The Defender CCW is a micro red dot available in two configurations: one with a three MOA dot and one with a six MOA dot. Both optics feature an incredible assortment of desirable features and accessories straight out of the box.
For starters, the new Vortex Defender includes six sets of mounting screws allowing the micro red dot to be installed on a wide variety of handguns like my personal P365 – a gun that now wears said optic full-time while I carry it. Additionally, the Defender includes a Picatinny adapter in the box for mounting it on large-format pistols, carbines, and even shotguns. Personally, I really enjoyed it mounted on the IWI Galil Ace Gen 2 I recently reviewed, as it gave me a tremendous amount of open space around it. This allows shooters to maintain better situational awareness since it doesn't obstruct your view at all.
That said, the majority of my time spent testing the new optic was with it mounted on my P365 X-Macro Handgun, where it performed flawlessly across several hundred rounds fired. The 6-MOA dot felt great and struck the perfect balance of speed and precision for a carry pistol designed for short-range engagements.
It felt very reminiscent of Holosun's similarly-sized offerings, though the controls were a little easier to use since they were somewhat larger. Also, unlike the 507k, the Defender CCW turns on automatically when it senses motion, which is critical on a defensive pistol where seconds count.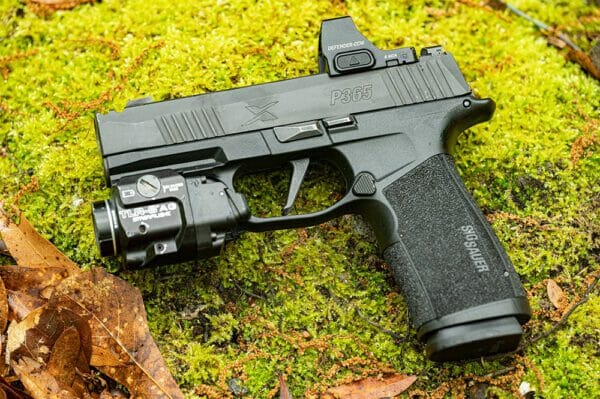 When I went to test the optic on the SIG, I found that zeroing was very easy – the adjustments are made in one-click-one-MOA shifts with more than 100 MOA available in both elevation and windage clicks – way more than you should ever need (Unless you're zeroing your carry pistol for 200 yards for some reason).
Vortex CCW Testing
For the review, I shot 350 rounds of 22lr through a P322, 200 rounds of 9mm through a P365 X-Macro, 100 rounds of 10mm Auto through a P220 Legion, 50 rounds of 12 gauge through a Benelli M2, and 250 rounds of 5.56 through an IWI Galil Ace and only the Legion gave me any issues whatsoever. This is because while the Defender does use the same footprint as the SIG Romeo2 optic recommended for the Legion, it lacks the proper bosses or those little steel pegs found on RMR mounts. Because of this, it doesn't have enough stabilizing points to keep the dot from shifting under recoil since the Defender doesn't fit the P220's slide cut perfectly.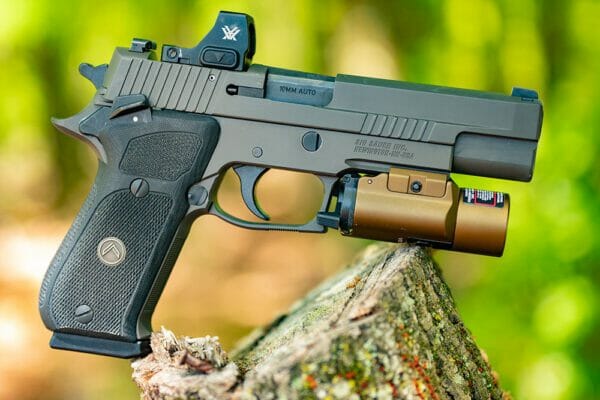 Aside from that, the new Defender was perfect. It features 9,500 hours of operation and 14-hour auto shut-off if you leave it on while running on a single included 7075 battery. Another noteworthy feature I meant to mention is how the front of the sight's body features cross-checkering making it easier to use as a racking lever for charging a pistol.
So, what's my verdict? The Defender is a fine optic and a great addition to any carry pistol. It includes everything a shooter needs to mount it to the most popular carry pistols out there and isn't overpriced, with an MSRP of around $350. So if you are looking to upgrade an optics-ready carry gun with a nice red dot or even a shotgun or carbine with a minimalist approach, the new Vortex Defender CCW is a solid choice.
Vortex Defender-CCW Micro Red Dot Specifications
Product Name Vortex Defender-CCW Micro Red Dot
Brand Name Vortex Optics
UPC 843829133272
MFG Part Number SKU DFCCW-MRD3
Magnification 1x
Reticle 3 MOA Defender Dot
Adjustment Graduation 1 MOA
Parallax Setting Parallax Free
Max Windage Adjustment 105 MOA
Max Elevation Adjustment 110 MOA
Dot Color Red
Mount Type Shield RMS/RMSc
Eye Relief Unlimited
Length 1.59″
Weight 0.95 oz.
MSRP $350.00
Vortex Defender-CCW Micro Red Dot Product Manual
---
About Jim Grant
Jim is one of the elite editors for AmmoLand.com, who in addition to his mastery of prose, can wield a camera with expert finesse. He loves anything and everything guns but holds firearms from the Cold War in a special place in his heart.
When he's not reviewing guns or shooting for fun and competition, Jim can be found hiking and hunting with his wife Kimberly, their son, and their dog Peanut in the South Carolina low country.