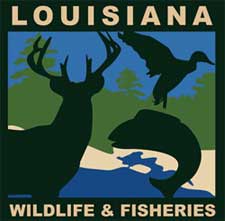 Louisiana -(Ammoland.com)-  Louisiana Department of Wildlife and Fisheries Enforcement Division agents cited two men for alleged deer violations in Grant Parish on Aug. 11.
Agents cited Skyler Welch, 19, and Dillon County, 18, both from Montgomery, for hunting deer during a closed season, during illegal hours with artificial light, with an illegal weapon and without any hunting licenses or tags.
Agents investigated the case after receiving information from the Montgomery Chief of Police who found a dead deer in a pasture behind a home where he was investigating a report of a stolen gun.
Agents arrived on the scene and collected a nine-point buck.  Agents then interviewed Welch and County who were implicated in the stolen gun report.
During the interviews both men admitted to seeing the deer around 12:30 a.m. on Aug. 11.  They went to get a gun then drove around to find that the deer had moved from the field and into the woods.
Once the deer was spotted in the woods, Skyler shot and dropped the deer with a rimfire .22 magnum.  He then ran to the deer and shot it again at close range.
The men dragged the deer to the open field where it was spotted the next day by the Chief of Police.
Hunting deer during a closed season and during illegal hours with artificial light each carries a $900 to $950 fine and up to 120 days in jail.  Taking deer with an illegal weapon carries a $250 to $500 fine and up to 90 days in jail.  Failing to possess deer tags brings a $100 to $350 fine and up to 60 days in jail.  Failing to possess a basic and big game license each brings up to a $50 fine and 15 days in jail.  The two men could also face civil restitution charges totaling $2,033 for the illegally taken deer.
Agents participating in the case are Sgt. Byron Cammack, Sgt. Rusty Perry and Senior Agent Heath Wood.
For more information, contact Adam Einck at 225-765-2465 or aeinck@wlf.la.gov.
The post Two Grant Parish Men Cited For Illegally Killing a Nine Point Buck in Louisiana appeared first on AmmoLand.com.