The July 2015 issue of Field & Stream is on newsstands and the iPad now.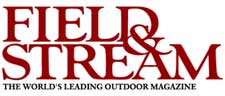 USA – -(Ammoland.com)- Fight to Survive: A bloody bout with a bear, a bite from a monster shark, and lost in the woods for a week – in the last year, these three outdoorsmen suffered some of the worst nightmares imaginable in the wild.
But thanks to smarts, a little luck and a lot of guts, they all survived. Page 48
The Wild World of Deer Sausage: If you've got a grinder and a smoker, you've probably made some classic venison sausages (like brats or breakfast links). But here are three delicious classics from around the globe to try when you're feeling adventurous: Boerewors, Linguica and Merguez. Page 24
Cool Off, Fish On: An outboard and a pinned throttle can get you to smallmouths. But if that's not your speed, these wet-wading tactics will score big bronze on a chilled-out summer stream – sometimes a beat-up pair of sneakers will get you to them faster than 250 horses. Page 59
Mouse Traps: Looking to fool the biggest trout in your home river this summer? Forget about drifting tiny bugs; watching a trout hammer a mouse pattern on the surface will change your perception of salmonids. Our pros from the East and West will turn you into a mousing machine. Page 62
Flyfishing's Best-Kept Secret: One of the greatest places in the US to catch big trout in beautiful streams with no crowds (for now, at least) may surprise you. A Field & Stream editor took a trout trip to South Dakota, and he's plotting his return trip. Page 30
Also in this issue:
Sportsman's Notebook: Bad weather conditions making it tough to spot fish? Try these pro tricks. Page 38
Field Test – Best Bows: In the 2015 Flagship Shootout, up-and-comers battle the old guard in Field & Stream's closest compound-bow test to date. Page 69
Reader Test – Head Lamps: Every outdoorsman needs a good headlamp. Readers test four hands-free lights for brightness, utility, durability and overall performance. Page 74
Subscribe to Field & Stream Magazine through Amazon : http://tiny.cc/y6rkxx
The post True Stories of Outdoorsmen vs. The Wild: Inside July 2015's Field & Stream appeared first on AmmoLand.com.